Gnanassara himself says 'court did its duties duly' then why are piles of others bleeding? President's advisor Ulapone 's underhand machinations exposed !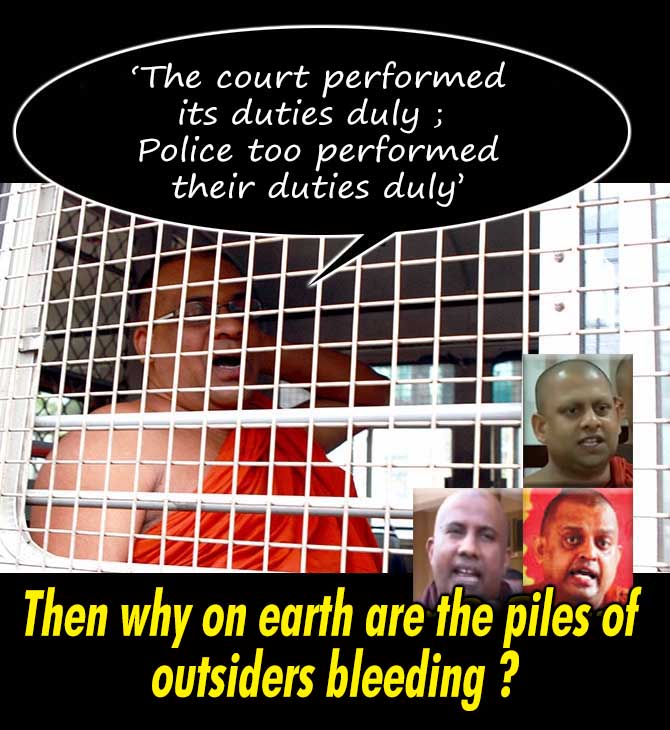 (Lanka e News -17.June.2018, 11.45PM) It is a well and widely known fact it is none other than Gnanassara the hooligan robed monk who instead of respecting the sacred saffron robe he is wearing ,the Buddhist teachings he is supposed to be following and without maintaining the dignity of his monkhood , has been viciously abusing and threatening the complainants, sacred courts ,judges and state counsels ,in addition to destroying the Buddha sasana , trampling the laws of the country by behaving like a most detested rowdy within courts committed crimes including contempt of court. It is this shameless scoundrel of a monk who was sentenced to jail after hearing a case for two long years based on a number of criminal charges filed against him.
While this is the disgraceful scenario created by this criminal monk , yet shockingly by now it has come to light it is Ulapone Sumangala another robed monk who is an advisor to the president of all people who is moving heaven and earth to insult the judgment that was delivered by a sublime law court , by putting this rascally monk Gnanassara even above Lord Buddha and thereby disgracing even pristine Buddhism . It is learnt that this Ulapone Sumanagala is openly engaging in these dastardly activities with the knowledge and consent of the president , and it is the latter who had entrusted Ulapone with the task of creating the necessary environment to grant Gnanassara the criminal monk a presidential pardon.
Gnanassara is not the first ….
Gnanassara is not the first robed monk who was jailed for violating the laws. Gnanassara is not just an ordinary robed thug because even before he had been charged with driving a lorry without license under the influence of liquor and running over a three wheeler . This debauched disgraceful monk was arrested and was fined when he pleaded guilty in court.
What's more !while wearing the saffron robe this shameless monk had a sexual relationship with a woman , and has a child by her. His debauchery and sex starvation are not issues if Gnanassara was indulging in those without exploiting his monkhood or gobbling free food. But of course it is an issue if he is using the sacred saffron robes to wipe out the spills after his thrills despite being a monk..
Any way before Gnanassara there were monks who were handcuffed and incarcerated , the most well known among them were Thalduwe Somarama and Mapitigama Buddharakitha .But of course Buddharakitha was the chief prelate of Kelaniya raja mahavihara unlike Gnanassara who is a two penny half penny debauched dipsomaniac self degrading monk .It is a fact that after being found guilty by the court they were all disrobed and were made to wear the jumper which is the dress of sentenced prisoners.
The law itself has ensured this in order to give respect to the Buddhist robe , and for no other reason. A robed monk performing rigorous tasks under rigorous imprisonment is indeed an insult to the sacred robe.
However , it must be emphatically stated , the Buddhist robe is not a license to violate the country's penal code. If the penal code was violated , any religious priest whether he is a Buddhist , Hindu , Christian or Muslim he / she is liable to punishment , and had been jailed in SL. Mathew Peiris is an example.
How come Ulapone who spoke of enthroning law is now against it ?
It is the presidential advisor Ulapone who while distorting the truths said, this is the 'warring period of religion' and that laws shall be enthroned addressing media briefings after forming a so called Anti corruption front . He is the same hypocrite who made fiery speeches in front of the mike. He is the same Ualpone who was most vociferous that laws shall be upheld is now threatening to take to the streets on the 18 th on behalf of notorious criminal Gnanassara who was sentenced for contempt of court and other criminal involvements under those same laws . Double tongued double faced Ulapone is therefore duping the people and discrediting the judiciary .
Believe it or not Ulapone is the advisor to the president ,of all people , who while Gnanassara was unlawfully dodging the courts took Gnanassara to court and got him released on bail in five criminal cases in one day. After the communal violence in Kandy when president Gamarala took Gnanassara to Japan , Ulapone too accompanied him. Now what Ulapone is trying to do is create a fake scene of riots to get a presidential pardon for Gnanassara while also whitewashing Gamarala's behind the scene crooked maneuvers .
Gnanassara has not told he would not remove his robe
he is well accustomed to stripping himself of it ( even in public) . The issue is therefore not with Gnanassara who is inside but with Ulapones and Medagodas who are outside and suffering from bleeding piles . When Gnanassara was being taken to prison he said , ' the court performed its duties duly , and the police performed their duties duly.' In fact in respect of Gnanassara , even to file an appeal is incorrect because Gnanassara himself admitted categorically the court had carried out its duties correctly.
Based on reports Gnanassara has not said he would not remove his robes within prison .The prison officials too told the media on the 16 th he has undertaken his prison tasks peacefully under the terms of rigorous imprisonment .
Gnanassara is an individual well accustomed to readily removing his robes to wear trousers and shirt . When he goes to France to meet his wife or when she comes to Sri Lanka he does his secret jaunts and ' jumps' wearing shirt and trousers. Therefore to him removing the robe which has no sacred value as far as he is concerned , and wearing the jumper is as simple as putting a 'jump' . Hence the genuine monks are not surprised when Gnanassara after removing his robe wears the jumper and eats hirabath ( serves jail sentence ). Lanka e news has already published photographs depicting how the BBS members – the Gnanassara lackeys gourmandize inside the prison.
Medagoda's bizarre religious disciplinary code…
Medagoda had said , it is only the religious disciplinary sector that is empowered to remove the robe, and the temporal laws of the country do not come within that ambit . The religious disciplinary sector is under the purview of the Bhikkhu administration. Hence , first and foremost Medagoda should understand if Gnanassara has conducted himself according to the religious disciplinary code , he hasn't the need to eat hirabath ( serve a jail term) today.
Already exposures have been made with cogent and copious evidence about 'Kiri Vehera koba' ( Kiri Vehera womanizer) alias local Don Juan who chases women on the sly after removing his robe and donning trousers and shirt to cure his itch in the wrong place . Hence Medagoda should now answer whether Gnanassara 's robe should be removed or not . If truly the religious disciplinary code is followed duly , not only Medagoda's but even the robes of Mahanayakes would have been removed long ago.
If an appeal has been filed lawfully against the decision of the magistrate court , it is for the president of the country to see to it the laws are enforced duly and put a full stop to his advisors from becoming 'madvisors' taking the law into their hands to the detriment of the entire country. If such steps are not taken the fact that Ulapones are undoubtedly conducting themselves this unlawfully and unethically with the consent and knowledge of the president cannot be hidden from the people
It is very evident the plan of the president and his close sidekicks currently is to fasten all their misdeeds and wrongdoings on the UNF faction , while whitewashing the president and getting the SLFP out from the consensual government . It is obvious even monk Gnanassara's self degrading disgraceful episode of his jail sentence is going to be exploited to achieve such an end based on the conduct of the advisor to the president .
Chandrapradeep
Translated by Jeff
---------------------------
by (2018-06-17 22:35:19)
We are unable to continue LeN without your kind donation.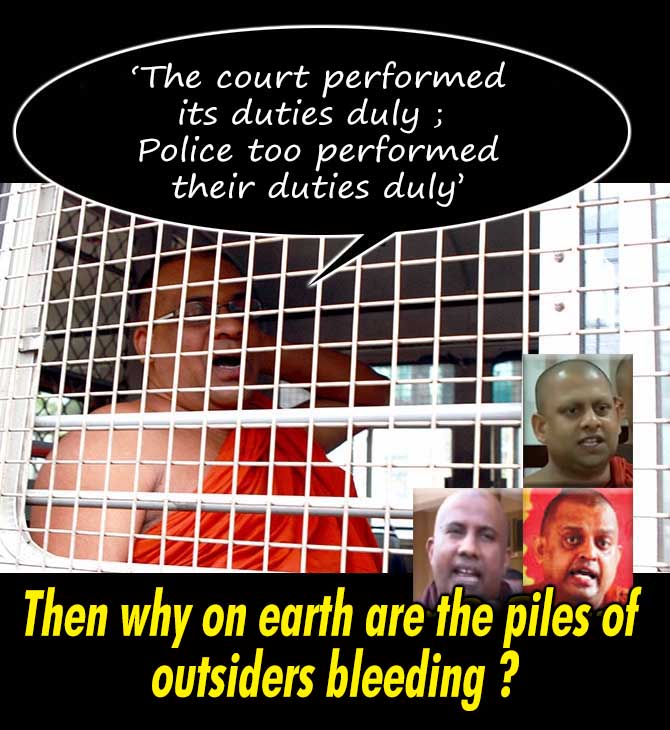 Leave a Reply