Bungler Gamarala and his defense secretary who farts around make a hash of everything ! Secretary and additional secretaries on collision course !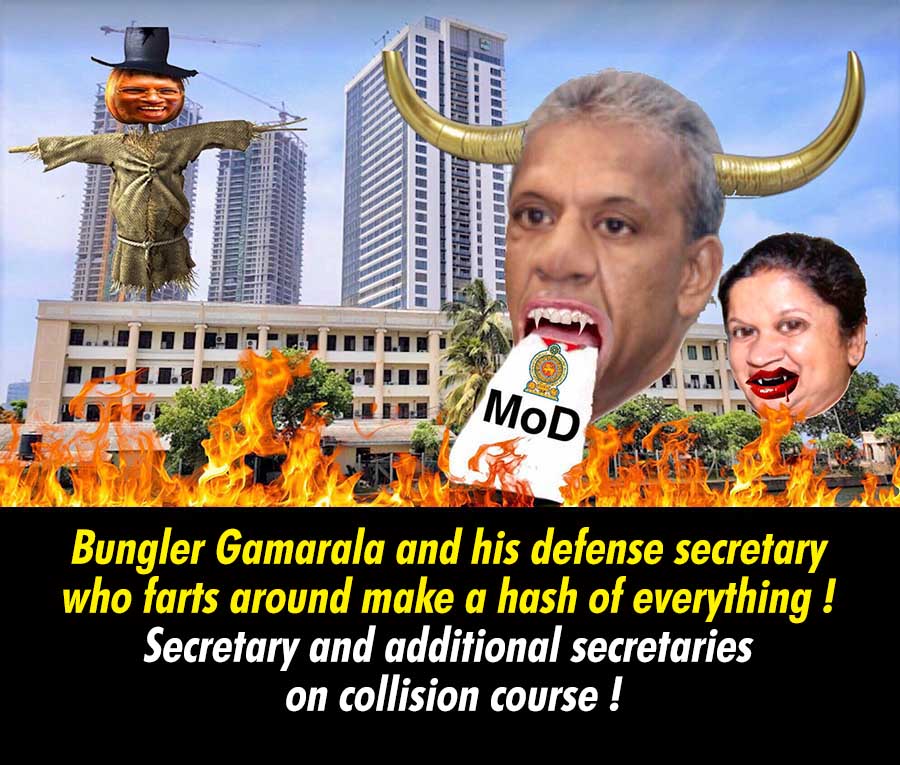 (Lanka e News -22.June.2018, 7.00AM) President Gamarala recently said , irrespective of what load of work he has , he goes to bed by 10.30 p.m. whereas his daughter in the book 'my president father' had stated , on days he has a lot of work he works until dawn , and wakes up again in the morning meaning that either Gamarala is lying or his daughter is telling lies. If not , the book has been written by another father's daughter.
While Alzheimer's disease afflicted Gamarala is wreaking havoc day in and day out , Kapila Waidyaratne who was appointed as the defense secretary is also playing merry hell ,consequent upon which both the defense ministry and the country are being fast plunged into doom and gloom.
Here are the facts…
The defense ministry comes under the president and it has 5 additional secretaries. They are security / administration / parliamentary affairs /civil security/engineering. These additional secretaries are answerable to the secretary in regard to their subjects. When Karunasena Hettiarachi was serving as defense secretary he reposed confidence in these secretaries while also securing them ,and worked as a single ministry.
In the scheme of things when performing ordinary administrative duties, the superior officer trusts the inferior officer and safeguards him. Hence the relevant files , requests etc. that are sent to the president , ministries ,the three forces, the Institution chiefs , Public service commission and departments are with the signature of the secretary.
Additional secretaries who have to stand near his door for 4 hours or more !
There are four SL administrative service special grade officers and an engineer under defense secretary Kapila Waidyaratne , and it is 11 months since he assumed duties ( took up duties on 2017-07-04) , yet he has no faith in any of the officers in the ministry. Consequently , all the additional secretaries , senior assistant secretaries , assist. secretaries , and directors are utterly disillusioned and disgruntled.
In addition , the additional secretaries have to spend 3 to 4 hours of their time ( of their 8 hours duty time) that is half the day standing idle near the door of the defense secretary to get his signature or approval for an official document . This is a common sight in the ministry now . Even then they are not called in by the secretary , with the result they have to go back with their task unattended. Owing to this attitude , the defense ministry activities have all gone awry and come to a grinding halt during last year. In short the ministry is in an utter mess.
The bungler who comes to work at court starting time , pays floral tributes and then begins his farting around…
The defense secretary who was a lawyer arrives daily at 10.00 a.m.- the time courts begin . By the time he finishes his paying homage to the deity it is 11.00 a.m. Thereafter he commences work by carefully examining the files that are on the table for two to three hours. If an additional secretary appears , he is not allowed to come into his office and explain the necessity because he is distrusted. .
Though it is 11 months since the defense secretary took over duties , because of the atmosphere of mistrust , discord, and lop sided administration , there is a huge backlog of files which should have been dispatched to the presidential secretariat , prime minister's office and ministries . Those are languishing in dusty corners. This had most adversely affected the president himself. . The files which ought to be sent to the president's office specially cabinet papers , research and state defense affairs documents are delayed inordinately .
The 4 additional secretaries are abused and chased away…
Owing to these reasons , there is a lot of resentment and disappointment within the defense ministry. Last week on the 12 th with a view to defuse the situation , the four additional secretaries (security/administration / parliament/ civil) have gone and met the defense secretary , and explained their difficulties they are facing because of his attitude when performing their duties . They have highlighted his lack of trust in them , failing to safeguard them and sending anonymous letters direct to the Bribery Commission . The toffee nosed secretary due to his characteristic aggressiveness, inefficiency and intolerance he has chased away the additional secretaries from his office. He had also berated them severely and warned them he would get them ousted from their posts immediately by complaining to the president.
No other ministry secretary conducts himself this foolishly. They trust their subordinates specially the additional secretaries. But this weda beri ( incapable) secretary is always angry with the additional secretaries who are more capable, and is full of venom and vengeance against them . Owing to this, the defense ministry which must forge ahead is on the reverse gear and hurtling down at breakneck speed.
Weda beri Ratne who is the exact match for weda beri Gamarala …
Though time and again complaints are made to the president of the defense secretary Waidyaratne , the latter who is fond of foreign junkets and frequently travels overseas even to change his dress, is receiving president's blessings nevertheless because president himself is a weda beri( incapable) Sillysena . Two weeks ago when the president addressed his members of the staff , numerous complaints were received from the staff against the defense secretary and his misdeeds. Yet the president dismissed those without taking action because he wants to fasten the blame in respect of his own faults on the defense secretary and find an escape route for himself , according to well informed sources .
This secretary who was a criminal lawyer, brief- less though knows absolutely nothing about administration laws. Such an ignoramus who knows nothing about administration being made a defense secretary of country's highest defense headquarter is to muddle up everything in every sphere of activity .
It is significant to note that all four additional secretaries (except the engineer) of the defense ministry are special grade officers. Despite the fact there are talented officers among them , Waidyaratne on the other hand is trying to run the defense ministry like how a court is run most lethargically and lazily after throwing them out , whereas the fact of the whole matter is all the officers of the defense ministry are earnestly anticipating the day when Waidyaratne will be thrown out lock, stock and barrel.
Lanka e News inside information division defense ministry reporter.
Translated by Jeff
---------------------------
by (2018-06-22 02:03:59)
We are unable to continue LeN without your kind donation.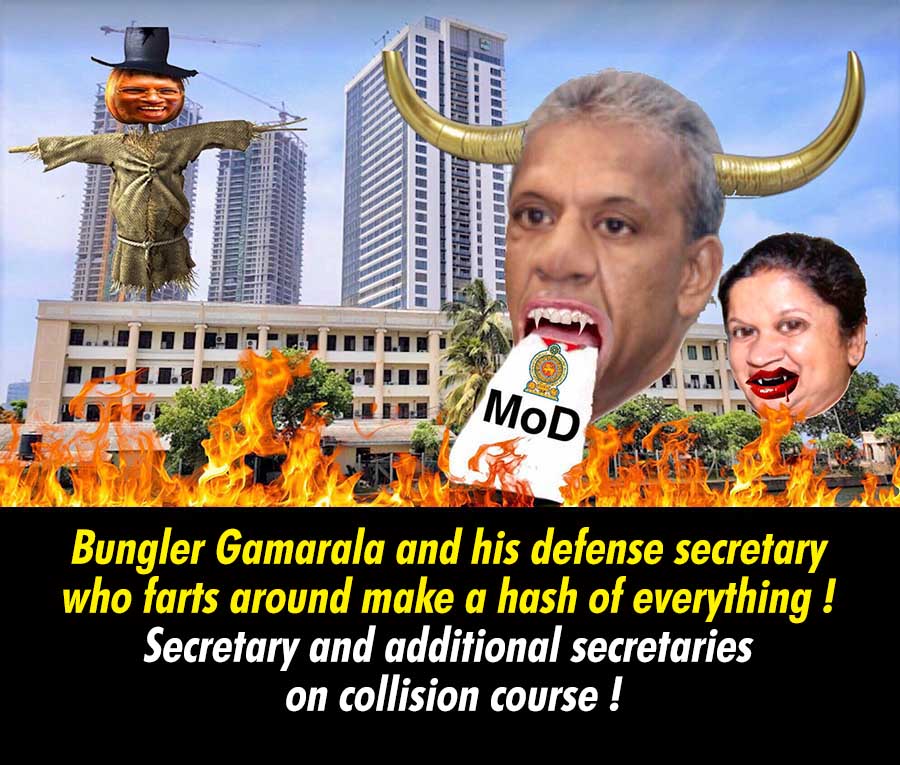 Leave a Reply