Thalatha is impeding the establishment of special high courts- furiously berated at govt. party meeting !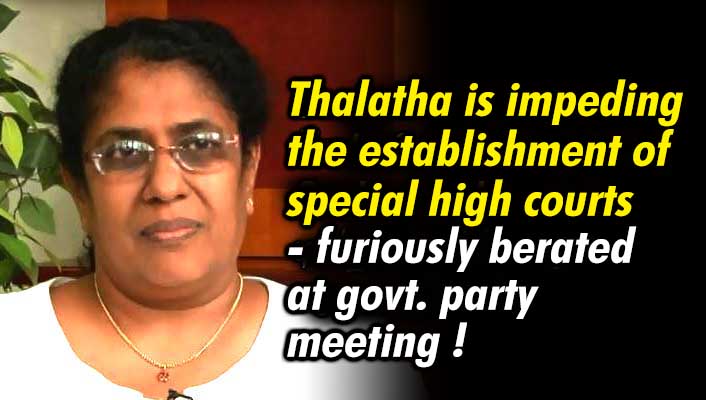 (Lanka e News – 03.July.2018, 9.00PM) Minister of justice Thalatha Atukorale came in for heavy flak during the government party meeting on the 2 nd as the culprit who is dillydallying with the appointment of three special high courts to expeditiously hear cases continuously which had also been already ratified by the parliament . She was severely flayed for adducing various flimsy reasons to delay the establishment of these courts.
She was citing reasons such as no staff , no building and on another occasion she even said, 'let us establish one first and see.' Thalatha had been postponing this most important and urgent necessity unduly. It was therefore openly questioned to her face whether this dilatory tactic is because she has negotiated a 'deal' with the rogues . She was so questioned by a group including deputy ministers Ajith P.Perera , Eran Wickremeratne ,Ranjan Ramanayake and Sujeewa Senasinghe .
Ajith Perera was forced to openly warn her that by playing this 'game' , she is playing with their lives.
Ranjan accused Thalatha of not taking action against Dilan Perera the notorious crook because he was her batch-mate.
Ranjan openly questioned her whether she does not know that this government is left with only 18 months to demonstrate its prowess and success. When all the groundwork has been done including the parliamentary approval to appoint these courts designed to ward off delays , and there are cases like those of most infamous crook Prasanna Ranatunge where there is all the cogent evidence to prove his extortion charges , even those cases are being delayed by six to 7 months owing to the absence of the proposed courts. Then why is she delaying the establishment of these courts ? it was furiously questioned.
When Ranil Wickremesinghe told Ranjan Ramanayake , the present courts are independent in order to counter the allegation that justice is being denied due to delays in courts , Ranjan questioned ' Hon. Leader , is it because the courts are independent , that four judges resigned saying they cannot hear the case against Gota?' The P.M. Wickremesinghe could not but keep his mouth shut.
According to reports reaching Lanka e news , Ranil Wickremesinghe is playing a key role in the delaying of the establishment of the special high courts to hear cases continuously .
---------------------------
by (2018-07-03 16:14:34)
We are unable to continue LeN without your kind donation.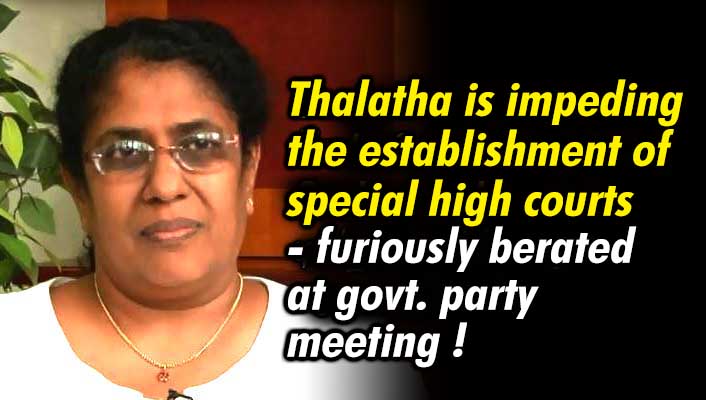 Leave a Reply