Shiral -Austin dispute culminates in Austin tendering his resignation !Unbelievably 4 officers refuse to accept Gamarala's secretary post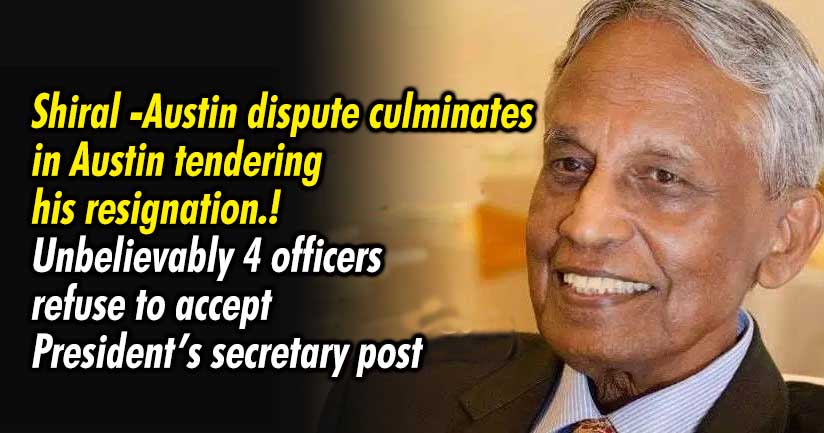 (Lanka e News -05.July.2018, 11.30PM) The dispute between the NGO crook Shiral Lakthileke (president's henchman and coordinating secretary) who is carving a short cut to disaster for president Sirisena , and president's secretary Austin Fernando came to a head with the latter resigning his post today (05).
No business class…
It is worthy of mention that Austin Fernando was the only State diplomatic officer who could think sanely , sensibly and wisely among the officers clustered around Sirisena. He assumed duties as president's secretary on July 1st 2017. Shiral the wolf with a blackened heart in black coat who is a deadly enemy of Ranil Wickremesinghe (Shiral was earlier thrown out lock, stock and barrel by the UNP for his hooliganism , cunning and stealthy activities ) started his usual crafty and cunning maneuvers against Austin saying the latter was pro Ranil.
Austin had been Sirisena's superior officer during the period Sirisena was a grama niladhari. Austin was the district secretary at that time . Hence Shiral the NGO crook cum wolf in black clothing found it difficult to drive a wedge between Austin and Sirisena in the dispute between Shiral and Austin . In any event Shiral's ire was provoked when Austin refused to accede to a request of the former.
Shiral who exploits his official position to the detriment of the country for selfish personal gains wherever he worked had told Austin in writing to reserve business class air tickets to all officers travelling with the president's foreign tour. Under the laws of the country , only the President's secretary who travels with the president who is entitled to business class air ticket .It is therefore unlawful to arrange business class tickets for the other secretaries of the president.
Austin the only law abiding officer there had hence declined Shiral's crooked request .Shiral who has a putrid antecedence of being a pain in the neck to hardworking efficient law abiding state officers who do not fall in line with his rackets had from that moment planned to get rid of Austin Fernando , and today his plot turned into reality.
Discarded Politico Shiral the NGO crook and wolf in black clothing starts his mudslinging…
The website operated under Shiral , no sooner had Austin resigned than it started a mudslinging campaign against Austin Fernando . Shiral who is running a mud slinging website as fake Lanka e News.
It is significant to note , it was only when Austin Fernando the official chairman of the TRC , an upright officer of rectitude was out of the Island , all the media suppression and oppression took place via the TRC : Lanka e News and four other websites were blocked , as well as the TNL channel was sealed unlawfully.
Austin Fernando is a senior SL State administrative service officer who has a Master's degree in state administration from the Jayawardenapura University . Based on reports he is to be appointed as a foreign diplomatic envoy.
Four secretaries refuse to accept presidential secretary post- President's requests disdainfully rejected…
What is more intriguing than the resignation of the president's secretary is the refusal of four secretaries to take over the presidential secretary post. What is more perplexing is , even though four officers were invited to take over the role of secretary to president before Austin's resignation , all four of them have declined the offer. Among the four are two officers already serving in the State administrative service. The other two are secretaries who have earned a reputation in the country.
What is most rudely shocking is , since Sirisena becoming president , during the last three years , three secretaries to the president in succession , three private secretaries in succession , and three defense secretaries in succession had been appointed . Interestingly but sadly for the country it is only Shiral Lakthileke who is possessed of all the evil , destructive and satanic traits and driving the president along the sure road to perdition has been able to stick with the latter.
---------------------------
by (2018-07-07 21:13:08)
We are unable to continue LeN without your kind donation.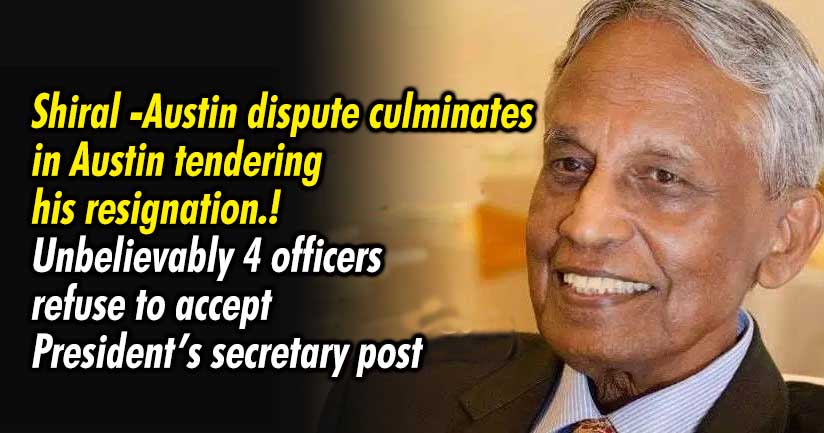 Leave a Reply