Police sergeant strangled and killed by robed monk against whom there are warrants !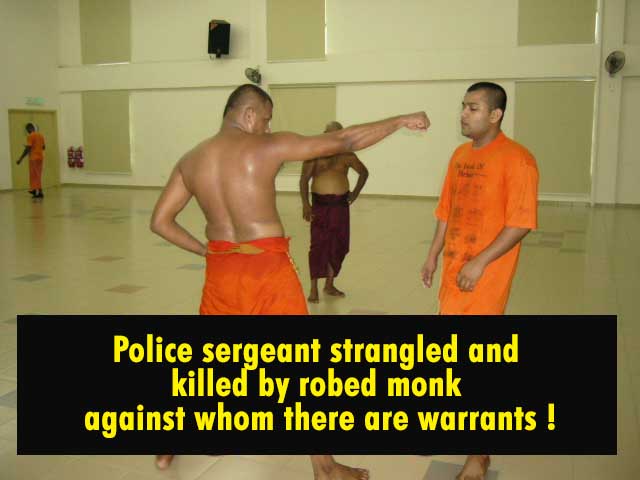 (Lanka e News -10.July.2018, 10.30PM) A robed monk of a vihara at Galkanda, Ratnapura was taken into custody on the 10 th (today) on charges of murdering a police sergeant .The victim of this ghastly murder is Samarawickrema a police sergeant working in the Warrants division of Ratnapura police.
The police officer had gone to meet the robed monk at the Galkand Vihara several times against whom there are many warrants issued by the courts but to no avail , as the most wanted suspect has not been in the vihara.
However when the sergeant visited the Vihara today , the monk had strangled the sergeant and killed him. Following the complaint made to the Ratnapura police by the residents of the area , the police who arrived at the temple had dispatched the sergeant who was in a critical condition to the Ratnapura general hospital, where he succumbed to his injuries.
The monk who was arrested is to be produced in court
The Ratnapura police are conducting further investigations
The Buddhist population is earnestly watching whether Medagoda Abayatissa who opposed the robes of a criminal monk within prison being taken off will come to the fore in this murder committed by a robed monk , and the police killing the monk under the pretext that he tried to hurl a grenade at the police officer when the monk was taking them to show where the weapons were.
---------------------------
by (2018-07-10 20:41:43)
We are unable to continue LeN without your kind donation.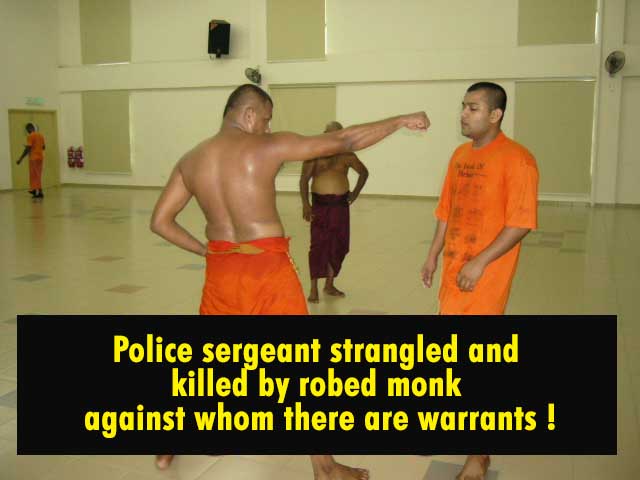 Leave a Reply