Dilith Jayaweera eclipses Chathurika – Thilanga's next treachery after demolishing the entire 'cricket edifice' !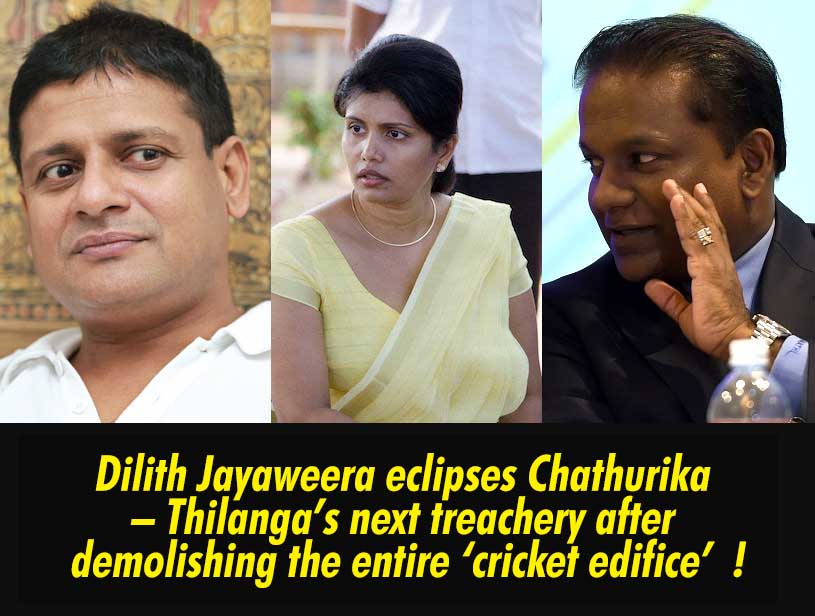 (Lanka e News -2018.July.12, 8.00PM) After driving the last nail into the coffin of Sri Lankan (SL) cricket , Thilanga Sumathipala is continuing to perform his acrobatics before it. While Faizer Mustafa is beating the drums for Thilanga to perform his clownish acrobatics , President Sirisena is enjoying watching the sad spectacle .When they are so enjoying to the hilt, the cricket fans and the players who treat the game fondly and as a second religion are weeping and wailing over the disaster that has struck the game.
While Dinesh Chandimal who did not have even that little gray matter to give suitable answers during the disciplinary inquiry is facing a ban – forbidden to play ,and because of Asanga Gurusinge's crazy antics and imbecility who was got down from Australia to teach a lesson to the so called 'brilliant brain' Chandika Haturusinghe who came here for a monthly salary of Rs. 5 million, as well as Arjuna Ranatunge , the three of them are likely to be denied the South African tour . The irony of ironies is , it is Mustafa who had never held a bat in his whole life who had proffered all the advice.
Thilanga's pipe dream to become P.M.
The political aspiration of Thilanga is to become prime minister ( pipe dream) some day .In cricket his final aim is to occupy the highest seat of the ICC .Thilanga who is earning filthy lucre in unlimited amounts from his bookies which thrive on hapless helpless punters , the commissions collected from the cricket games, and from rigging the games , is deploying those earnings to achieve these goals. However , after he was chased out by the people from Borella at the last parliamentary elections Thilanga of course has realized he hasn't even a ghost of a chance of winning at parliamentary elections again.
When Ranil Wickremesinghe initially gave him the Anuradhapura UNP organizer post , he treated Ranil like a deity. By the time Ranil perceived the cunning and crooked traits of Thilanga , the latter had got close to Mahinda. Thilanga whom Chandrika detested most aligned himself behind Mahinda then in order to teach a lesson to Chandrika.
Thilanga who spent for the election campaign in Colombo of Mahinda , after the defeat , ingratiated himself into the favor of Maithripala Sirisena virtually worshipping him only to get thrown out at the elections because he was extolling Maithripala while denouncing Mahinda . Later he was given an M.P. post through the national list and made deputy speaker . Thereafter with the president's patronage he secured the highest position in the cricket arena. He accomplished that by destroying the citadel of power of Nishantha - Mahinda Rajapakse who controlled the cricket arena until then.
In addition , exploiting his political power he surmounted his disqualifications : owning bookies, sports gear business , and newspaper publication which barred him from holding the post of president of Cricket board . Thilanga also managed to make his friend Jayantha Dharmadasa the vice president of the association and get him to his side. Later chased him out without telling that in so many words.
Billions of rupees down the drain….
Thilanga who is talented in 'marketing' the cricket , during the last 2 years succeeded in bringing in billions of rupees to the Association , but at the same time spent many millions of rupees for no valid reason.
Thilanga's henchmen Sujeewa Godaliyeddha , Shammi Silva, Godfrey Dabare , Anura Weerasinghe ,Aruna De Silva, Raveen Wickremeratne , Priyantha Soysa, Bandula Saman Waturegama and Janaka Pathirane who were reduced to pulp and nowhere around for several years during the power citadel of Nishantha and D.S.De Silva, however with Thilanga's entry began to flourish as never before gobbling up the cricket association funds in billions with Thilanga's patronage.
Thilanga meanwhile wished to show his gratitude to president Maithripala Sirisena who helped Thilanga to earn and gain monumentally . He therefore assisted president's daughter who owns the media gang advertising firm to earn in billions through the cricket association funds.
By giving advertisements to all the media Institutions , Thilanga made the media to bend. stoop and flex according to his needs. Thilanga who gave massive bribes to the sports journalists on a scale they were never accustomed to before , for giving publicity to cricket , also allocated millions of rupees of the funds of the association for the cricket tours.
Interior Décor Co. also makes hay while the sun shines alongside the cricket commentary broadcast
What's more ! Thilanga never forgot to release many millions of rupees to a crooked company formed by Bandula Saman Waturegama a notorious blue brigand crook who was chased out from the SLBC by Hudson Samarasinghe . Thilanga made these colossal payments to that spurious Co. for cricket commentary broadcasts.
Raveen Wickremeratne who lost his job following the closure of CSN , was helped by Thilanga by granting tournament broadcasting rights to Raveen' s brother in law. Raveen who went on all the foreign tours collected over Rs. 10 million as daily allowances from the association.
The interior décor Co. of Priyantha Udayaratne during the five matches played in Dubai and Lahore was paid a whopping sum of Rs.ten million. It is to be noted Priyantha was taken into the fold of Bandula Saman for broadcasting commentaries.
Thilanga who undertook the contract to chase out Ranil and got 16 SLFPers out from the government with that in view is currently in a deep quandary , for these 16 turncoats are now trying to leave Sirisena and join Mahinda again. Being not able to keep even his foot on cricket association soil because of the cricket court case is still making Faizer Mustafa to dance like a puppet of his in the same way as he did with Dayasiri Jayasekera earlier on.
Thilanga who changes direction like a weather vane with the prevailing wind now currying favor with Gota while neglecting Sirisena
Dilith Jayaweera is a bosom pal and business partner of Gotabaya . Presently , the advertising tasks of the association have been entrusted to 'Try Ad' advertising Co .of Dilith Jyaweera based on a plan of Thilanga. This is being done through Mustafa. It is Try Ad of Jayaweera that has now taken the place of Chaturika's Media gang which is now on the way out.
When ungrateful Thilanga is trying to kill two birds with one stone , it is Sirisena who is getting stoned , the one who helped Thilanga to reach the swollen headed status when he was like a drowning man without even a straw to cling on to.
By e News Sportsman
Translated by Jeff
---------------------------
by (2018-07-12 15:46:21)
We are unable to continue LeN without your kind donation.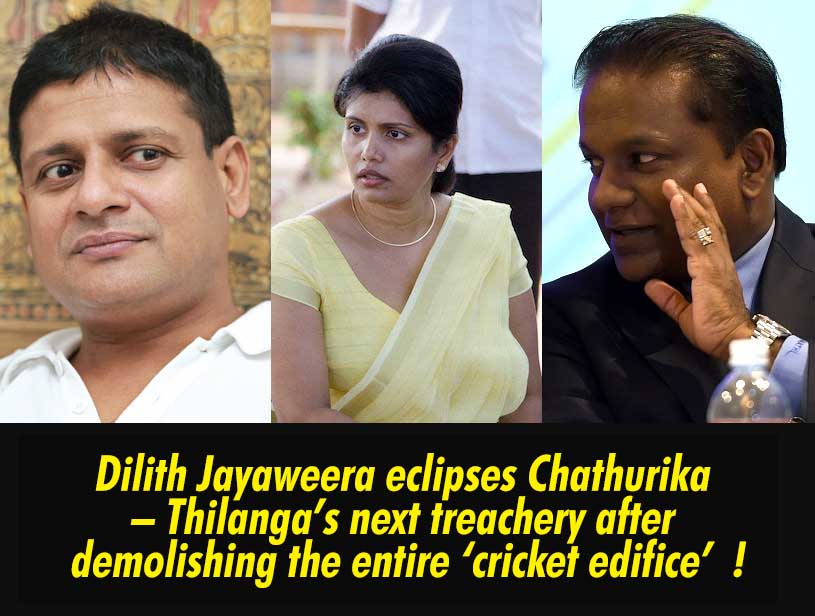 Leave a Reply