Skulls and skeletal remains discovered in Sathosa Building are those of 38 dead persons ! (photo)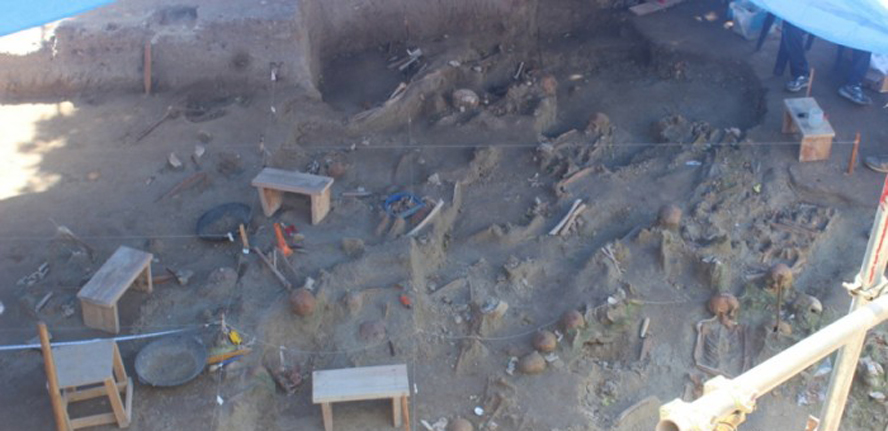 (Lanka e News -13.July.2018, 11.30PM) Skeletal remains of 38 persons were discovered until today , the 12 th at a location in the Mannar Sathosa warehouse during excavations.
These skeletal remains had not been taken out from the mass burial venue. The excavations are being monitored by the Mannar magistrate , M.Prabhakaran..
When some contractors were digging to lay the foundation for a new building after demolishing an old Sathosa building in Mannar town on 25 th March , these skeletal remains have surfaced, according to the Police
When the earth from the excavation was being transported by a resident of Emilnagar , Mannar by a Tipper he had noticed parts of the human skeletons along with the earth. It is following his information to the police , investigations began.
Thereafter , excavations were commenced on the 28 th of May , monitored by the former Mannar magistrate A.D. Alex Raja , and with the assistance of a group including Saminda Rajapakse the Judicial Medical officer ,Mannar, archeological department officers , and police crimes division investigation officers.
On the orders of the court , the skeletal remains which had been discovered were deposited in a special unit of the Mannar hospital while the security at the place where the skeleton remains were found has been beefed up, Police revealed.
Photos and report by Dinasena Rathugamage.
Translated by Jeff
---------------------------
by (2018-07-14 00:28:15)
We are unable to continue LeN without your kind donation.
Leave a Reply