Jailing of Pakistan's Nawaz Sharif and daughter hold portentous signals to Rajapakses and sons?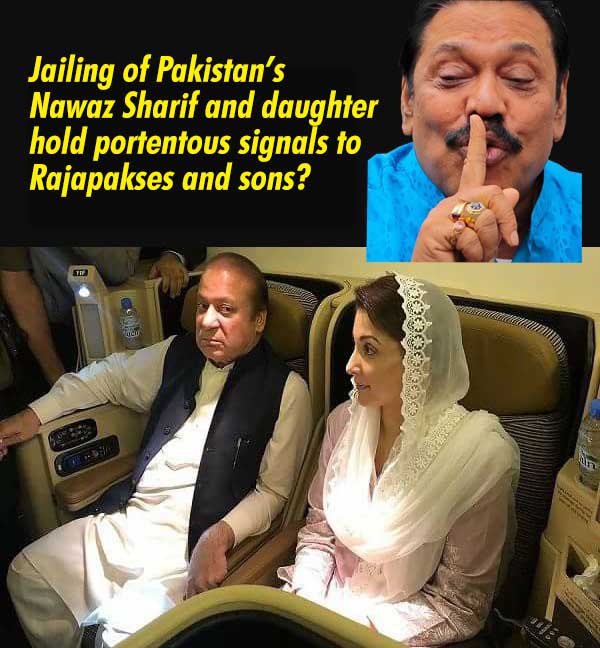 (Lanka e News -17.July.2018, 11.30PM) Pakistan's prime minister Nawaz Sharif who held the office of premier three times and robbed public assets was sentenced to 11 years in jail while his daughter Mariam was jailed for 10 1 / 2years . They were recently incarcerated in Rawalpindi. In addition a fine of 8 million sterling pounds was imposed. This is the salutary consequence of a trial conducted by an 'accountability court' which came into existence following the amendment to the constitution introduced like in Sri Lanka curtailing some of the presidential powers in that country in 2010.
From Monday (16) in SL too similarly , initially three special high courts (trial at bar) will be continuously hearing cases against corruption .The judges for those courts have already been named, and they are Sampath Abeykoon , Sampath Wijeratne and Champa Janaki.
Cabinet spokesman Rajitha Senaratne revealed , the other two special high courts will also begin functioning from September this year. The bill in respect of the establishment of these special high courts was passed in mid May.
There are about 60 cases to be heard in these special high courts and cases heard in these special courts pertain to bribery and corruption , financial frauds, exchange frauds , and money laundering . A special feature of the court procedure in these cases is , if the accused is abroad and the indictment cannot be served on him /her , the court can still proceed with the case .
The case of Nawaz Sharif and his daughter were heard while they were in England. Sharif purchased three houses in London out of the robbed monies. The case was heard and verdict was delivered while Shariff and daughter were in England . Both of them returned to Pakistan last Friday to face incarceration..
There are grounds for this. As in SL so in Pakistan the political power is shared between either of the two main political parties. If the Muslim League party of Sharif which is now in the opposition is to emerge victorious at the next elections , Shariff must return to Pakistan. He must be behind bars. Shariff however cannot engage in politics again, based on an earlier court verdict against him. His Muslim League party is now fielding Sharif's younger brother.
Interestingly , at home Gotabaya who is facing a number of criminal charges has requested that his corruption case be heard first when the special high courts starts its sittings on the 16 th. This announcement of Gota alias Gotler is the biggest joke of the century because it is this same Gotabaya who is running in 'baya' (fear) behind appeal courts and supreme court to avoid the so many cases of his now in the magistrate courts . Even the stray dogs around the courts must be enjoying this Gota-baya joke.
What is happening to Shariff and his daughter today is full of portents and holds out grave warnings of what is in store for Sri Lanka's corrupt rulers. If the younger brother is to win the elder brother must necessarily go to jail. The brother who comes to power subsequently then rescues the elder brother who is in jail already . This is the sad state of politics in South Asia . Fortunately however , slowly but surely steps are being taken to change this trend .
Chandrapradeep
Translated by Jeff
---------------------------
by (2018-07-17 22:17:50)
We are unable to continue LeN without your kind donation.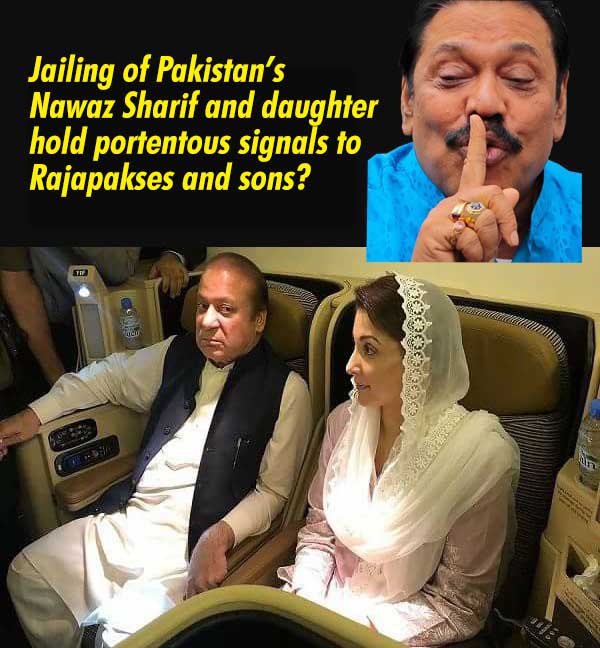 Leave a Reply