Record breaking occasion in Parliament - President defeated ! Even M.P. who tabled delimitation report against !!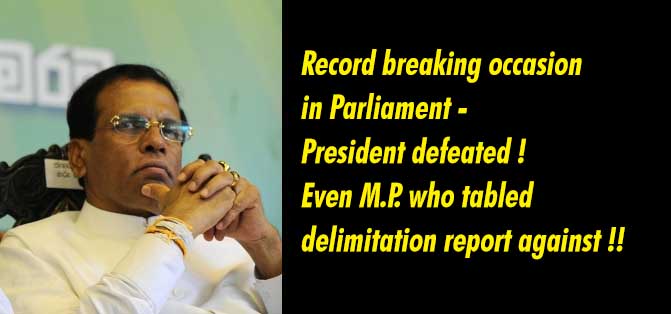 (Lanka e News 26.Aug.2018, 4.00AM)The delimitation report on the Provincial councils was defeated in parliament Friday (24) by a majority of 139 votes . The more shocking news is , this was a record breaking occasion in Sri Lanka's parliament because the very M.P. who brought forward this proposal at the behest of the president also did not vote for it – he kept away !
There were 139 votes against the report while there were none in its favor. Believe it or not ! even Faizer Mustafa the minister of provincial council , local administration , and sports who tabled the resolution did not vote in its favor ! thereby proving such momentous occasions in parliament is just a sport and play to him. It has been proved time and again all parliamentarians in SL take only one thing seriously – they participate most enthusiastically only when the occasion is making parliament a bedlam with the other parliamentary hoodlums .
This is tantamount to a humiliating defeat for the president in parliament because this delimitation commission was appointed by the president himself. This report of the delimitation commission which was appointed by the president was presented under the Act 2017 No. 17 amended by section 3a(2) of the provincial council elections Act 1988 No. 2 , and was tabled in parliament by minister Faizer Mustafa of the president's faction. Hence this defeat poorly reflects on the president . The latter tabled this in parliament on March 06 th for ratification.
All the parties including UNP, SLFP , Joint Opposition , TNA, Muslim Congress , and other minority parties voted against it on this occasion. As almost always the JVP members were absent at the time of voting .
There were serious allegations made by representatives of TNA, Muslim Congress, Pragathasheeli Tamil Organization and other parties that there are shortcomings in this report , and that the necessary majority seats for members representing the minorities had not been unerringly mentioned. Going by the voting result it was clear the argument advanced by the minority parties were endorsed by the main parties .
---------------------------
by (2018-08-25 22:47:40)
We are unable to continue LeN without your kind donation.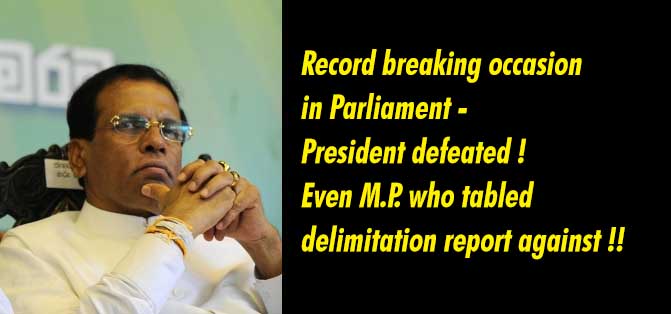 Leave a Reply