Dilantha Malagamuwa alias 'Blue Brigand Sri Lankan' on the prowl –beware you can be the next victim !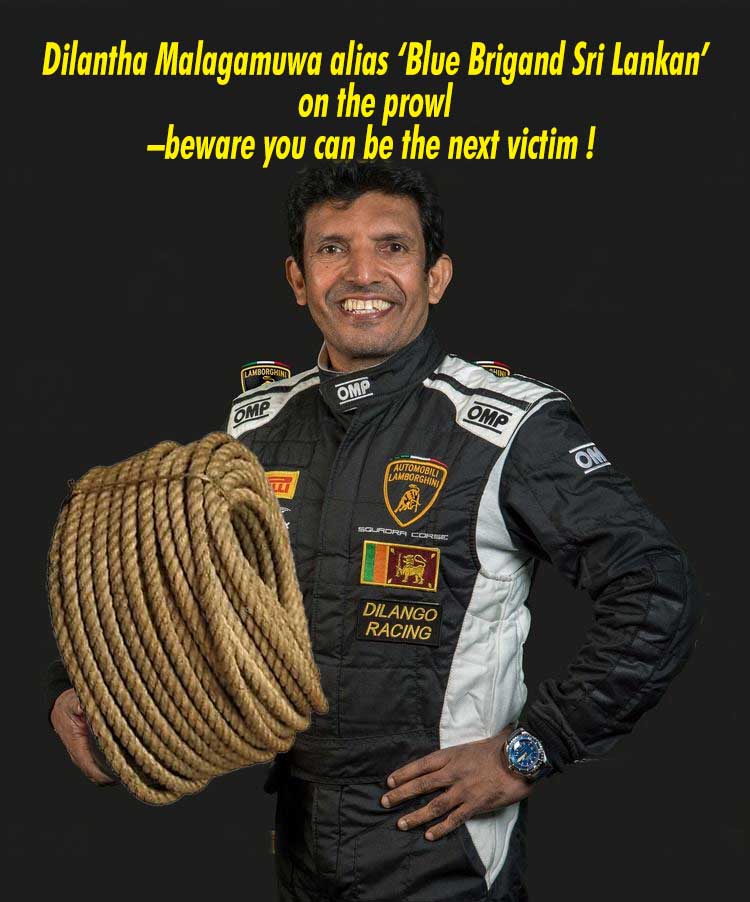 (Lanka e News -30.Aug.2018, 10.00AM) Dilantha Ranjula Bandara Malagamuwa alias Dilantha Malagamuwa is best known as a motor racing champion in Sri Lanka . But there is a lesser known side of his life which deserves to be publicized which proves how infamously famous he is on that lesser known side. That is his notoriety and ability to forcibly acquire properties , and misappropriate others' funds via calculated frauds and most atrocious perfidies. Sadly however many do not know his shadowy world of his shady and surreptitious activities .
Yoshiyaki Hayashi is a Japanese national. He came to know Malagamuwa because of his racing sport. At that time Malagamuwa was married to a Japanese woman. Hyashi who aided Malagamuwa from time to time was fetched by him to this country in 2005 , and through Dr. Ajith Ranawake , a sum of SL Rs. 100 million was collected in two installments and given to the then president Mahinda Rajapakse (MR) for his election campaign during that time.
Malagamuwa had at the same time painted a picture to Hyashi that he is very intimate with MR the president . Exploiting this he had suggested to Hayashi to invest in Sri Lanka , and Malagamuwa had obtained a power of attorney in his name transferring all the legal powers to himself. The monies to 'Oak house Co.' which was established via that were credited to an account in NDB , (National Development Bank) Kurunegala branch.
Hereunder are some of the outrageous record breaking frauds committed by Malagamuwa misusing the monies of the Japanese national Yahashi , thereby proving that Malagamuwa is talented not only at motor racing but also at monumental cheating ……
1.Basil Rajapakse had informed him to buy a Lamborghini car out of the funds of Hayashi as Malagamuwa is a motor racer of 'international renown' , and that sum was promised to be repaid within a month to Hayashi through Basil 's intervention . Accordingly , a Lamborghini was purchased. .
Malagama who deceived Hayashi by this absolute lie , directly withdrew US dollars 350,000.00 from the NDB bank Kurunegala branch , and paid the Lamborghini Co. Italy. Again he has collected a further sum of US dollars 100,000.00 saying it is for his child's education.
2.By transferring the power of attorney to a friend , Malagama , the latter had collected Rs. 200 million from the NDB account piecemeal. His friend had later revealed all that money collected from the bank were given to Malagama.
3.Using Hayashi's money , a land 14 acres in extent was purchased in Kurunegala , and a house was constructed thereon by Malagama
4.Out of Hayashi's money ,'Montechristowatte' a land was bought for Oak house Co. paying Rs. 65 million ! This payment was made in full by a single check to Thilkawardena Textile Co. its owner at that time . This land was some time ago owned by JCB Co. After the purchase Hayashi has made Malagamuwa a director of 'Central plantation' of 'Montechristowatte'. However following investigations by the CID, it came to light that Malagamuwa has on the sly written that land in his own name. Upon realizing he had been cheated wholesale Hayashi filed a B report in Kurunegala court making Malagamuwa the accused while also submitting a B report to the same court pertaining to the fraudulent withdrawal of funds from the NDB bank.
5. Before these frauds were trapped , Malagamuwa together with one Sivajothi had collected US dollars 600, 000.00 from Hayashi saying he will buy a building in Maradana for him. . Subsequent police investigations revealed that there was no such building at that address , and those monies too have evaporated into thin air . Malagamuwa's friend Sivajothi had then promised to pay US dollars 840,000.00 instead of US dollars 600,000.00 within a month to Hayashi.
Malagamuwa therefore was breaking inglorious world records in frauds and financial misappropriations after having reached so called 'glorious' milestones in car racing !
While all these rackets were raging of Malagamuwa , the latter has taken Hayashi to the CID and made a complaint that Sivajothi had cheated them on that sum. Sivajothi who was arrested on that complaint was remanded by the magistrate court , Fort. However he was released on bail later. In that case the CID took action to produce Malagamuwa also as a suspect .
Malagamuwa who was enmeshed and entangled in frauds and swindles that he could not stay in the country. Therefore he deserted his wife too and fled to Malaysia because he was unable to go to Japan the motherland of Hayashi , knowing well he is not safe there.
6. Malagamuwa who was evading courts was living with his new wife in Malaysia . After learning that CSN night races were going to be held in SL, he returned to SL with the support of Namal Rajapakse and Yoshitha Rajapakse ( all rogues of the Blue Brigand- buddies of the same feather )
The Rajapakse siblings who are of the same ilk as fraudster Malagama somehow rescued Malagama from being arrested at the Airport , fetched him and made him participate in the night races. Mind you the races were held around Dalada maligawa despite the Mahanayakes raising strong objections.
Hayashi filed a case against Malagamuwa in the commercial high court in relation to the 'Montechristowatte'. There is also a case in the Nawalapitiya magistrate court against forcibly acquiring the Montechristowatte.
7. Malagamuwa and his mother were forcibly occupying a house at Mihindu mawatha , Kurunegala ,when a case was filed by the son in law of late Eardley Perera PC against them. The district court which heard the case took steps to evict them.
What is most irksome and even more shocking than his massive frauds involving millions and billions of rupees is , he has an innate propensity even to rob a Rs. 2000.00 in another's hand if he sees that ! This seems to be a pet characteristic of all the chieftains of the Blue brigand.
May we also reveal some details about his victories in car racing. Except the countries which are famous for race fixing , he has won only in two countries. He has never been able to win in European countries. When youths in the age range between 20 years and 30 years are competing and winning motor races in European countries, an old bloke old enough to be somebody's father at the age of 55 years winning in countries noted for race fixing , merits a thorough probe.
Believe it or not ! it is such a blue brigand rogue and fraudster who secured a sports ambassador position from good governance buffoon of a president Sirisena alias Sillysena . What a shame ! without attending courtsin the cases pertaining to his colossal frauds , Malagama was participating in races using the Lankan flag. Much worse ! even displaying the slogan ' humble Sri Lankan' . In truth what he should have flaunted was the slogan 'Blue brigand Sri Lankan' .
This rascal who knows that the frauds and swindles he committed are menacingly trailing behind him has got around some young media pimps to falsely publicize that there are death threats to him from the underworld , and there exists such a contract given to them against him. Through these camouflages and subterfuges he has duped the foolish good governance too so much so that he has been provided with a Police security detail , it is learnt.
Though this born fraudster cum swindler is a disgrace to all the sportsmen and sportswomen , yet all the senior journalists despite being fully aware of every sordid and squalid detail still remaining silent is not only a matter for surprise but also grave concern .
Special correspondent
(All particulars are based on police reports and court proceedings)
---------------------------
by (2018-08-30 05:05:09)
We are unable to continue LeN without your kind donation.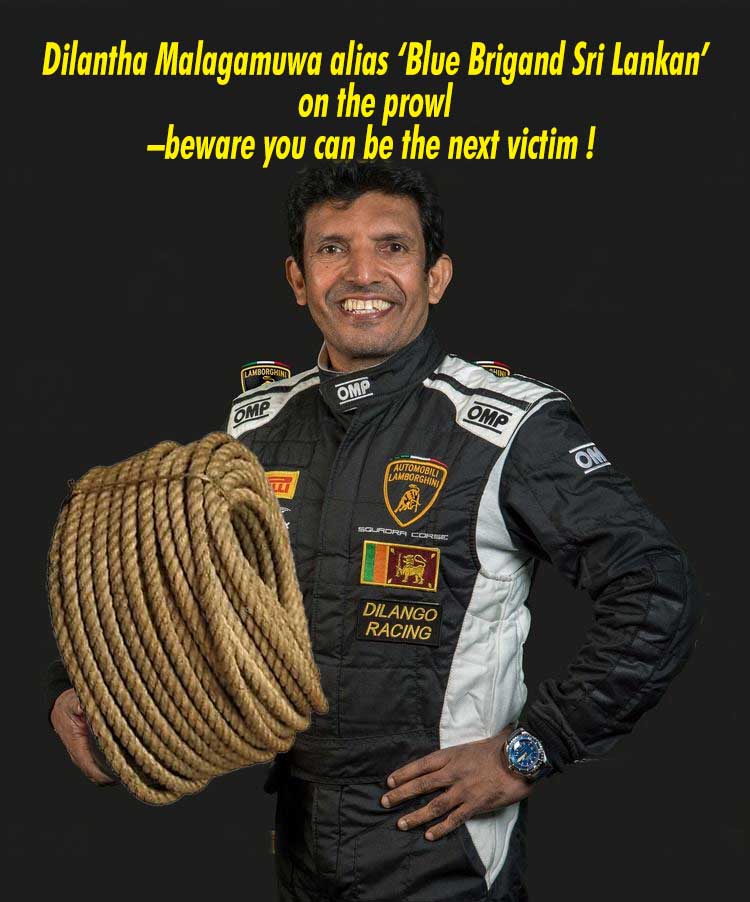 Leave a Reply