'Wine, woman and song' for Namal – Vodka and Christina - now he wants blood bath in SL via false flag operation
Former Intelligence officer reveals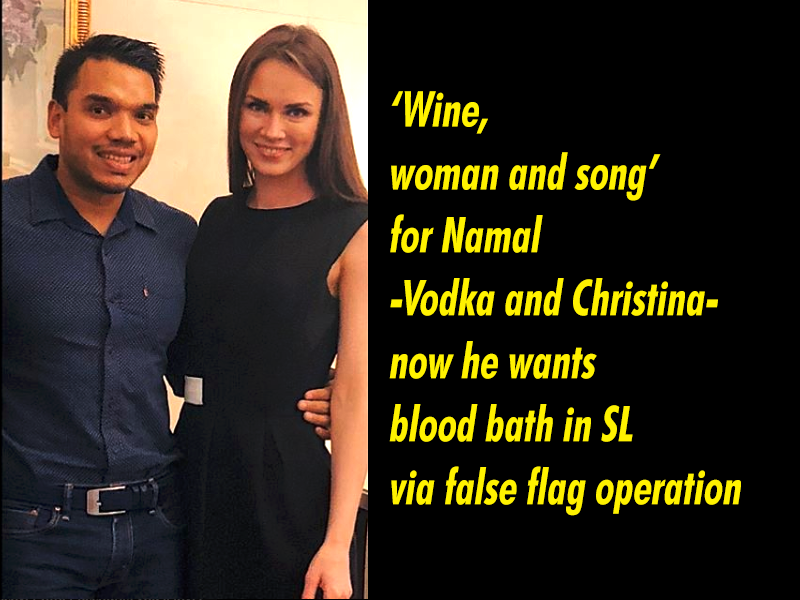 (Lanka-e-News -05.Sep.2018, 7.00 AM) Vladmir Putin was president of Russia between 2000 and 2008 during which period he was appointed to that post twice. After his term ended in 2008, .Putin held the post of Prime Minister from 2008 to 2012. While being the P.M. he amended the constitution so that he can be president again. The same crisis what Machiavellian mendacious MahindaRajapakse is facing now was faced by Putin several years ago.
Putin a cunning manipulator and who was former KGB chief succeeded in arranging and aligning everything to accomplish his clever and cunning surreptitious aims and ambitions. Putin did not resort to this subterfuge alone since it was the KGB , the Russian mafia, PR establishment and several crafty individuals who boosted his image , proffered legal advice and conducted his election campaign activities .
During the last presidential elections in US , because of the rackets of Russian hackers , the results were turned upside down. It is also well known because of the use of radiation chemicals by the mafia operators of Putin , about four British nationals died. Even the Scotland yard detectives had found it difficult to track down the killers, and that country is now driven into an insecure state.
To say it is in this climate Medamulana Rajapakse the notorious mendacious Machiavellian is seeking Putin's counseling how to deceive is no exaggeration. Russians are famous for stooping to any level to do any sordid bidding for filthy lucre. With the patronage of Putin ,Russia is now a paradise for the mafia groups. Putin's name tops the list among the state leaders who are most corrupt - the number one corrupt leader in the world.
In the radiation chemical murders committed in Britain with the knowledge and consent of Putin about 8 years ago , following a protracted trial , Putin was proved a wrongdoer. He was not a suspect wanted by Britain rather he was a convict.
It is in this climate , Namal toured Russia four times within the last two months. He had three primary objectives governing his visits…
1.To entrust the task of personality development of Namal as Mahinda's protégé to a Russian Co.
2. To entrust the publicity campaign which aims at boosting Namal's image over and above those of Gotabaya , Basil and Sashindra , to a Russian Co.
3.To secure the services of Russian hackers for special online related activities.
Just because Namal traveled to Russia it cannot be misconstrued that Putin's assistance will be received. The assistance of Russians is being secured on a cash payment transaction.
There are plenty of such private establishments which provide such services in Russia for which there is no Russian government patronage. If you have money you too can go to Russia and purchase a M.I. 24 helicopter . In other words the government of Russia is such a mafia administration. Speaking plainly and truly , Namal is throwing away the colossal sums of cash illicitly earned during the corrupt nefarious Rajapakse era.
Gotabaya after his training in the Red camp of China is all smiles when he is met..Instead of his verbal outbursts , he has learnt to speak after every pause. Even Namal 's behavior has undergone a change after his Russian tour. Previously Namal instead of making useful speeches tried to appeal to the gallery. He behaved like a court jester and his speech always bordered on foolish pleasantries .Now, Namal attempting to transform from court jester to a pleasing character is manifest.
Namal reclining alongside Christina !
People climbing trees demonstrating their opposition against Chamal Rajapakse; releasing a special report that Gotabaya has not been named as presidential candidate ; making Welgama and Vasudeva to take to the streets against Gotabaya ; appointment of Namal's discarded buddy as Gota's media spokesman ; and Basil leaving the country are not isolated but related incidents. Those were all orchestrated to construct a platform to propel Namal 'kollu' as main hero in politics.The People's force is moving to Colombo on 5 th September to 'crown' Namal after hoodwinking Gota, Basil and Chamal supporters. Hereafter it is I (Namal) , at ground level there is no room for that light and this light or anyone else. Henchmen of Gota and Basil should eat what drops to the ground , and stay put without speaking. It is only Namal's campaign in the future and that is being conducted by a Russian private Co. which had collected millions of dollars on that account.
It is the usual practice when a huge transaction is concluded with a Russian Co. to provide a young woman and a Vodka bottle. Namal got the opportunity to recline alongside 2018 beauty queen of Russia , Kristina Mikhalikina after concluding the under-mentioned transactions . (photo herein) . Namal's sex starvation and his lascivious propensities are well known .
It is the Russian Co. that will be putting Namal on the pedestal as well as launching attacks on the enemies via the internet . A ground office will be in operation in SL which will be working according to the advice of Russians.
Namal's campaign will be a huge mountain of publicity advertisements . It will sling mud at and attack the opponents. But the deadly part of the game is not that. .Russians have planned to stage a number of blood shedding political shadow operations( False Flag operations).
In the circumstances , the campaign of Namal is certainly going to claim many innocent lives.
It is well to recall during the corrupt nefarious decade a large number of weapons which were allocated to the defense division including mini ooshi and 7.62 m.m. pistols went missing . This is an open secret. Today those are in the ready for Medamulana operations. In addition when Gotabaya was the defense secretary , a number of latest weapons and sniper firearms which were got down were cleared secretly sans any records with the knowledge and consent of the defense ministry and the customs chief. The Customs chief at that time was the same individual who became secretary of ministry of law and order later .
In Namal's campaign what is contemplated is ,Namal's own assistant or several others too are to be killed by Namal's own clan . Thereafter the blame is to be fastened on the government. Most crafty and careful methodologies which are beyond ordinary imagination are to be adopted to achieve this target . This deadly operation can take place even on September 5 th.
With people's force program of Namal on the 5 th of September s , the sympathizers of Gota and Basil will be are unable to wear clothes and go on the road. They will be unable to freely post comments on the face books. Daily, Namal is taking calls to Gota and Basil's lackeys and either pleading or exerting pressure. Those who wanted to stand by and stand up with Basil or Gota are now nonplussed and without a clue – they do not know what to do because of Namal kolu .
By Keerthi Rathnayake
Former Intelligence officer of the forces.
---------------------------
by (2018-09-05 01:37:33)
We are unable to continue LeN without your kind donation.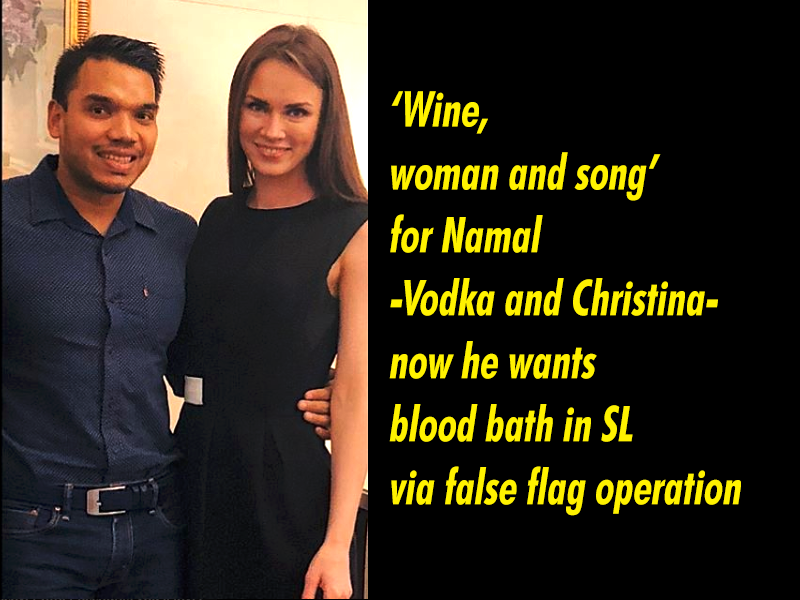 Leave a Reply