Uncouth uncivilized UPFA M.Ps invade area of witnesses in court ! Sathosa's Hon. bandicoot Johnston re remanded.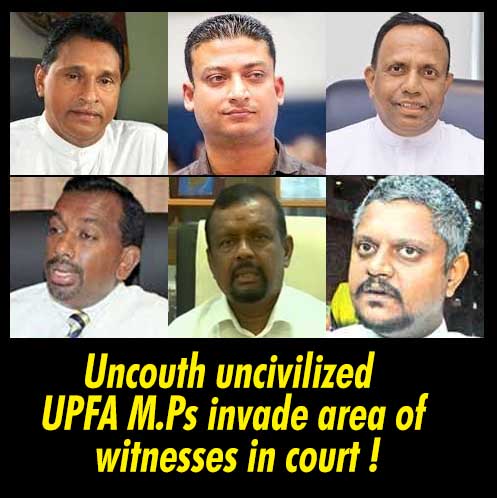 (Lanka e News -12.Sep.2018, 6.50PM) About 15 MPs of the Joint opposition were in the Kurunegala high court on the 11 th to watch the proceedings of the case in which three suspects including former UPFA minister of cooperatives and internal trade Johnston Fernando were arrested on charges of financial misappropriation of Sathosa funds , and remanded until the case is concluded . According to our Kurunegala reporter , all these MPs who were there had sat in the area meant exclusively for witnesses .
Among these uncouth uncivilized MPs who do not now decency and even decorum in courts but shamelessly calling themselves as people's representatives and supposed to set an example to others were Salinda Dissanayake,S.M. Chandrasena , Jayaratne Herath , Dilum Amunugama, Mahindananda Aluthgamage and Kanaka Herath . All of them are of the UPFA party of rowdy Rajapakses.
The area demarcated for witnesses is such that when one witness gives evidence , the other witnesses cannot hear it. That is located outside the court proper. Hence it is the view of concerned legal luminaries that action shall be instituted against these barbaric M.P.s based on charges of committing contempt of court , and exerting undue influence on the other witnesses in court .
The three suspects including the Sathosa bandicoot minister were ordered to be remanded again until the 12 th of September by the Kurunegala high court , according to our correspondent.
---------------------------
by (2018-09-12 13:27:21)
We are unable to continue LeN without your kind donation.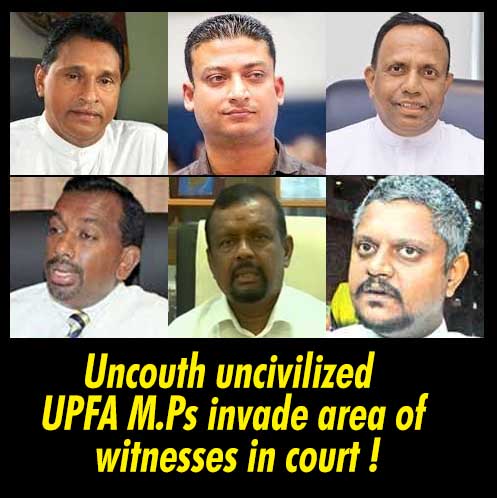 Leave a Reply