If I am ineligible it will be a brother of mine who will be presidential candidate -Mahinda says in India..!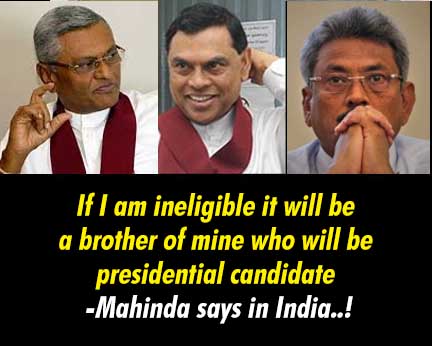 (Lanka e News - 13.Sep.2018, 9.20PM) At the presidential elections in 2019, he will be the leader of the Sri Lanka Podujana Peramuna (SLPP) , but even if he cannot contest as a candidate certainly one of his brothers will be the presidential candidate , Mahinda Rajapakse M.P. Kurunegala categorically told in India.
Mahinda who is on a tour of India currently made this announcement when he was interviewed by 'The Hindu' weekend newspaper. Mahinda who is now a patron of the SLFP had mentioned, the 'Bud'party as the party to which he belongs , and he has implicit faith in it . Besides he who will be leading the SLPP in 2019 , he confirmed.
According to the 19 th amendment he can contest the presidential elections , and he is prepared to cite reasons in support of that before courts , ex president Mahinda Rajapakse revealed. On the other hand if steps are not taken to reach beyond the limitations imposed by the 19 th amendment , and an alternative is sought , a candidate acceptable to all must be proposed ,and it will be a brother of his who will be the presidential candidate, Mahinda amplified.. Besides , because the age limit of a prospective presidential candidate has been raised to 35 years , his eldest son Namal Rajapakse cannot be a presidential candidate in 2019 , Mahinda pointed out .
When commenting on the decision taken by India to release the assassins of Rajiv Gandhi , he said that is a matter relating to the internal affairs of India .
Based on the announcement made by Mahinda that a brother of his will be the presidential candidate at the next elections , it is only Chamal Rajapakse who has the eligibility requirement. Basil and Gota are dual citizens having American citizenship as well. According to the SL constitution , the prospective presidential candidate shall be qualified to be a parliamentarian. Under the new laws of the country , a dual citizen cannot be a parliamentarian.
No matter what , to Maithripala Sirisena , Mahinda's revelations must have been like getting thrashed by Mahinda with the Sting Ray tail ,because this has dashed to the ground Sirisena's hopes of becoming president again by keeping unholy company with the Rajapakses .
---------------------------
by (2018-09-13 16:04:40)
We are unable to continue LeN without your kind donation.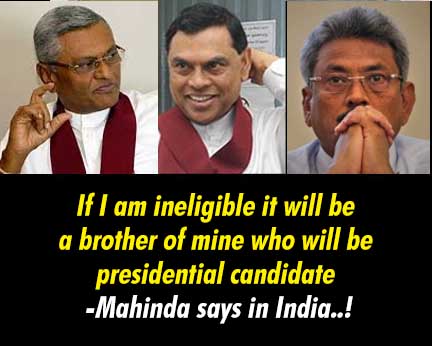 Leave a Reply