Stiff opposition to Chaturika's grotesque conduct usurping media authority ! ITN chief unyielding and steadfast !!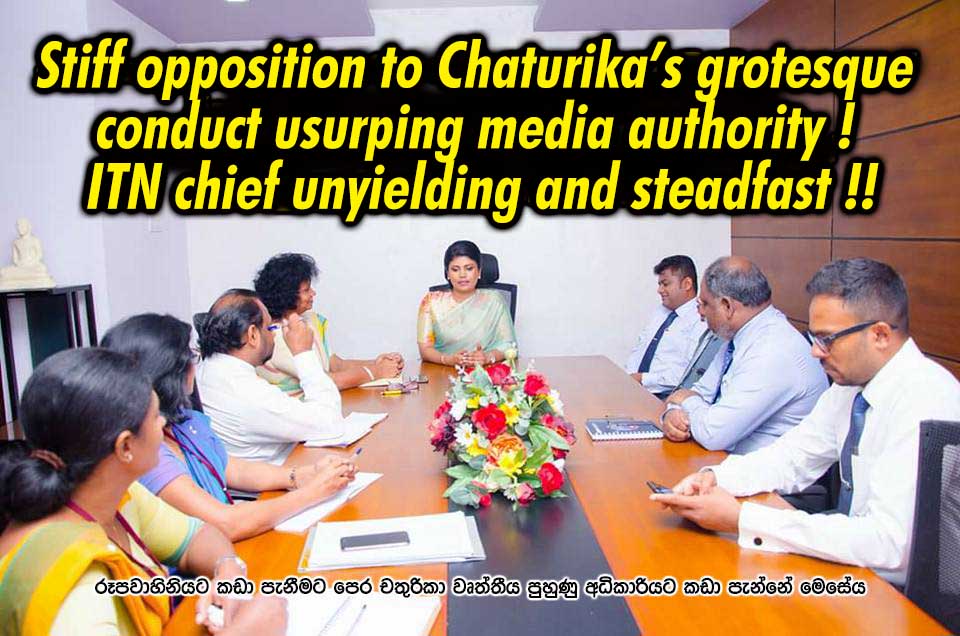 (Lanka e News – 20.Sep.2018, 5.10AM) It is an incontrovertible fact that President Gamarala since the day he became president has been breaking every promise he made to the people , antagonizing those who propelled him to power, befriending the very enemies who wanted to send him six feet underground, and was undoing everything what the UNP was trying to do to fulfill the promises made to the people.
Now , his latest diabolic move in the series is his leaving no stone unturned to shield and safeguard most ruthless criminals giving all the obnoxious illegal instructions ignoring even court directives thereby recklessly compromising the country's international image and the national symbol on a scale as never before.
To make confusion worse confounded , the president is using his uneducated daughter to give absolutely unlawful instructions , and appoint various individuals to positions above the duly appointed chairpersons of the State media Institutions , with the result the entire administrative machinery of the State is at sixes and sevens.
Chaturika barges into Vocational Training Authority too. ….
Chaturika Sirisena who is lately running helter skelter in a sudden frenzy has stormed into the Vocational Training Authority on the 14 th before her barging into the Rupavahini TV station on the 17 th. While the chairman of the training authority was out of the Island she had issued unlawful directives. Chaturika who has yet to learn how to make a dish of palatable curry has acted most high handedly to give advice to the board of directors. The photographs herein depict the mad scenes created by Chuturika.
The riffraff Raveen of Chaturika faces humiliation …
Meanwhile Raveen Wickremeratne the notorious Blue brigand rogue who was appointed over and above even the Raupavahini chairman by Chaturika when she broke into Rupavahini on the 17 th , faced the humiliation and degrading treatment he merited when he arrived at the Rupavahini on 18 th to assume duties , according to reports reaching Lanka e News.
Though Chaturika riding the high horse gave instructions to make a cubicle available for Raveen when she broke into the Rupavahini , the chairperson of Rupavahani was instructed by her immediate superior the minister of media not to consent to any illegal directives.
It is a well known fact that there is a procedure to be followed legally when making such appointments. It cannot be done in the way uneducated brutes and brats want. At least there must be an appointment letter from the media minister's secretary . How can an appointment be made merely on the instruction of an individual who holds no official post in the state hierarchy and just a housewife even if she is president's daughter ?
Sadly , Raveen who arrived at the Rupavahini early morning with his cronies had to go back crestfallen and humiliated at about 11.30 a.m. as no cubicle was made available to him. But before leaving he had crept into the director board room , and told after summoning some officers that he was there because nothing is being done by the Institution to boost president's image. When he said that , one officer in the audience had retorted ' it is we who indefatigably worked risking even our lives to propel president to power. Hence we know what should be done. So please do not try to teach us that. Will you kindly tell us where you were at that time ? he had inquired from Raveen . The latter who was nonplused had said , 'I am drawing a salary of Rs. 600,000.00 at Rupavahini . This is of no use to me. I came here because Chaturika wanted .' Finally this ace confirmed rogue had left even without being offered a seat to sit.
ITN's chairperson of dignity and integrity
Meanwhile , Chaturika who was anxiously waiting to barge into the ITN on the 17 th received a response from its chairperson which blew Chaturika 's top off.
ITN chairperson Thilaka Jayasundara is an additional secretary of the State administrative service. She had told , she has no mandate to give orders to invite her administrative authority and hold a meeting with Chaturika who is sans any official powers. If a meeting is to be held, her minister in charge of her own Institution should advise her . Without such permission she is not prepared to allow Chaturika or anyone else to do what she/ he wants, Ms. Jayasundara had informed Chaturika's henchmen . Chaturika had thereafter postponed her barging and charging into the ITN.
It is a pity president Pallewatte Gamarala who brags and boasts that he has 40 years experience does not know how the affairs of the State administrative service should be conducted. These incidents bear ample testimony to this . Besides , he is even unable to control his own blood relatives inflated with pride based on his powers. This became very evident at the very beginning on January 9th 2015 , when his younger brother sought to become the chairman of Telecom. He behaved most grotesquely without following any ethical code, let alone established procedures. He is such an imbecile that he went and sat in the chairman's seat with just a letter from the president brother , and said ' I am the chairman now' because of his inordinate greed for the post , a position that serves his venal inclinations best. It is subsequently , after degrading himself , the letter of appointment was duly prepared . Can you beat that ! even before the minister in charge was appointed , this moron (younger brother of His Excellency the president of SL) went and sat in the chairman's seat ! It is such an idiot who is now holding sway at the Telecom.That was as soon as the government was installed in power . But the position is different now. It is learnt as a remedy , the president is now desperately looking for an opening to appoint Chaturika officially under him. In all probability it will be the post of coordinating secretary displacing Shiral Lakthileke whom president wants to chase out as soon as possible.
Despotic trend is most portentous …
No matter what , the deplorable attempts made by president Pallewatte Gamarala to bring the State media Institutions under his autocratic control without any discussions with anyone in the government is being intensely frowned upon and absolutely resented by the ministers of the government who are most dismayed.
President Gamarala who is brazenly and shamelessly issuing unlawful instructions to shield and safeguard most deadly criminals who committed mass murders ,while denting and damaging the country's most precious national symbol and image internationally , now trying to bring the State media Institutions under him using his uneducated daughter through foul methods signals grave portents to the country . It is high time the UNP backbencher radicals remain constantly vigilant to ward off the desperate embattled Gamarala's tricks and treacheries which have now reached alarming proportions ..
Most probably , Gamarala and his uneducated daughter's dictatorial actions may end up deciding the destiny of the government because it has already been concluded , the P.M. having discussions on these matters with the president is futile.
---------------------------
by (2018-09-19 23:49:40)
We are unable to continue LeN without your kind donation.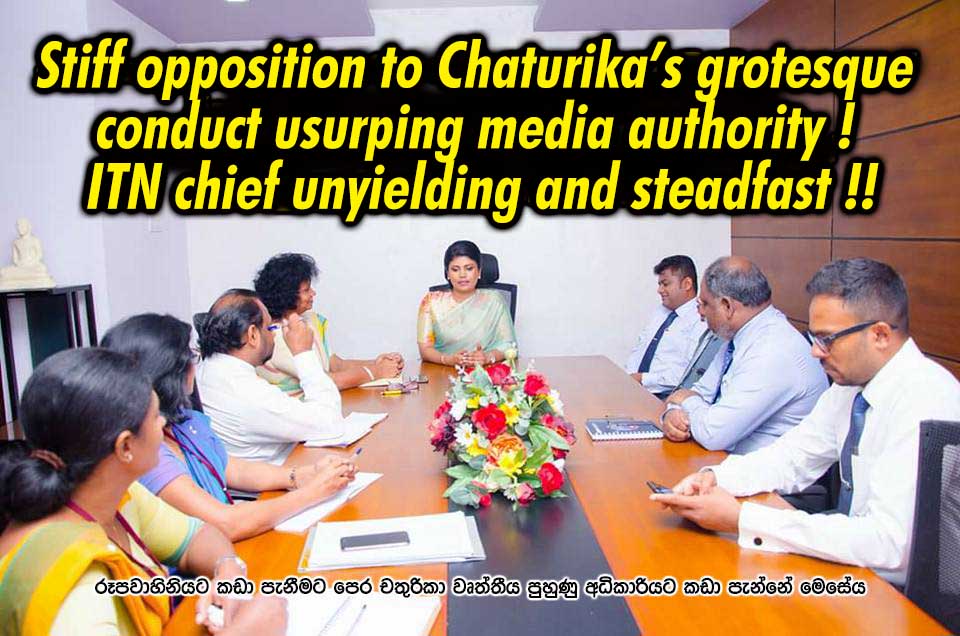 Leave a Reply