Sirisena 's RAW story only ends in evil fallouts..! India is going to be provoked -Thomas submits 20 page document to court..!!
By Former officer of State intelligence service of the forces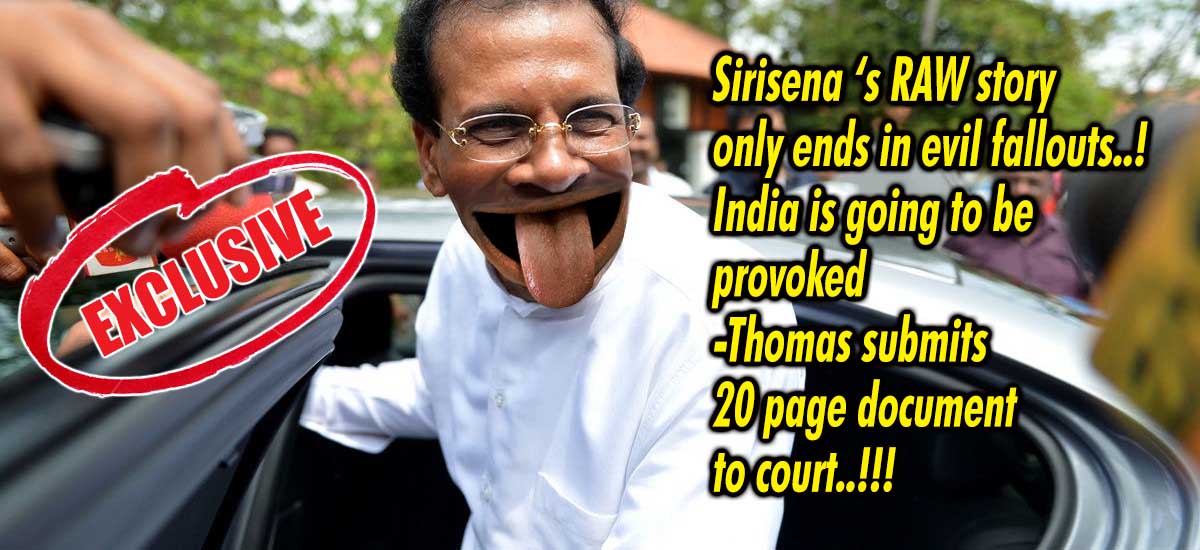 (Lanka e News -25.Oct.2018, 4.10PM) The suspect Maseli Thomas the Indian national who was arrested in connection with the conspiracy to murder Sirisena and Gotabaya , made a written submission running into 20 pages when he was produced before the Fort magistrate Ms. Lanka Jayaratne on the 23 rd. In that document written in his own handwriting , more pages gave graphic details of the harassment he suffered at the CID.
One CID officer has physically and mentally tormented him to get the statement recorded to suit the requirements of the officer , the document states. He had further said , the torment was so fierce it could have led him to death. Before the magistrate he had wept and urged her to send him anywhere even hell but not back to the CID.
The torture and torment inflicted by the CID had been so cruel that the magistrate immediately took action. She at once summoned the deputy director of the CID to court on the same day.
Truths exposed by Lanka e News proved in open court.
With the Indian national being produced in open court , whatever that were revealed by Lanka e news so far began to be confirmed one after another. It was only LeN which exposed that Namal Kumara was one who deserted the Air Force. In open court that was confirmed on the 23 rd..
Not only in the Air force but even in the other armed forces it is a common practice to send the educational certificates when new recruits are enrolled, to the examinations department for verification. The examinations department however does not respond in a night. It takes a considerable length of time to verify.
The examinations department lethargy is such , by that time the new recruits have undergone training and been appointed. Namal Kumara is one of them who had forwarded a forged certificate to the Air Force. When action was to be taken against him under the Air Force Act , he deserted the service and fled away.
Namal had taken a loan of Rs. 300,000.00 from Commercial bank ,Warakapola. In his loan application he had stated his employer is presidential task force for drug prevention , president's office , Colombo 01. The letter confirming the details was signed by none other than the director of presidential task force Dr. Samantha Kumara Kithalawarachi.
Kithalawarachi confirmed Namal was working under him but he never signed Namal's service certificate. That means Namal has probably furnished to the bank a phony service certificate like the educational certificate he produced to secure the job in the forces. No matter what , Lanka e news revealed all the truths about Namal Kumara well ahead.
Sirisena's hidden hand that emerged through Namal Kumara's lawyer
There is one more thing that confirms the exposures made by Lanka e news further …Maithri Gunaratne the lawyer appearing on behalf of Namal was one among the 22 hooligans who went to jail for attacking Sri Kotha with stones. What's more! guess who was made the presidential advisor ? That advisor was Shiral Lakthileke was made the advisor who staged a march from Matara to Colombo saying 'Ranil can't' only to get thrashed , and who tried to shoot himself in the middle of the road. It were Maithri Gunaratne and his father who shot themselves on the main road.
Even before the ink could dry after accepting the presidential appointment, Sirisena took these villainous scoundrels on to his laps, and mollycoddled them . Though Sirisena was parading as a man of integrity and rectitude who can be trusted , in action he could only demonstrate he was in fact the greatest masquerader of all times.
It is significant to note it is the presidential secretariat that created a so called presidential anti corruption force for Namal Kumara . It is they who bore all the responsibilities .Namal who called himself as its operations director drew salary from the presidential secretariat. Namal 's lawyer is also a Sirisena's lackey. Those who are holding media briefings on behalf of Namal are none other than Shiral and Kongahage who are also Sirisena's lackeys'. All of them are Sirisena's ventriloquist dummies. It is the discarded group of 16 that is blowing Namal Kumara drama out of proportion.That group is also Sirisena's lackeys..
The Sirasa TV channel too is Sirisena's dummy. They are concocting all the mythical stories at Sirisena's behest.
Gota's group is adding fuel to the hell fire . Weerawansa the uneducated crook unable to do anything better , and is now washing pots and pans at Sirisena's house is playing the drums. Therefore it is very obvious this whole melodrama is targeting the year 2020 ,and a Sirisena-Gota production.
Are the FR of the Indian national withdrawn ?
The Indian national Thomas Marseli is 52 years old , and had been suffering from a psychiatric illness for which he was taking treatment since 1992.In 1997 following a sudden accident his mental condition aggravated. Though he is married , his wife has deserted him. In fact Thomas should be in a mental asylum and not in CID detention.
It may be asked , if he is insane , how could he write a 20 page document? Physical and mental pain are common to all. Hence , though he is psychologically unwell he can write.
Based on the 20 page document submitted by Thomas on 23 rd , it is clear somebody in the CID is leaving no stone unturned to incriminate him in charges with which he has no link at all. In the CID there are Mahinda's 'lackeys' ; Gota's lackeys; 'Sirisena's lackeys ; Ranil's lackeys . That is everyone without exception.
Why was Thomas a psychiatric patient tortured within the CID ? Who are those who inflicted that ? are pertinent questions. Now it has become clear that the statement made by Sirisena at the cabinet meeting without any evidence at all that ' RAW is conspiring to kill me' is the cause. Was Thomas subjected to torture to make him the witness they desired ?
… to the extent of provoking the Indian people
The submissions made by Thomas before court on the 23 rd are most grave. It is very evident his fundamental rights have been violated .This can hence lead to strained diplomatic relations and provoke the Indian people. On the 23 rd , in court the underwear was torn asunder of Namal Kumara of so called presidential task force for drug prevention. This Namal Kumara who is a pawn of Sirisena –Gota duo is the worst scoundrel of that group of rogues . He is an ace corrupt fraudster, and an accomplished liar . Ajith Pathirane the lawyer for DIG Nalaka exposed all these in graphic detail with evidence in court.
The identity card RB 317217/ produced by Weerawansa.
It is a universally known incontrovertible fact Wimal Weerawansa of the 'pick pocket brigand' is a specialist in forged birth certificates , identity cards and passports . He is one who made forged birth certificates , identity cards and had no qualms about robbing another man's wife - a woman five years older than he. During that period it was Gotabaya who advised and assisted Weerawansa to make forged birth certificates , identity cards and passports .The registration of persons department and the Immigration and emigration department were under Gotabaya . In the circumstances , there is nothing surprising if Weerawansa and Gota had got together and made a RAW identity card for an Indian national who is mentally unfit.
However even a child is aware no member of the international intelligence service in the world is issued an identity card that identifies him / her as so and so.
Trying to stage Rambo show with Freddie Silva as hero….
After financial misappropriation cases being brought before the special courts Gotabaya is like a cat on hot bricks as he is well aware his fate is written on the wall. When the trial begins elusive Gota will have to do something to stop his shitting in his pants . Thanks to the former Director General of the Bribery commission ,who made it known to everyone what a coward is Gota who trembled and was panic stricken when he was put on the dock in court .
Even president Sirisena who has got the 'dog mark' tagged on to him after losing his popularity which is now at a meager 4 % owing to the corruption , frauds and rackets of his and his family coming to the open, is also against a blank wall . Two individuals facing the same sentence together whose fate lines are matching is a common occurrence in the world. Weerawansa is the publicity secretary of the Sirisena- Gotabaya'show' . Rather than getting his neck wrung by trying to make a 'greatest show on earth' , it is better for Sirisena to have a sense of proportions and eat rice on a banana leaf .
In short ,what Sirisena and Gotabaya duo is trying to stage is the 'Rambo ' show but with Freddie Silva (fomer Sri Lankan comedian) as the hero.
Sooner than later all these comedians who are trying to portray themselves as great heroes are going to end up as zeros , when they meet their waterloo.
Keerthi Ratnayake
A former officer of the State Intelligence service of the forces.
---------------------------
by (2018-10-25 11:06:02)
We are unable to continue LeN without your kind donation.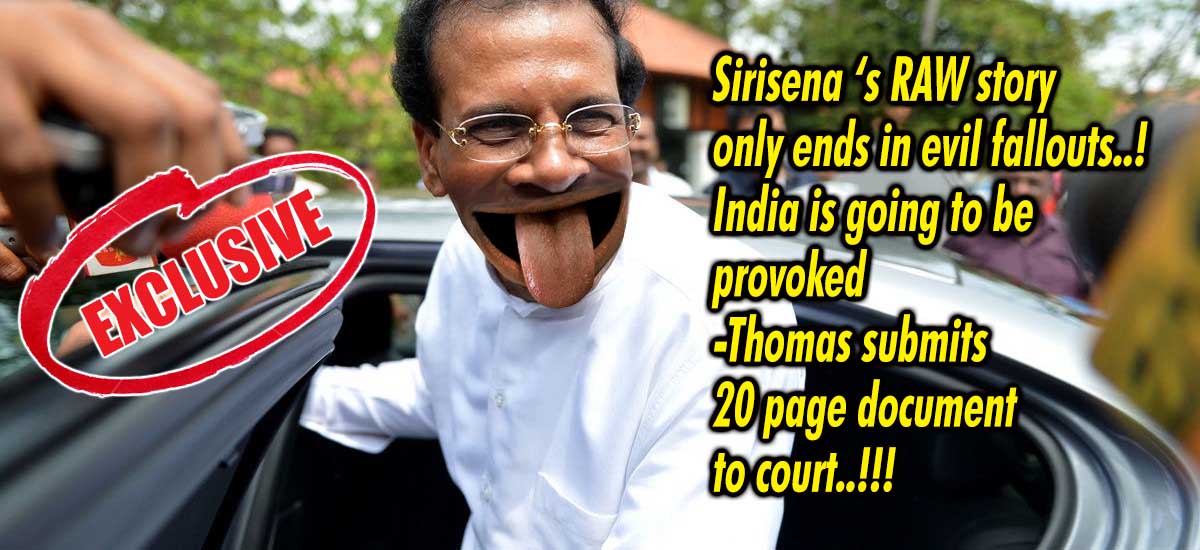 Leave a Reply