Country is In Danger..!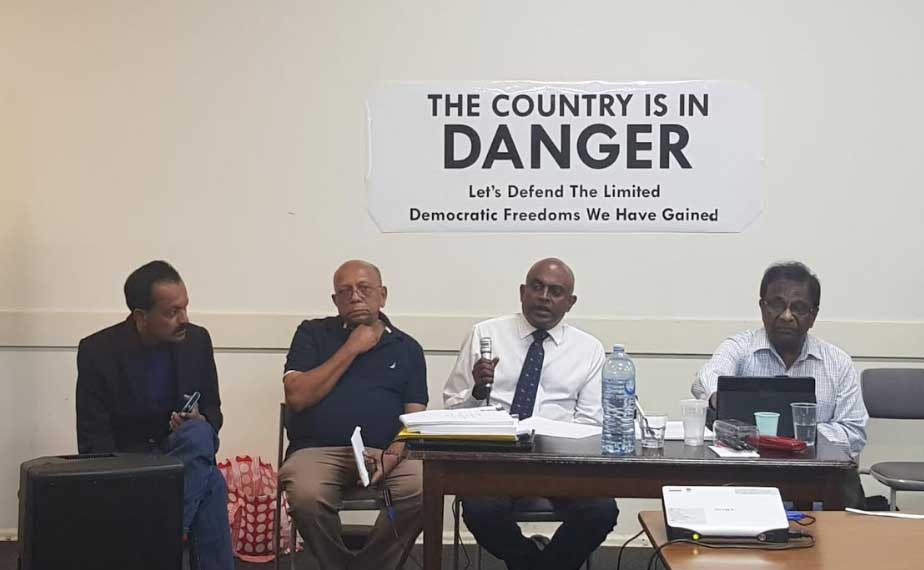 (Lanka e News - 23.Nov.2018, 9.45PM) Defend Democracy in Sri Lanka Movement in Melbourne - comprised of Politicians, Professionals and Australian Community Leaders from diverse backgrounds hold a protest meeting on last Sunday 18th November 2018 against the unconstitutional sacking of Prime Minister Ranil Wickramasinghe and proroguing of the Parliament. A large crowd of Australians of Sri Lankan Origin has attended this meeting.
All the speakers who have addressed the gathering emphasized, "When the NCM has passed against the Government, the Cabinet stands dissolved and constitutionally functioning of the government is illegal". They also stressed, "Rajapaksa and Sirisena clan has dragged the country in to a chaotic and unstable situation. Foreign investors are leaving the country. IMF is delaying the loan discussions with the Sri Lankan Government".
The meeting has adopted a Resolution against the unconstitutional acts of by the President Sirisena and agreed to send this resolution to foreign missions including UN, Commonwealth Secretariat, Australian Government and other foreign missions.
Following Community Leaders addressed the meeting.
​Hemantha Kuluppuarachchi – former President of UNP Australia Main Branch
Jude Perera – Member for Cranbourne in Victoria Parliament
Lionel Bopage – Former General Secretary of JVP
Pubudu – on behalf of JVP
Shahim Mathaiz – on behalf of Muslim Community
Athula Pathinayake – Director of Law School Deakin University
Shaymon Jayasinghe – A Former Permanent Secretary and a community leader
Arun Kumarasan – on behalf of Tamil Community
Ryle Moldridge – on behalf Sri Lanka Burger Community
---------------------------
by (2018-11-23 16:36:40)
We are unable to continue LeN without your kind donation.
Leave a Reply