Muslim Ministers "in no hurry to return" ; Rival politicians accusing me failed to file any complaints so far -Rishad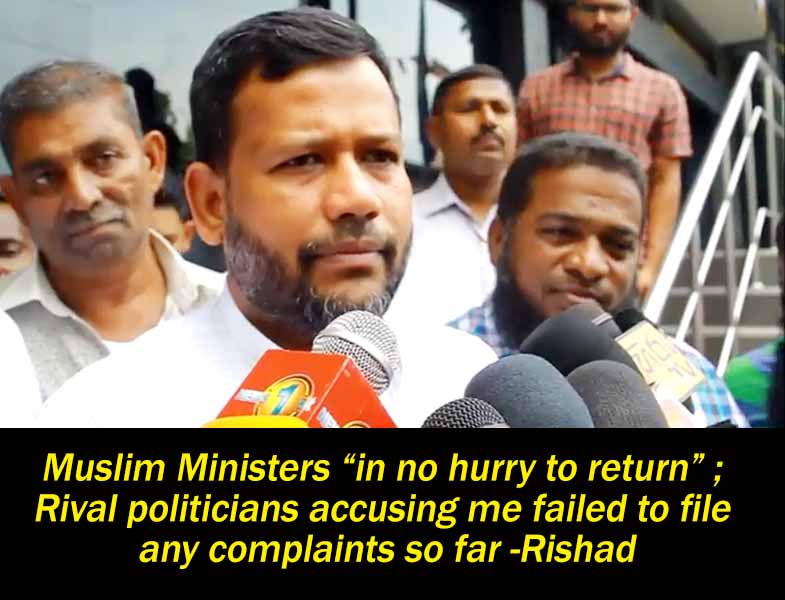 (Lanka e News - 02.July;2019, 11.30PM) Resigned Muslim Ministers are not in any hurry to return to their latent Ministries. "Both the Prime Minister and President called us to return to our Ministries and take back our portfolios" said ACMC Leader Rishad Bathiudeen MP on 2 July. Bathiudeen MP was addressing the media on 2 July after giving a statement to the Organised Crimes Prevention Division (OCPD), Colombo.
"I previously complained about false media statements published against me and today they called me to come and give more details about them. For example false media reports on Sathosa vehicles used by suicide bomber Zahran. I have not committed any offences and despite this various people accused me" said Bathiudeen MP. When the media questioned him on the opposition's allegation that the Parliamentary Select Committee (PSC) worked to 'sanitise' him of the allegations made against him, and his next steps after PSC, he said: "Both the ruling and opposition parties called on the Speaker to establish this PSC focused on Easter Sunday bombings. Since I was also invited to give evidence at the PSC I appeared before it and answered their questions. I am an MP who has not committed any of the alleged offences. I stress that all persons guilty of the bombings should be legally punished. This is what my community too is believing in. However, allegations linking us to the bombings are made, and for narrow political gains. At a time when defence authorities and sections are conducting investigations and at a time when such investigations are progressing well with many terrorist arrests, it is inappropriate to make such allegations against us –that too, for political gains. People will understand the truth about these accusers in future. But people who accuse me with a political bias have so far failed to file any complaints against me with the Police or CID. They accused me saying that I took over 3000 acres in my name and later said it was over 8000 acres. At the PSC I clarified that that neither I nor my family own 3000 or 8000 acres as claimed by them, and if they find that I own such, I invite the government to take possession of it. Rather than claiming in media on a daily basis that I took over lands, why can't they file a police complaint and prove it in the Courts of Law? We resigned from our Ministries for the sake of our country and its unity. We are not in any hurry to return to our portfolios. Both the Prime Minister and President also called us to return to our Ministries and take back the portfolios –both the PM and President also know that we, the Muslim Ministers, have not committed any alleged offences. In fact the entire country is aware of our innocence too."
Previously on 28 June ACMC Leader Bathiudeen testified before the PSC. After his statement was concluded on 28 June, quoting a letter sent by Acing IGP Senior DIG C. D. Wickramaratne, to Dhammika Dasanayake, Secretary General of Parliament, the Deputy Speaker and Chairperson of Committees of Parliament J. M. Ananda Kumarasiri announced: "No evidence has been found to link Minister Rishad Bathiudeen to the series of bomb blasts of 2019 April 21 nor any terrorist activity, in investigations conducted so far by the Investigations Committee comprising of CID, FCID, and Colombo Fraud Investigation Bureau (CFIB), established to investigate complaints against Minister Bathiudeen and Governors MLAM Hisbullah and Azath Salley."
---------------------------
by (2019-07-03 01:35:03)
We are unable to continue LeN without your kind donation.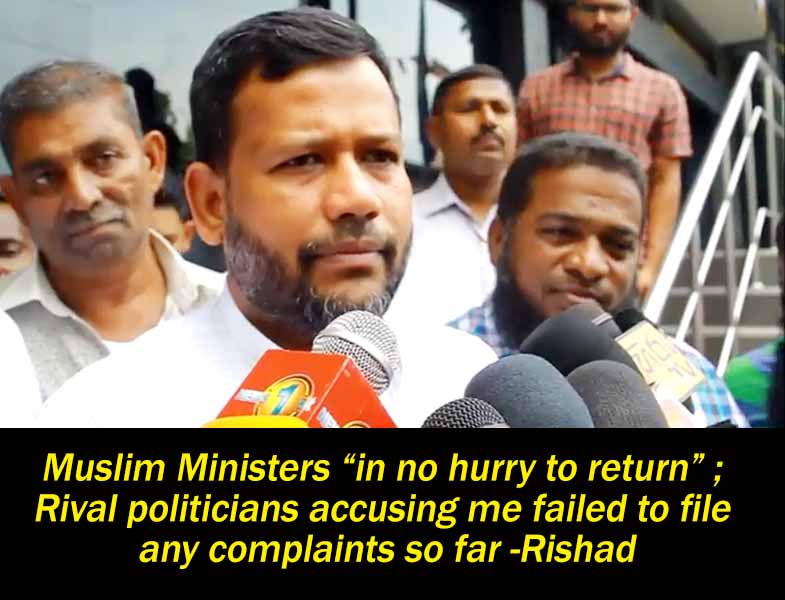 Leave a Reply