'We were very hurt, isolated' -Rishad reveals the untold story of Muslim MPs' delay to return
Ethno-politics since independence delayed Sri Lanka's progress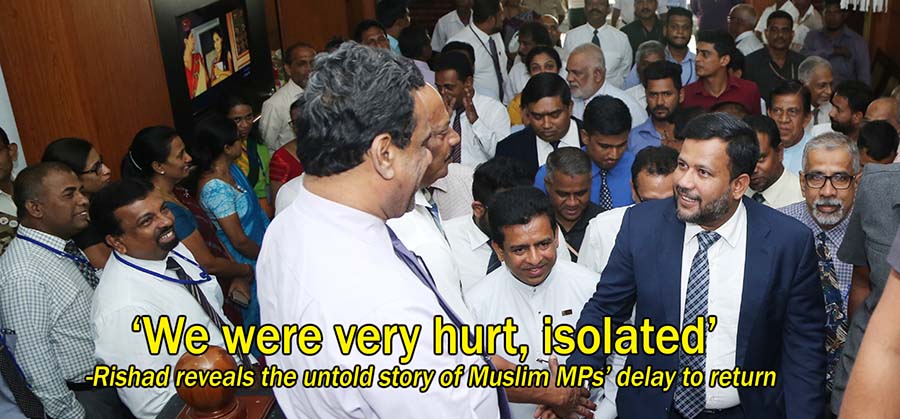 (Lanka-e-News -30.July.2019, 7.30PM) For the first time, the enigma behind Sri Lankan Muslim MPs' evasion and resisting of their portfolios were revealed on July 30. "I discussed with members of our party ACMC as to whether I should stay out of this portfolio till Presidential elections" said the Minister of Industry, Commerce, Resettlement of Protracted Displaced Persons, Cooperative Development, Skills Development & Vocational Training Rishad Bathiudeen on 30 July at his Ministry office in Colombo 3. Making his first official address after re-assuming duties in the same portfolio on 30 July, Minister Bathiudeen finally revealed the untold story of why Muslim MPs kept the rest of Sri Lanka guessing on their return to the Cabinet. Minister Bathiudeen first took over his portfolio in 2011 and has become the only Lankan Parliamentarian & Cabinet Minister to hold this portfolio four times in a row until he stepped down in June 2019 with other Muslim Ministers, and with his re-appointed on 29 July, he re-gains this portfolio for the fifth time in a row.
"I discussed with members of our party ACMC as to whether I should stay out of this portfolio till Presidential elections but decided to return today after discussions. Easter bombings are still hurting us-socially, psychologically and economically. After Easter bombings, all the accusations were pinned onto Muslim politicians, brought NCMs against us, and hunger strikes erupted against us. We the Muslim politicians then had to make a clear decision. We agreed that there has been serious damage to Sri Lanka due to Easter Sunday bombings, and if a new round of ethnic riots takes place along with destruction to lives and property as a result of us continuing to stay in the Ministerial portfolios, it will be very damaging to Sri Lanka. We, the Muslim Ministers then resigned to protect Sri Lanka's international goodwill. The other Muslim Ministers were convinced that I have had no links with terrorists. Therefore they did not allow me to step down alone but collectively walked out with me. "We should step out during these investigations. If the investigations prove a link with any one of us, the let us face consequences according to laws against terrorism" they said. Thereafter the Police openly called to file complaints against me if there were any, giving some time to do so. 30 persons filed 300 complaints and many of were due to jealousy. Finally CID announced that their investigations have not found any evidence linking me to the terrorists. Immediately after that we the Muslim MPs informed Ministers Kabeer Hashim and Haleem to return to their portfolios. However, I and Minister Rauf Hakeem together decided to not to return to Ministerial portfolios since we were very hurt that the UNP, to whom we have been extending our political support sincerely to bring it to power, failed to stand together with us at this critical time, and did not voice or talk about our innocence regarding the false accusations on bombings, thereby leaving us to face it all alone and on our own. We were isolated during that political turmoil and felt very seriously threatened, with no political backing. At that very moment, we had to stand shouldering the burden of preserving the country's peace, international goodwill, the safety of our community -all burdens at the same time. Therefore the only choice left to us was to continue to stay away from the cabinet portfolios" said Minister Bathiudeen and added: "Muslim countries stood with Sri Lanka when the human rights investigations were pursued by Geneva. At that time former President Mahinda Rajapaksa sent me and some other Muslim Ministers to visit Muslim countries to canvass their support to Sri Lanka, and we got their assistane-along with various types of reliefs from them as well. At the end of the war, Sri Lanka could not afford to buy crude oil since we were short of cash and after Muslim Parliamentarians' request, Iran stepped in to give Sri Lanka crude oil for six months on credit, to the value of $250 Mn."
Responding to political accusations on him, he clarified: "After the Easter bombings, there was also a No Confidence Motion against me that failed. The 10 accusations in it were serious, and they linked me to terrorism. Such an allegation, if sincere, needs to be made through the Police and Judicial system but that was not the case. Since some Sri Lankans still do not think as Sri Lankans but as Sinhalese, Tamils and Muslims, we have not achieved the expected economic development even 70 years after independence. Politicians think only about gains for them and not about the country. I was one of the Northern displaced people during the war. Even though I finally qualified as an engineer since I saw the sufferings of the 100,000 displaced along with me, I decided that I should serve them. I did not plan to enter politics previously but entered accidentally. Some people say I am the son of the former politician Bathiudeen but I do not have such great family political legacies to boast. I contested as a struggling candidate for the General Elections while I was still languishing in the refugee camp, and was elected by the voters as an MP representing the Vanni District. I received votes from people of all ethnic groups. I created ACMC and while many other political parties lost their voters in later elections, our party's voter base grew by 400%, previous 40 provincial and divisional MPs of ACMC also grew to 169. Now ACMC has 5 Parliamentarians. People have trust in our party. When I struggled to resettle displaced Muslim IDPs, they accused me of destruction of Wilpattu. I was just trying to resettle people in their original settlements and as a politician elected by such people, that was my primary duty. In my absence Acting Minister Buddhika Pathirana worked very hard to maintain the activities of the Ministry."
Photo - Rishad Bathiudeen arrives at the Ministry to re-assume his duties on 30 July.
---------------------------
by (2019-07-30 14:14:26)
We are unable to continue LeN without your kind donation.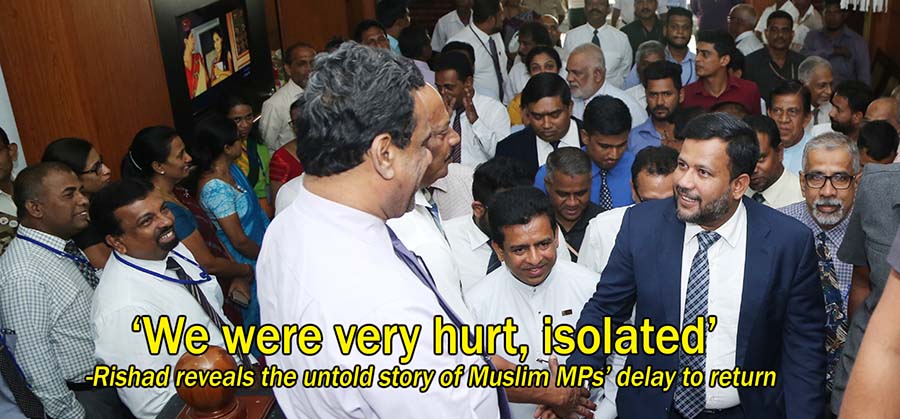 Leave a Reply