If Karu contest first preference, if Sajith contest first preference for Anura and second for Sajith..! -Coalition for left and civil societies decides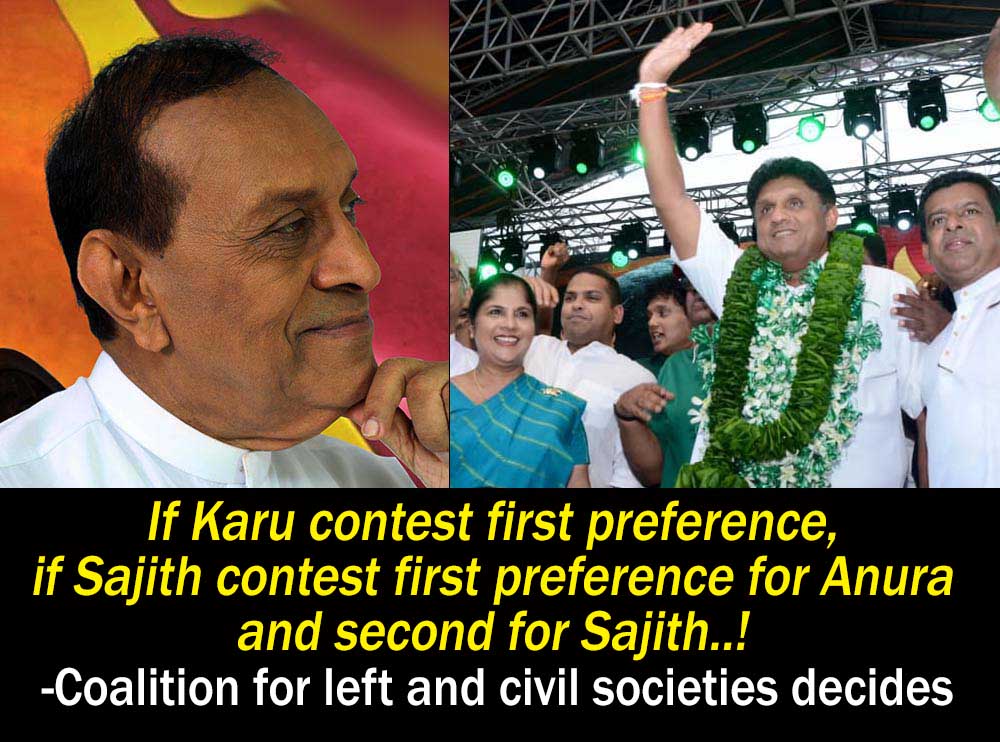 (Lanka-e-News -27.Aug.2019, 1.45PM) Reports reaching Lanka e news confirms if Karu Jayasuriya contest from the UNP lead national democratic alliance, the coalition for left and the civil societies has decided to cast their first preference to Karu and If Sajith contest, they are going to cast their first preference to the national force candidate Anura Kumara and the second preference to Sajith Premadasa. They have informed their decisions to the UNP leadership and to the leaders of the national democratic alliance.
The coalition for left has come to this decision following their executive committee meeting few days ago.
Why the 2015 forces split?
Although coalition for leftist groups and civil societies supported the common candidate and did a great job to his victory in 2015 now, all leftist parties have become stakeholders of the national people's movement.
Their stance is that although they create an alliance with national people's movement is a long standing political step for the future, if Karu Jayasuriya is contest they can give their first preference to Karu and they don't have such a pleasure with Sajith Premadasa. However since they wish to defeat Gotabaya they are ready to give their first preference to Anura Kumara Dissanayake and the second preference to Sajith Premdasa. Although the civil societies are intact with the leftist united front they are delaying their decisions until the final decision taken by the national democratic alliance.
Sajith and Gota both doesn't talk about urgent political reforms
It is important that both parties should present their candidate and policies for the coming election. Although the main two reasons presented in bringing good governance in 2015 are abolishing the executive presidency, appointing a president through the parliament, strengthening the parliament and presenting a new constitution devolving powers. However the government didn't take any credible steps beyond 19th amendment which curtailed powers of the executive presidency. The two candidates who are planning to contest the elections are never talking anything about the previous political reforms but they are talking only about strengthening the executive presidency.
Karu's opinion
During a discussion with Karu the latter has said he would use the executive presidency for two years and make the above reforms and retire from the post. Since it was Karu Jayasuriya behind venerable Sobitha's movement for just a society the leftist parties ad civil societies has more confidence in Karu Jayasuriya.
Sajith faction's opinion
Sajith faction bears an extreme and marginalized opinion about this. Sajith faction opinion is that since the leftist parties and civil societies have not much vote bank their opinion is not much important.
By a staff reporter
---------------------------
by (2019-08-27 08:37:13)
We are unable to continue LeN without your kind donation.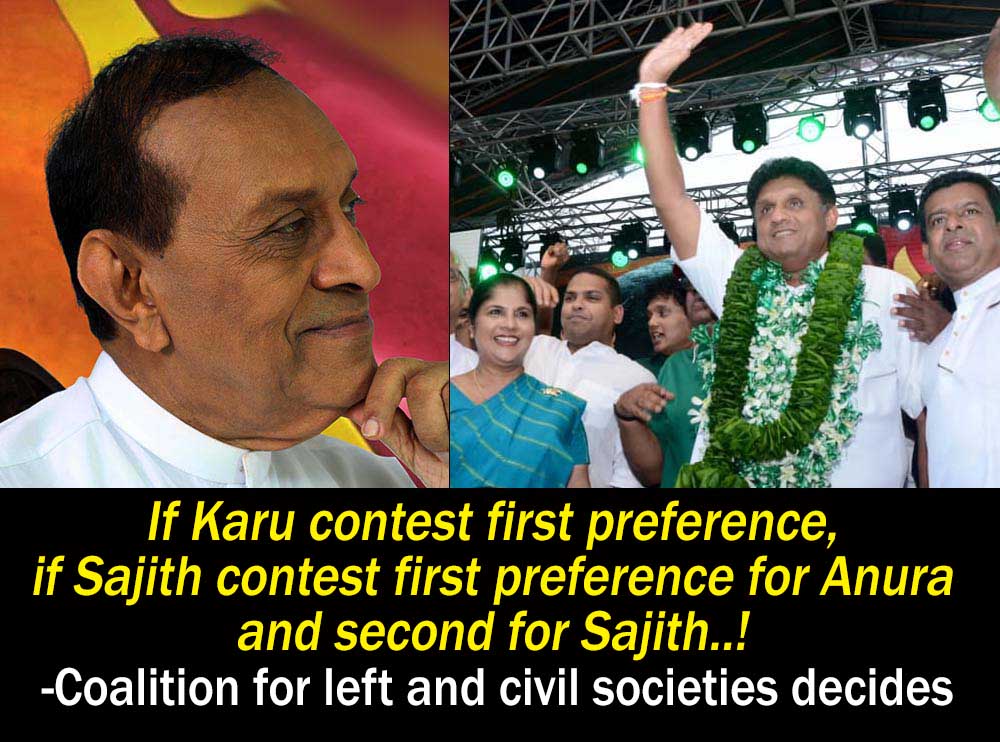 Leave a Reply