Gotas dual citizenship is ok..! petition dismissed ..!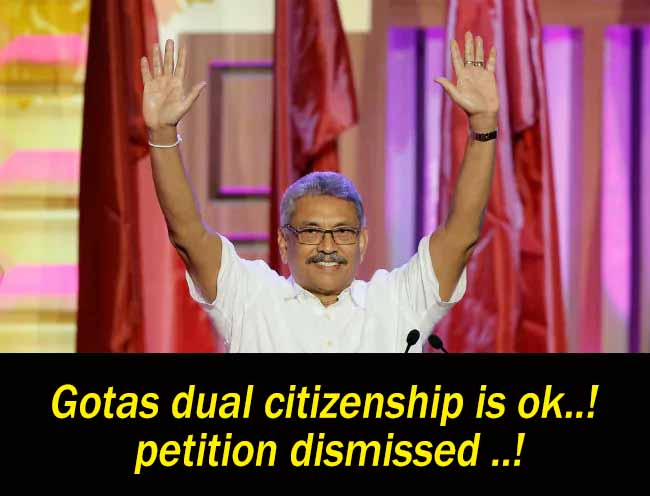 (Lanka-e-News -04.Oct.2019 -8.20PM) The court of appeal dismissed the petition filed by the Civil Society Collective stating that Gotabhaya Rajapakse had obtained his dual citizenship in 2005 in a systematic manner and was still an American citizen.
Petitioner asked the courts to issue an interim injunction preventing the nomination of Gotabhaya Rajapakse for the presidential election until the case is heard. The appeal court dismissed the entire petition without issuing at least an interim injunction order.
The three-judge bench, headed by Appeal Court Chairman Yasantha Kodagoda, Arjuna Obeysekera and Mahinda Samayawardene, announced a unanimous verdict on the three-day hearing which ended at 6 pm today.
When the Court of Appeal Judge Yasantha Kodagoda announced that the petition had been dismissed, Gotabhaya's slave lawyers sheered "Let our Gota sir win." Judge Kodagoda while expressing his displeasure said not to take the judiciary to a cinema theatre. Gotabhaya's lawyer Romesh Fernando apologized to the judge, expressing his displeasure.
The judges did not say in open court why the petition was dismissed. They said there was no time and it would be announced another day. According to Lanka-e-News, the reason the petition was rejected as there was no cabinet for two days when president Rajapaksa took over as president in 2005 but argument raised since president Mahinda had executive powers to sign Gota's dual citizenship before the present 19th amendment.
Gota's dual citizenship certificate was signed by an authorized official on behalf of the president. It is said that the petition was dismissed on the grounds that there is an issue regarding the powers vested to the president and that this judiciary has no jurisdiction to hear it.
Although this is a question of Gota's dual citizenship, the question remains as to whether he properly withdrew his US citizenship. A dual citizen cannot contest the Presidential election in Sri Lanka.
---------------------------
by (2019-10-05 04:33:02)
We are unable to continue LeN without your kind donation.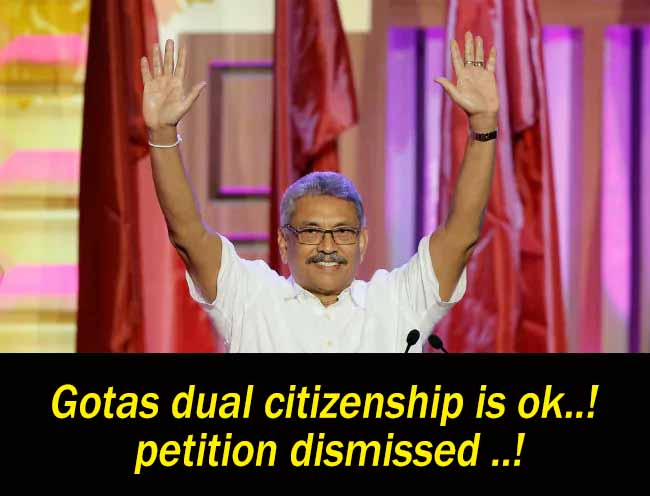 Leave a Reply