Our judiciary is so independent and impartial; How Gota knew the decision before hearing the case…!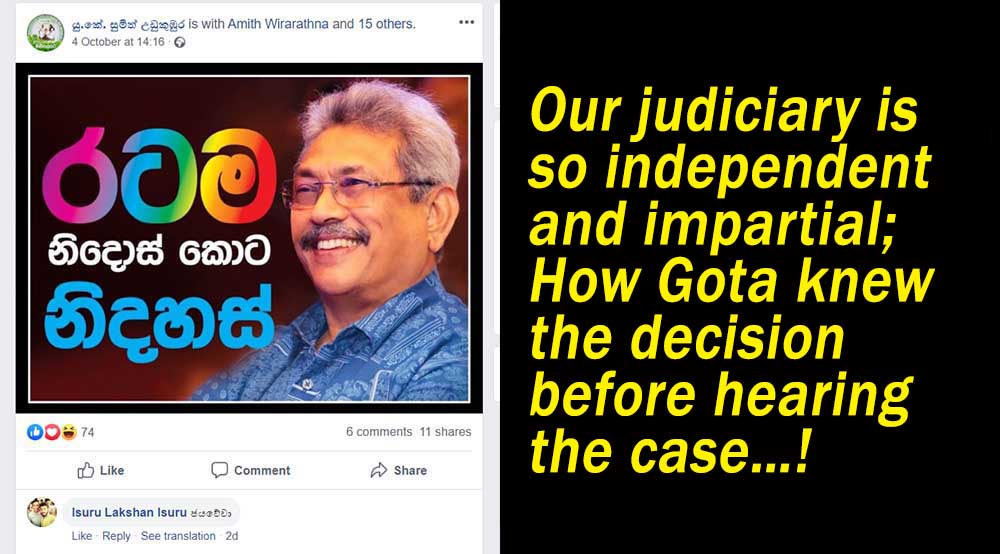 (Lanka-e-News -08.Oct.2019 -1.30PM) Reports reaching Lanka e news confirms with facts that Gotabaya was already aware of the decision made by the chairman of the appeal court judge Yasantha Kodagodda including other two judges of the court of appeal which heard the petition which inquired that Gotabaya Rajapaksa is a citizen or an illegal resident.
Following hearing the petition on the 2nd 3rd and 4th stated the decision would be made later judge Yasantha Kodagoda dismissed the petition on the 4th of October at 6.30pm. The following morning, a poster of Gotabaya's with four colors, 17" x 22", had been posted all over the country under the title "the country has acquitted"."රටම නිදොස් කොට නිදහස්"
According to the writer, the posters were delivered to Pohottuwa office at Kurunegala on the 4th of October at 12 noon.
With 15 years of experience in the field of advertising in Sri Lanka, at least 200,000 posters were needed to paste across the country. It takes 24 hours to print all four colors, even on a single printer. It takes about another 24 hours to get the pre-printing done and to dispatch across the country. At least two days are needed before starting to post. If the posters have come to Kurunegala on the 4th afternoon, the printing of the posters should have been started on the 2nd afternoon. The case was started to hear on the 2nd afternoon. This confirms that Gota was aware of the jurisdiction at the beginning of the trial and given the script for printing.
There was one media report confirming this stated that Gota had told Mahinda before the verdict that "all three prosecutors will give him a unanimous verdict." As a further testimony, Ibbagamuwa Pradeshiya Sabha's Pohottuwa party chairman U.K Sumith disseminated the said Gotas poster on his Facebook page at 2 pm before the court verdict.
Gota is a former defense secretary. Koda had followed Sirisena demanding the defense secretary post. Both are rich in war hero fanaticism and Sinhala Buddhist extremism. Both of them are virtually indifferent to Jain clergies in India. Our judiciary is so independent and impartial that other countries exemplify our judiciary.
However, the two petitioners, Prof. Thenuwara and Gamini Viyangoda, are fighting for democracy and are ready to appeal to the Supreme Court against Koda's decision.
Koda's final written verdict on the matter has not yet been issued until this moment.
---------------------------
by (2019-10-08 08:03:28)
We are unable to continue LeN without your kind donation.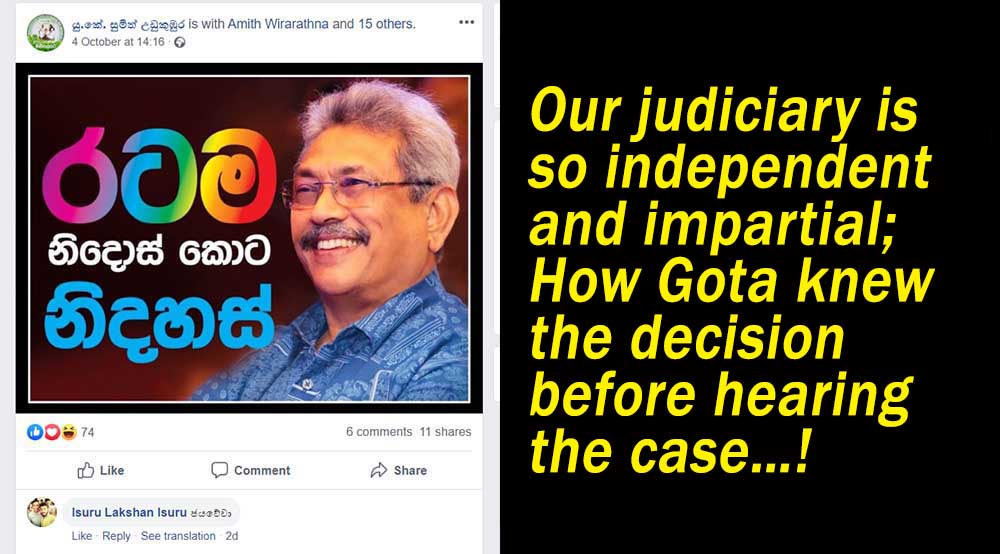 Leave a Reply