Gota, show your certificates..! Dr. Inguruwatte Sumangala Thero starts a hunger protest to defeat the Yankee conspiracy of colonizing our motherland using our own ballot (Video)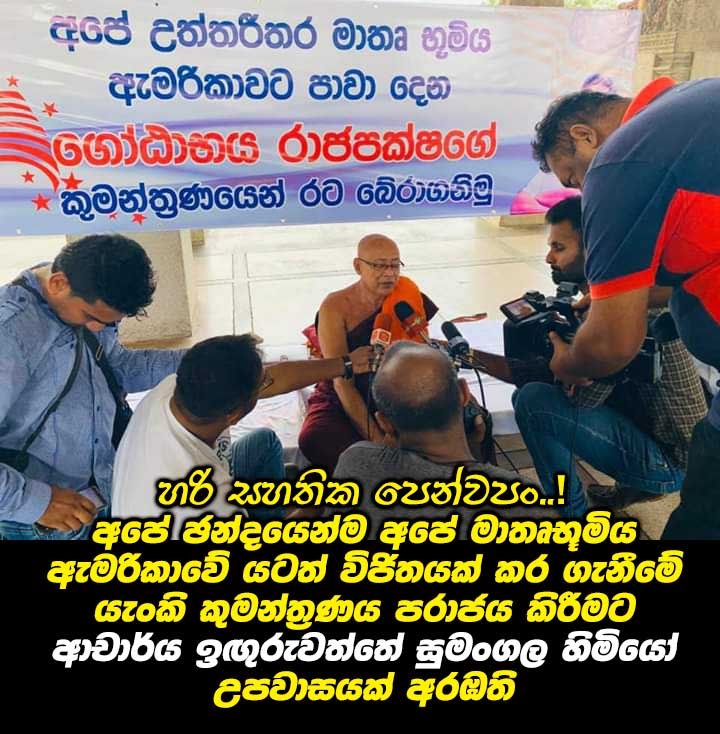 (Lanka-e-News- 10.Nov.2019, 9.45PM) While the California District Court of the United States has declared that Gotabhaya Rajapakse is an American citizen where a confusion remains about his current US citizenship whereas his name is not listed in the 2019 name list of those who has withdrawn their
citizenship as declared by the Inland revenue Service of the US Treasury, the Most Venerable Dr. Inguruwatte Sumangala Thero started a fast this morning at the independence square demanding "Gotabhaya Rajapaksa to disclose whether he is a US citizen or not. The Sinhala and English translation of Gotas pledge to US to become an American citizen was also being displayed on both sides of where he is seated
In order for the monk to renounce his hunger strike, Gotabhaya Rajapaksa must present both the State Department's Certificate and the US Treasury Department Certificate that he has forsaken his US citizenship. If Gotabaya fails to produce at least president Donald Trump's ambassador in Sri Lanka should break her fast and must visit the Independence Square and produce those certificates.
If both fails to present the country accepts that Gota is still an American. We need to defeat the Yankee conspiracy of whoever tries to colonize our motherland from our own ballot. Thousands of patriot citizens regardless of monks and laymen should join ven. Dr. Inguruwatte Sumangala Thero.
In order to find the facts a Sri Lankan living in New York filed a lawsuit in the New York District Court on Tuesday.
Below is a video of Ven. Inguruwatte Thero
(Since Lanka e-News Facebook page has been banned for a week due to the Rajapaksas' fraudulent complaints, so we urge you to share this articles on your social networks as much as possible
---------------------------
by (2019-11-11 07:38:02)
We are unable to continue LeN without your kind donation.
Leave a Reply