Gota's media hunt continues! Goons attack journalists and their wives, houses broken ...! Chathura and Sudesh responsible too.!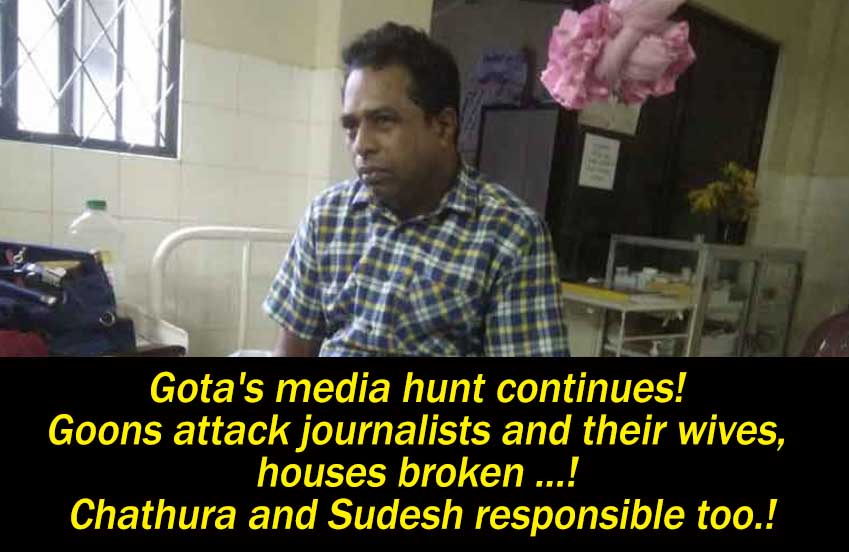 (Lanka-e-News -10.Dec.2019, 9.30PM) On the 27th of July police special task force surrounded an illicit large kasippu production at Pinhena Aluthgama backed by politician Rohitha Abeygunawardana alias Raththaran and seized 20,000 liters of Goda and arrested many suspects.
The racketeers were infuriated by the police raiding the golden den of Raththaran. Their main doubt was the local journalist Thusitha Kumara Silva, who exposed the racket.
During that time the goons threatened Thusitha "Let us see you if our government comes to power. On November 16th with the blessings of the monks and the push of sordid media journalists Chathura and Sudesh, Rajapaksa came back to power. The threat made last July was functioned on the 6th this month.
When journalist Thusitha Kumara Silva and his wife Anusha Kumari traveling from Aluthgama Dharga town to Welpitiya Pinhena in a motor bike was, brutally attacked by a group of goons. His house too came under attack and damaged. More than five thugs came for the attack. Thusitha and his wife was admitted to the Nagoda hospital and getting treatment.
Gotabaya came to power promising that he would govern the country with rule of law. It appears his promises are fake similar to his citizenship certificates. Subsequently he came to power he took revenge from the director CID Shani Abeysekara. Following that he broke into News Hub web media and took revenge from journalists who wrote against him. Thusitha Kumara was the target of him today.
Reports reaching us confirm five people have been taken into custody so far. Two sordid journalists are responsible for this situation. One is Chathura and the other one is Sudesh. These two sordid media reporters are both directly responsible for the media harassment of the present Gotabhaya system, from morning till night they openly promoted to bring the Rajapaksas to power.
Following are the protest notes issued by media institutions condemning this vicious attack. Two protests wre staged yesterday at the Aluthgama town.
---------------------------
by (2019-12-11 12:39:19)
We are unable to continue LeN without your kind donation.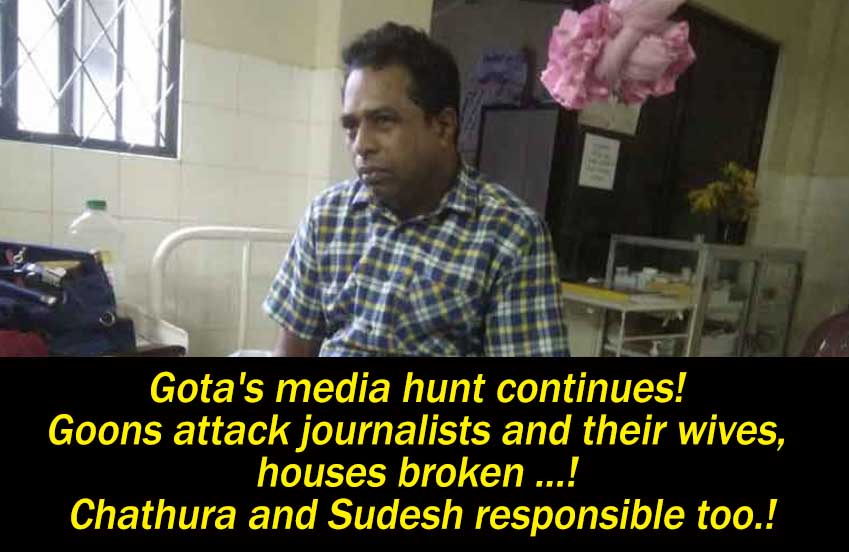 Leave a Reply