Founder of "Journalist" and the former director of Lake House Madhuka attacked and threatened to kill within Lake House by Pohottuwa squad, Sajith including pro Sajith gang quiet !!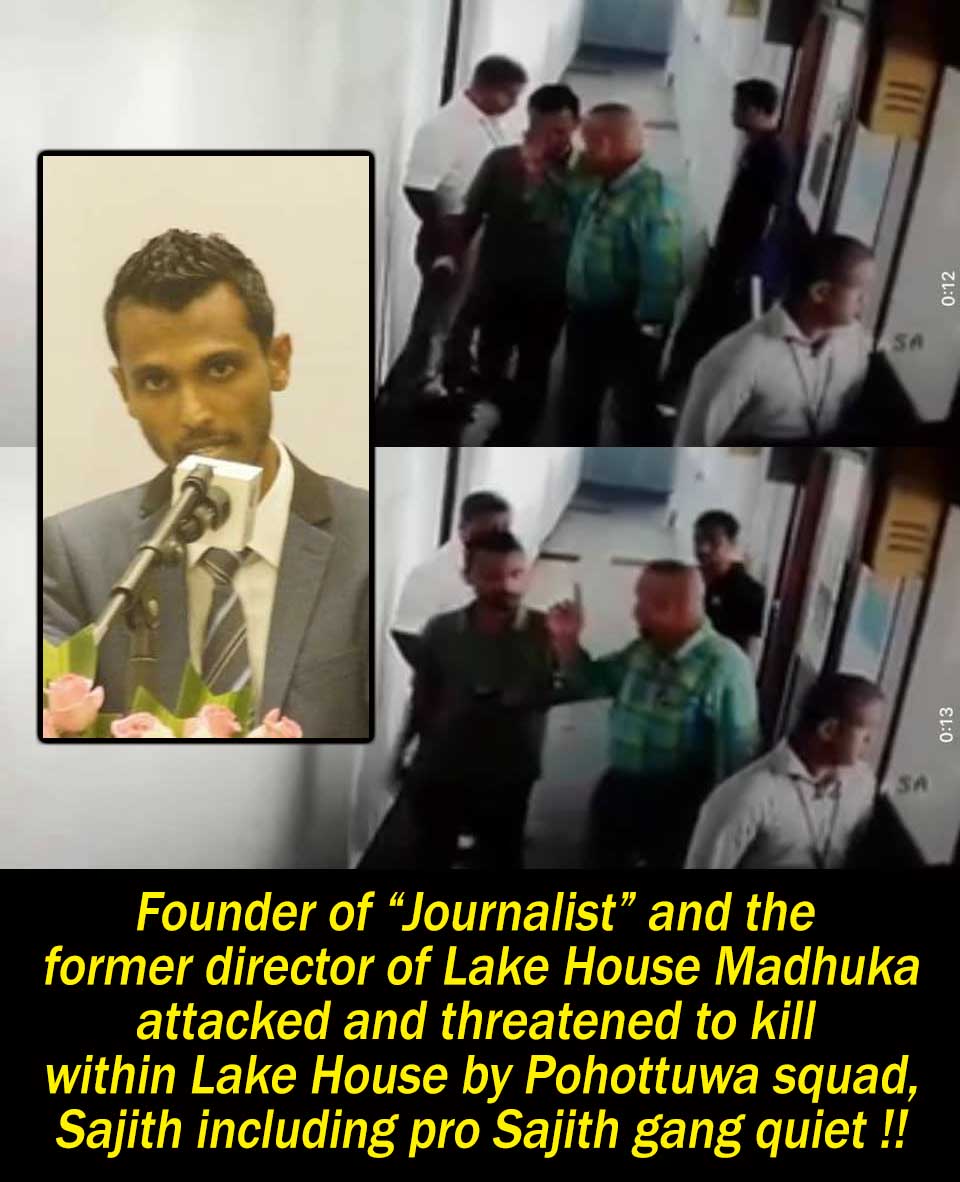 (Lanka-e-News -10.Dec.2019, 10.30PM) Former Director of the Digital and Innovative media division of Lake House and the founder of "Journalist" social media network Maduka Thaksala Fernando, has been brutally assaulted and threatened to kill by the chairman of Pohottuwa trade union and his goons.
The incident occurred at Lake House today 10th. About 15 employees of the Lake House trade union including Chairman Chandana Bandara, Hemantha Dep, Gayan Bandara, Chameera Eldeniya, Nuwan Kodikara, Lake House advertising unit Sanjeewa Padmakumara and Anura Kumara has brutally assaulted Maduka Thaksala and threatened to kill him.
Maduka, a British media graduate, specialized in innovative media returned to Sri Lanka at the invitation of the previous government. He later worked for several media institutions, including National Rupavahini, and was appointed director of the digital and innovative media division at Lake House.
Immediately following the defeat of the previous government, Maduka sent his resignation letter to Lake House officials on the same day on November 16th. Although his resignation was handed over on the 16th his last day to work was due until December 31. The resignation is effective after 31st that was the reason he has visited Lake House today.
When he was in the editorial section of the 'Resa' newspaper, a group of Pohottuwa trade union goons had broken into the room and dragged him out and taken him to the toilet area where there was no CCTV camera and assaulted him severely. Meanwhile, he was threatened to kill if he steps inside the Lake House again.
CCTV footages of dragging him from the Resa Newspaper toilet area have been recorded in the CCTV camera. Below shown were some of the photographs.
Maduka Thaksala is a patient who has undergone an open bypass surgery. Due to the assault his sickness has increased. He has lodged a complaint to the Fort police station and complained to the manager of Lake House in writing. However so far nobody has been taken into custody.
Following Rajapaksa brother came to power many journalists and media institutions came under attack and death threats but the Sajith who contested under the Swan symbol has not opened their mouth about the rights of the journalists. However following one week of getting the opposition leader post the main task of Sajith and his greedy group is not to protect the people who gets attacked due to them but to chase Ranil Wickramasinghe and to grab the party leadership. Gullible supporters curse the loss of a bullfighter to hammer these bastards.
---------------------------
by (2019-12-11 12:48:46)
We are unable to continue LeN without your kind donation.
Leave a Reply