Vegetable and onion theft nationwide; The hero who came to save the country has not been able to save at least the vegetable stalls; A famine is near..!!
By Chandrapradeep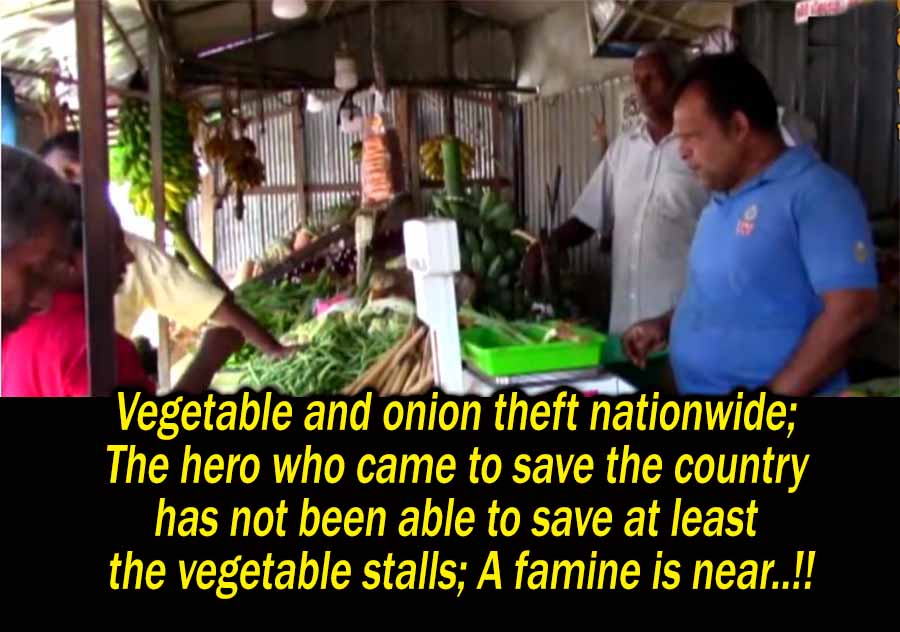 (Lanka-e-News -20.Jan.2020, 9.30PM) The theft of vegetables and onions, which began on June 16th at Baddegama, has been reported from several other parts of the country. Vegetable and onion thefts have been reported from Hambantota, Kegalle, Gampaha and Dehiwala areas on the 18th and 19th of this month. Although police have received complaints due to Nandasena's directives, the police have prevented publicizing of such complaints.
Every shop that has been robbed is a vegetable shop, and similar thefts have occurred. Onions, beans, carrots, beet, cabbage, leeks and eggplants were some of the veggies robbed. The price of a kilo of the above vegetables is Rs. 450, which was about 50 rupees before Nandasena became the president. A kilo of onion is Rs. 850.
Vegetable prices in London and in Sri Lanka
The current cost of a kilo of vegetables in Sri Lanka is twice the cost of a kilo of vegetables in London, one of the world's most expensive cities. Even in the current winter season of non-farming, a supermarket not as cheap as London's Morrisons, one can buy a kilo of carats for 60 cents. That is about 140 rupees in Sri Lankan currency. Such a price is around 14,780 rupees of a day's wages for an elderly worker in London. However in Sri Lanka a kilo of carrot is bought for Rs. 450 for a coolie whose wages are Rs. 1000 – 1500. Without anything else he can only buy two veggies for his daily wages.
food stealing is a sign of famine..
The situation is worsened by the fact that a kilo of cheap rice such as Nadu, white kekulu and Red kekulu have gone up to Rs. 120. The poor people don't even have, to buy the rice at such a price. There is a shortage of white and red rice in the country. In the near future, people may also be stealing rice.
This is why people tend to steal vegetables instead of gold or money. This situation is extremely dangerous because people in a country steal food when they are starving. This shows that Nandasena and Percy Mahendra together have plunged the country into famine within two months.
The man who came to save the country, is unable to save a vegetable stall
Nanddasena who came to power on November 16th issued a special gazette notification on November 23rd and deployed the armed forces throughout the country. However he is unable to secure at least a vegetable stall.
Who did that miracle? How?
Nandasena and his Wiyath Maga professionals are unable to control the country's economy and finances. Overtime and salary increments have been slashed for public sector workers when prices of essential consumer goods have increased seven to eight times. The relief bag worth Rs. 25,000 given to pregnant mothers has been cut. Student school uniforms have been cut by half. A government that cannot provide the reliefs given by the previous government is a dysfunctional government. What is striking is that the good governance facing all unfortunate incidents kept the prices of food and essential commodities at a lower price for five years than when the Rajapaksas were in office. It was the good governance which did not increase the electricity and water bills for the past five years. It is noteworthy that the concessions were made by paying the highest credit installment of foreign loans and increasing the salaries of public servants by nearly 100%.
Who did that miracle? How?
Good governance was able to do so only because they had a vision and discipline of the economy and finance instead not a miracle. There were three people on top in the good governance for the five years. That was Ranil, Ravi and Mangala. It was not heroes such as Sajith, Ajith or Bandaras. Despite the respect given to Ranil, Ravi and Mangala sue to the clash of the selfish group, there is nobody to raise awareness about the abilities of Ranil, Ravi and Mangala and the disability of Nandasena and Percy Mahendra.
Funny stories about the vegetable thefts
People tell wonderful stories about the plight of vegetables thefts in the country.
One person said the writer that he would preserve the veggies at home in the bank safe and and take the gold jewelries out and keep in the refrigerator.
Another person said that it is good the veggies are going up in price.
"How is that ?"
"Earlier when we get together for a booze, and when order a beef devilled dish there is not much beef pieces in the plate but more onions, capsicum and chili flakes, but now it is very good that there is no veggies but the beef pieces are shining."
Chandrapradeep
Translated by Robinhood
---------------------------
by (2020-01-20 16:16:06)
We are unable to continue LeN without your kind donation.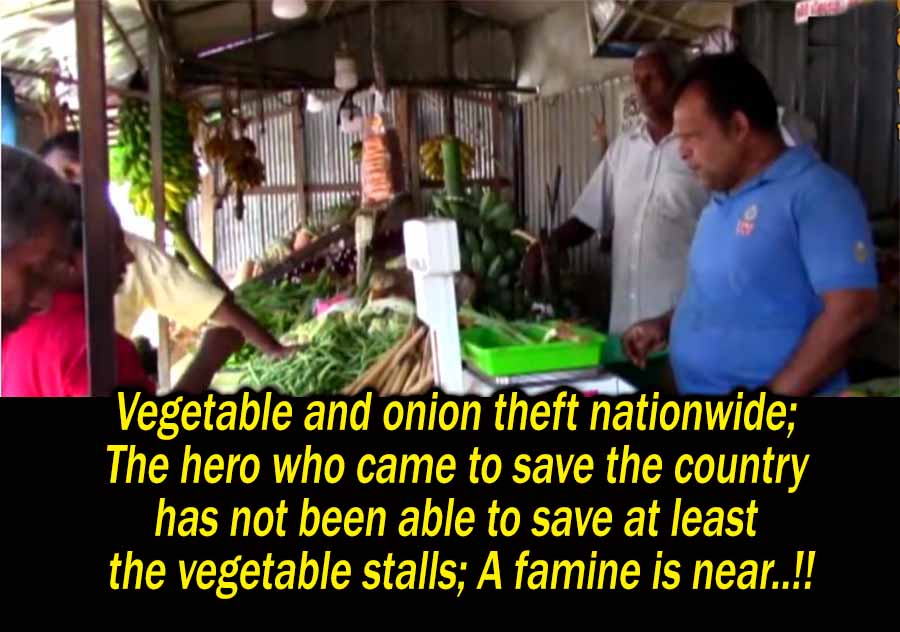 Leave a Reply