Asantha would destroy the balance cricket available
-LeN sportsmen-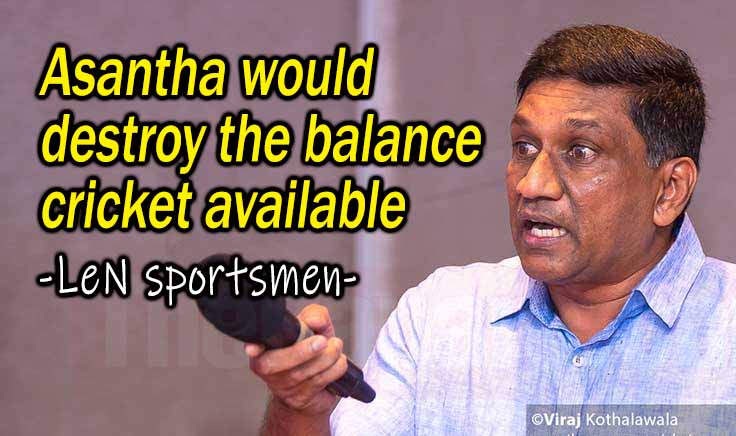 (Lanka-e-News -21.Jan.2020, 3.30PM) It appears that the Sri Lanka cricket is day by day is going towards the pit but cannot see any improvement. Although Thilanga Sumathipala is no longer in the Sri Lanka cricket, which was once run by Thilanga Sumathipala as a private property, his waste of money, his sports nepotism, bookie relations, interfering with the ICC and interfering with the selection committee are still haunting the inside the cricket board.
Shammi Silva and Ravin Wickramarathne who got appointed for higher posts by Thilanga have turned against Thilanga now. The forensic audit report made under the instructions of the former sports minister Harin Fernando is also inside the box. It was few auditors pocketed by Thilangala who diluted the forensic audit report to a special report. Although MP Sunil Handunnetti has been able to expose the financial irregularities of the cricket board before the COPE, there is no COPE committee today or any of its previous reports found.
A public petition to remove Asantha..
Meantime Asantha De Mel the chairman of the cricket selection committee who is a relative of Rajapaksa is trying his best to destroy the cricket more than what it is now. A public petition has been signed to remove him from the chairman of the selection committee.
Asantha, who has been elected as the chairman of the selection committee several times have been dismissed many times due to his disgrace activities. A former captain once called him a joker.
Asantha De mel was once sacked from his chairmanship post in the petroleum corporation by an order by the Supreme Court for his stealthy involvement in the infamous hedging deal but later the former sports minister nominated him to the chairman of the cricket selection committee.
Two of the cricket selection committee members Vinothan John and Chaminda Mendis still work at the Ceylon petroleum. These two were once working under Asantha, therefore they will not do anything above Asantha.
These trios who never see local club cricket are managers of local teams but always go on foreign trips.
Selection committee for bribes..
There are various stories about three players who were included in the squad for the last World Cup. There are allegations that some Selection Committee officials obtain 50% of their competition allowance and included them in the team.
Meantime when electing the test cricket team for the coming Zimbabwe tour Kusal Janith who took a century before three test matches and took a victory against south Africa was removed from the squad and Kusal mendis who always score zero and another unsuccessful player Lahiru Thirimanne has been included to the team. Lakshan Sandakan who never played a single match in whatever tour was also included.
Players such as batsmen Pathum Nissanka who are performing well in local matches has not given any test privileges. These are selection done by Asantha, John and Chaminda. There are many in the facebook who can select better than this.
We request the new sports minister Dallas Alahapperuma without being limited to the name but to look at these selections and sack Asantha De Mel, if not it would be the of Sri Lanka cricket.
-LeN sportsmen-
(Photo by Viraj Kohlawala)
---------------------------
by (2020-01-21 10:08:23)
We are unable to continue LeN without your kind donation.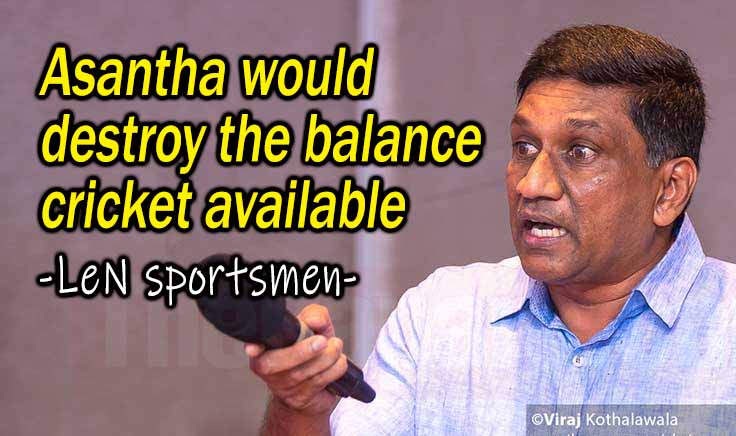 Leave a Reply