The State Intelligence Act, which gives spies a license to murder, is unconstitutional; Disastrous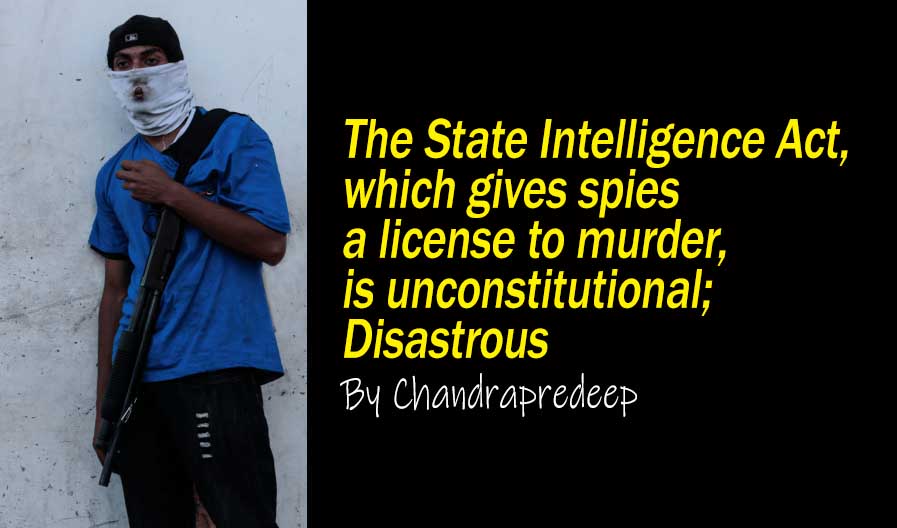 (Lanka-e-News- 26.Jan.2020, 5.55 PM) The Cabinet of Ministers, which met on Thursday(14), has approved a new bill titled 'State Intelligence Act' to provide legal immunity to intelligence officers. The bill has not been discussed in the cabinet and is being drafted entirely by Gotabaya's security chiefs at the defense ministry.
Without immunity if it is like this..
Many crimes committed by intelligence officers are still being heard in courts. Some criminals have been indicted. The abduction and murder of 11 students, the murder of journalist Lasantha, the abduction and torture of Keith Noir, the attack on Upali Tennakoon and the disappearance of Prageeth Eknaligoda are few of those.
Gotabaya's State Intelligence Act is aimed at getting these criminals out of law. Cases cannot proceed once the bill is passed.
One can imagine the amount of crimes committed by the intelligence officers without immunity and how would they behave if with immunity.
Unconstitutional..
Legal experts say that this bill violates the dispense and enforcement of law which is perfectly equitable and enforceable according to the article 12(1) of the constitution. Once the bill is presented citizens have the option of going to the Supreme Court.
A license to kill for 12,000..
However this would be undoubtedly a terrible act in the future because there are about 12000 people who claim to be intelligence officers in Sri Lanka. All of them will be able to escape the law by committing crimes. That would give 12,000 officers a license to kill.
People in between a group of license murderers..
Government mp's say that this is a "temporary provisional bill which secures accountability" and provides immunity to the forces and police of their conduct during the war period. However the problem is the public know who are the forces and the police because they are wearing a uniform and doing a duty at a certain place. However nobody knows these so called intelligence officers and where they work. Most of them are paid wages from secret accounts even the auditor general cannot audit. Therefore from such an immunity bill there would be licensed killers living among the public.
Immunity for the terrorists..
Another deadly situation is that the terrorists are also granted immunity. There are terrorists who give information to the security forces who are called as intelligence officers. Doesn't that means this patriotic Nandasena Gotabaya is providing immunity to the terrorists.
A more murderous gang than the Gestapo..
In fact, intelligence officers are a generic term for spies. Everyone knows what Hitler's spies did to the murderous Gestapo. The work that Nandasena Gotabaya is doing will undoubtedly create a brutal death squad in Sri Lanka even worse than the Gestapo. One day they will be killed not only by the opposition politicos but also by the people whom Gotabaya doesn't like. Therefore, if we can win a war with no immunity spies , all the people without division should question why we need immunity for spies.
Chandrapradeep
Translated by Robinhood
---------------------------
by (2020-01-26 12:29:40)
We are unable to continue LeN without your kind donation.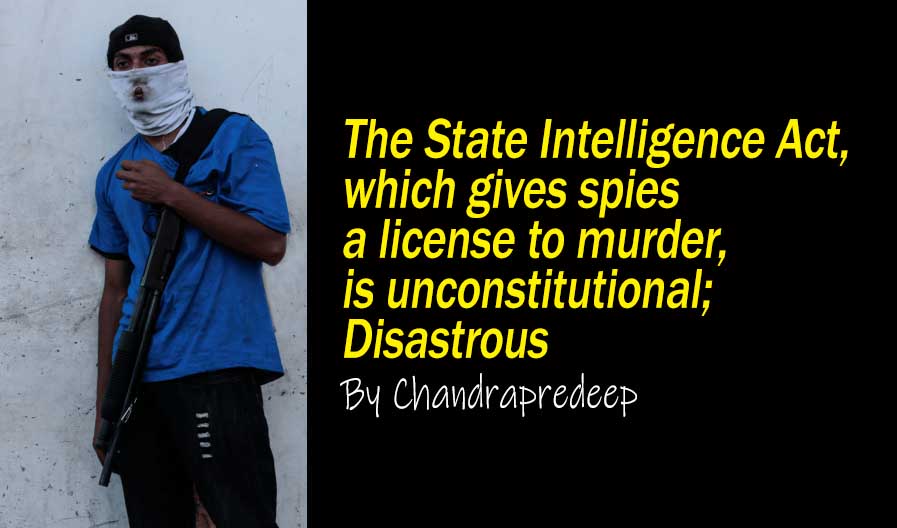 Leave a Reply