Is the meeting between Ajith Kumar Doval and Gota for yet another sacrifice ?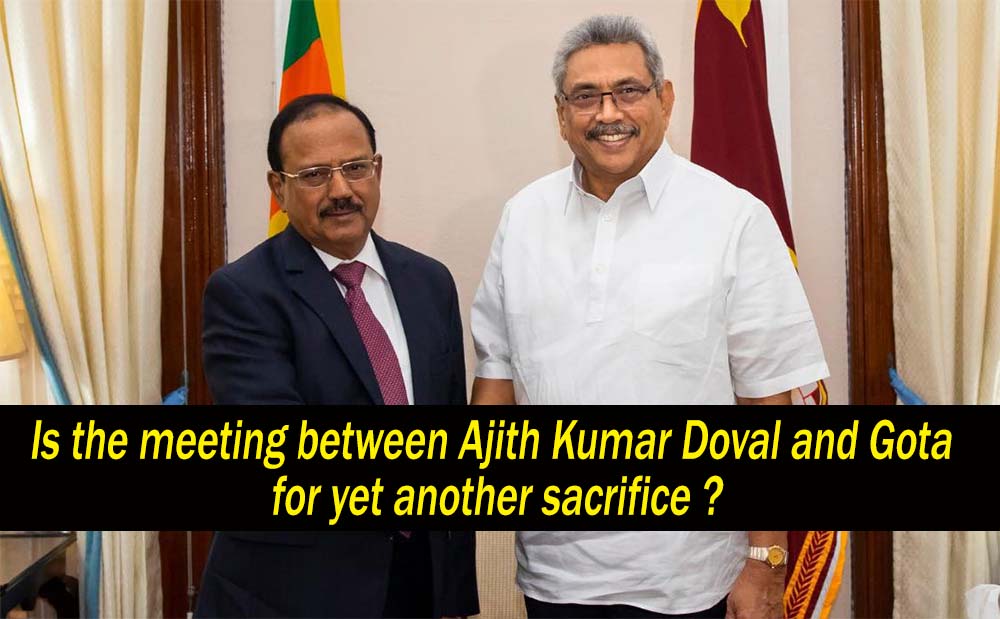 (Lanka-e-News- 28.Jan.2020, 7.30PM) Indian National Security Advisor Ajith Kumara Doval arrived in Sri Lanka on January 18th. He met both Mahinda and Gota. Gota's official media reported that Ajith Doval agreed to provide US $ 50 million to purchase equipment for the security forces. Derana reported that they had discussed investing in the Colombo Port's Eastern Terminal and the Mattala International Airport. Prime Minister Mahinda Rajapaksa is due to visit India in February.
Ajith Doval came when Modi was stuck in a mess...
Due to the rise of Hinduism Modi is now embroiled in a mess. Modi was able to complete the Ayodhya verdict amid applause while separating a portion from the Kashmir and amending the Muslim marriage law. However Modi's citizenship act was challenged. Two decades ago, hundreds of thousands of illegal immigrants came to India. Illegal immigrants were not granted citizenship but since their children were born in India, they were granted citizenship. That is while the citizenship children living in India, the non-citizen parents would be expelled. Nearly two million people will face the same fate. 99% of them are Muslims. Nearly a hundred people have died in India as a result of this protests against the bill.
A sacrifice is needed to continue the stranded citizenship act..
Modi's popularity had waned when Modi was running for a second term but the Easter attack changed the situation. Polling in India lasts a month, unlike Sri Lanka. At the beginning of the polls, the Easter attack came, and Modi continued to hold the effect of the Easter attack until the elections were over. Gotabhaya won the election due to the Easter attack. Gota's notorious intelligence units and Subramaniam Swamy's RSS were the masterminds of the Easter attack. We have previously explained that the Saharan's Thawhid Jamad was created by the intelligence services of Suresh Saleh with the knowledge of then defense secretary, current president Nandasena Gotabaya.
Today, Modi's government is again in a difficult position. The National Citizenship Act, which Modi introduced to mobilize two million Muslims, has been stranded. But somewhere In the event of a IS attack, the bill could be implemented by pointing to the cause to Muslim terror fear.
The deadly bill passed after the Easter attack...
Two weeks before Ajith Doval arrived in Sri Lanka there was much of a controversy. A police post on the Kerala Tamil Nadu border was attacked by a group claiming to be IS terrorists. Nearly 250 Muslim militias were arrested with weapons. Intelligence reports say that a group of Sri Lankans had come to India and an Indian group had come to Sri Lanka to carry out the attack.
The National Investigation Agency (NIA) is a special unit of India to combat terrorism. Following the Easter attack, the unit received a permit to access any country in the region. They obtained that authority by a special act passed in India. It is now clear the IS fear aroused before two weeks of Ajith Doval's arrival is just. That is, NIA agents have officially arrived in Sri Lanka.
Is Sara, in the shadow of Gota's intelligence chief Saleh..?
It is a lie to say that Sara or alias Pulasthini Rajendran, who was abducted and married to the Katuwapitiya bomber, died in the blast. Her DNA did not match with anyone who died. Only one of the wives of the suicide attackers was arrested. Six women swearing to death with 'Sarah' are living freely. Are they living in the shadow of the notorious Suresh Saleh or living freely without the control of Salleh is a mystery. Since their names have been revealed outside they have no access to civilian life. Either they should kill themselves or they should die in prison. Once the Indian NIA agents operate in Sri Lanka, it will be time to decide what could happen.
What would happen? Good and bad..
Although Gota's gave his helping hand for the sacrifices made during the UNP regime the current position is different today. In the event of an attack, the reputation of the military expert, the 'working hero' Gota would be broken. There is little chance of an attack on the ground but hijacking a plane might be like a cyber attack could occur. There are many goals that both sides can achieve in such a conspiracy.
Gota can buy a machine like Pegasus, which can scan the internet and phone calls. All personal data from the National Identity Card to the Bank Account can be computerized. Instead of waiting in queues at government offices, they will be able to book their turn through an app. It would be great if one could use an app to meet not only the government offices but also the minister of the province. We should not hesitate to say what is good and what is bad.
Kamal Gune should stop Nandikadal novel and get off to work..
Kamal Gune caught military medals floating in the wind. Not only the people but now the members of Pohottuwa too dislikes Kamal Gune's Nandikadal novel. There are many things in the country to do before giving killing license to Gotabaya's hit squad and before legislating the state intelligence act. The fundamental law should be enforced against the four hundred thousand Chinese living in Sri Lanka illegally before computerizing the data of Sri Lankan people. You have to look at the vast amount of land the Chinese have bought and how they bought it. Government officials and ministers who facilitated the Chinese to buy large plots of lands should be investigated. We need to be more accountable and transparent about our motherland, which has been a haven for foreign intelligence.
Keerthi Rathnayake
A former army intelligence officer
Translated by Robinhood Sri Lanka
---------------------------
by (2020-01-28 14:05:42)
We are unable to continue LeN without your kind donation.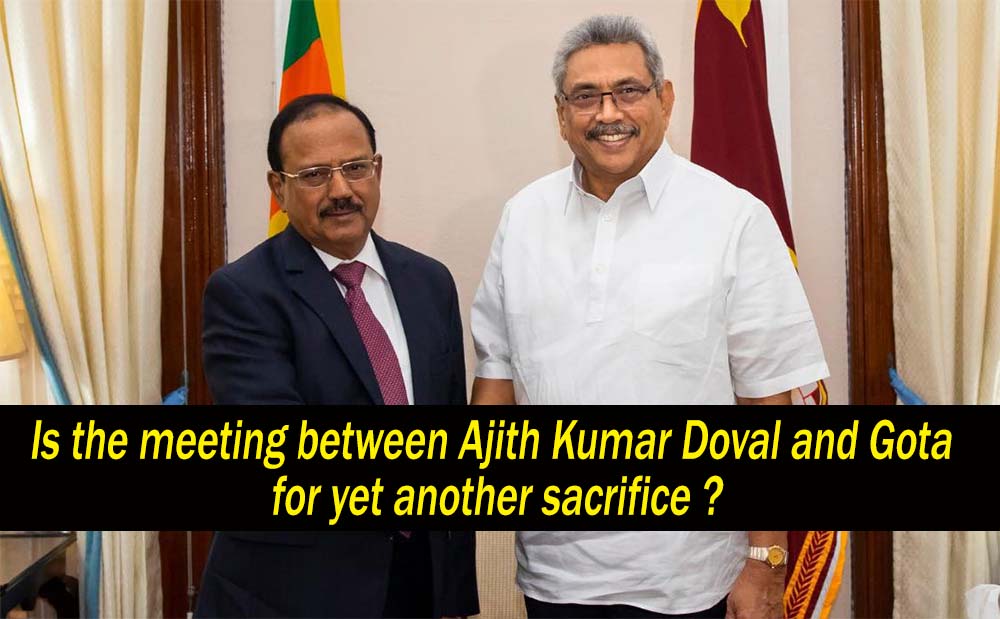 Leave a Reply