Weerawansa's wife Seerja remanded for possessing forged passport issued at husband's written request..!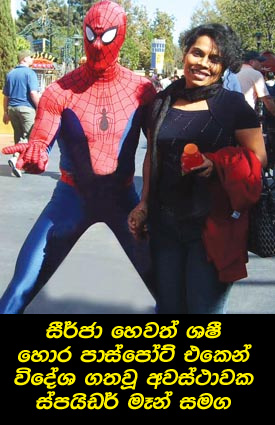 (Lanka-e-News-23.Feb.2015, 11.45PM) Seerja Udayanthi Weerawansa alias Sashi Weerawansa , the wife of UPFA ex minister Wimal Weerawansa was arrested yesterday based on a number of charges including bogus passport, identity card, birth certificate obtained via fraudulent means by preparing forged government documents, and for illicit financial transactions . She is now remanded until the 25 th .
She is however still warded at the Neville Fernando hospital , Malabe with prison officers escort pretending to taking treatment .
When the CID produced a B report before the chief magistrate of Colombo , Gihan Pilapitiya , it was revealed , the diplomatic passport obtained on bogus papers was issued to her on a written request made by ex minister Wimal Weerawansa under his signature , according to Immigration and Emigration Commissioner Chulananda Perera.
The CID told court that Sashi Weerawansa who was arrested yesterday for having in her possession a bogus diplomatic passport tried to escape when the police rounded her up . The OIC of the prevention of illegal migrants division of the CID , W.A. Jayantha CI presented the relevant report to the court. The police also informed court , that the court medical officer orally informed that the suspect shall be hospitalized for treatment.
The CID requested court for an order to remand her until 2 nd of March . The chief magistrate then ordered that the suspect be produced before the judicial medical officer , and to furnish a written report on whether she is sick enough to be hospitalized, and on the other hand ,if there is no such need the suspect shall be immediately produced before court.
The police media spokesman in connection with the criminal activities of ex minister Weerawansa's wife explained , at Anuradhapura today , at a media briefing ,the suspect had used two dates of birth .The media spokesman further noted that the relevant files in the registration of persons department have gone missing , and it has come to light what were averred in the complaint are true.
On the air tickets based on these documents , the suspect has travelled abroad several times , and using two identity cards she has done a number of suspicious transactions with banks and other financial Institutions , investigations so far have revealed, the media spokesman added.
Wimal Weerawansa has always been notorious for his backstreet and unscrupulous political activities. He is therefore better known as a double tongued double faced politician among the political circles. Now it is proved he has been masquerading too under different names . His name at birth is Weerasangili Panikiyage Wimalasena and it is under that name he secured his education up to grade 9. His education has grounded to a dead halt at that point. Nothing beyond could be reached by him in education. Thereafter , in the eighties , he was working in a small weekend news paper establishment. During that time this infamous moron under a spurious name , Wimalasiri Gamlath posed and paraded as the son of Sucharitha Gamlath, a famous professor at that time. Subsequently when he became the JVP propaganda secretary , he called himself as Wimal Weerawansa.
---------------------------
by (2015-02-25 16:42:44)
We are unable to continue LeN without your kind donation.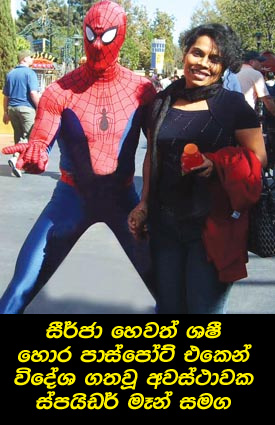 Leave a Reply