President and premier cousin Udayanga Weeratunga comes and get arrested! The statement was made at the President's House.! Remanded till Monday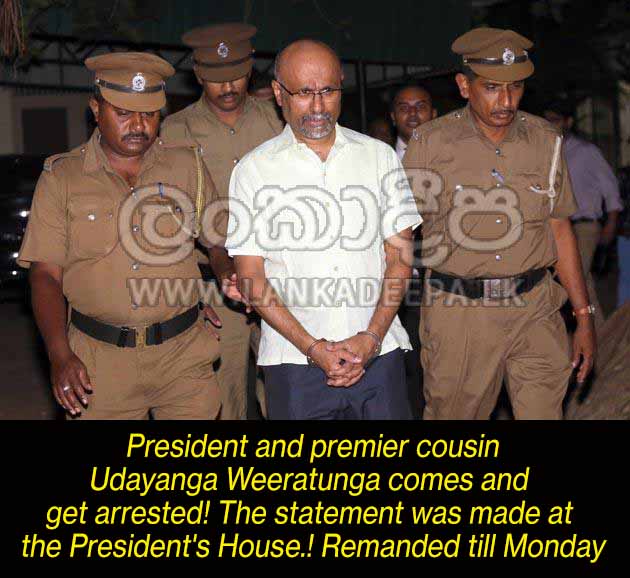 (Lanka-e-News -14.Feb.2020, 11.30PM) Former Sri Lankan ambassador to Russia Udayanga Weeraduwa who was an accused of the notorious MIG scam, the mysterious murder of a man named Noel Ranaweera, and the sale of tens of thousands of kilos of arms and ammunition seized by the LTTE worth Rs. 340 million to the rebels in Ukraine was deported to Sri Lanka yesterday 14th morning.
Udayanga Weerathunga was arrested yesterday in Dubai while the police investigating the mig aircraft scam issued a red warrant through the Interpol. Udayanga was deported to Sri Lanka in accordance with the extradition treaty between the two countries. Udayanga filed a case in Dubai against it. Udayanga who lost the lawsuit was deported to Sri Lanka by the Dubai government by UL 208 SriLankan Airlines.
Udayanga arrives at the official residence of the President..
Thereafter, a statement was obtained from Udayanga Weeratunga, who was arrested at the airport. Surprisingly, Udayanga was summoned to the President's official residence in Fort. Subsequently, Udayanga Weeratunga, who was produced at the Fort Magistrate's Ranga Dissanayake's residence today, was remanded until July 17th.
Relative..
Nandasena Gotabhaya, the current president, is the main suspect in the MIG scam against Udayanga Weeratunga, who was arrested today. Udayanga Weeratunga is the eldest son of Nanda Samarasinghe Dissanayake, the mother of Gotabhaya Rajapaksa's mother, Dandina Samarasinghe Dissanayake. Since Nanda was married to Wilbert Weeratunga, he was Udayanga Weeratunga. Udayanga is Gotabhaya's first cousin to Mahinda.
For futher reading :
---------------------------
by (2020-02-15 18:28:48)
We are unable to continue LeN without your kind donation.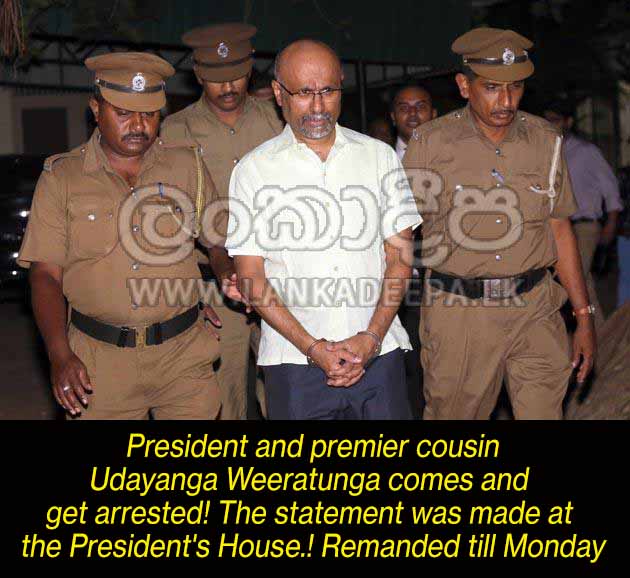 Leave a Reply