Sirisena and Dayasiri obtain inferior positions from Pohottuwa and demolish SLFP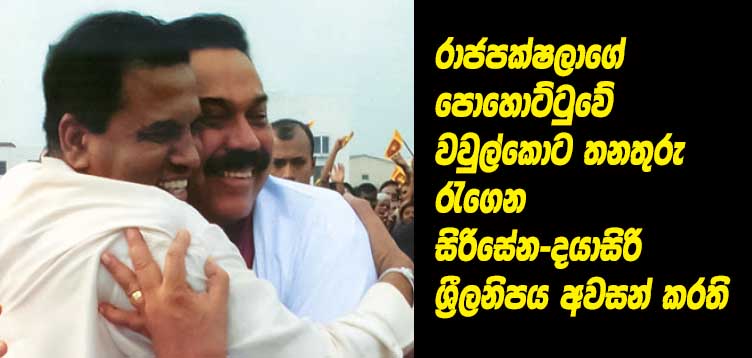 (Lanka-e-News -18.Feb.2020,11.30PM) Notorious Political prostitute, the former president and the leader of Sri Lanka Freedom Party Maithripala Sirisena who bragged that if SLFP is divided and make new parties that he would allow to walk in the roads, by ending the journey of the SLFP, removed its hand symbol, joined with Rajapaksa Pohottuwa symbol of Sri Lanka Freedom Podujana Alliance and the latter has obtained a powerless chairman position.
Along with him, SLFP general secretary Dayasiri Jayasekara too has slipped into the post of co-national organizer of the new party.
The SLFP Central Committee has not taken any decision to make such a political decision.
Sri Lanka Freedom Podujana Alliance (SLFPA) is contesting the next parliamentary election not with a common symbol but with the Pohottuwa symbol. The symbol was formerly owned by the Podujana Peramuna. Therefore Sirisena and the leaders of the SLFP have shamefully betrayed the SLFP and its hand symbol.
From now on the Sri Lanka Freedom Party created by the Bandaranaike's would be limited only to a mere name added to the past and the future would be the Sri Lanka Freedom Podujana Alliance (SLFPA) created by the Rajapaksas which diluted the SLFP. (The Sajith group is also trying to do the same to the UNP)
In all political parties the power is vested with its leader and the General Secretary. Powers such as appointing organizers, creating the nominations list, removing the parliamentary MPs are all is vested with the leader and the general secretary. All other positions are powerless. This is how the Rajapaksas have consolidated the power in the new party.
Party leader - Mahinda Rajapaksa
Party general seretaty - Basil Rajapaksa
Chairman - Maithripala Sirisena
Co national organizer - Dayasiri Jayasekara / Wimal Weerawansa
Deputy chairmans - Dinesh Gunawardane, Tissa Witharana, DEW
Gunasekara, Vasudeva Nanayakkara
Deputy Secretary - Mahinda Amaraweera
Vice Secretary - Udaya Gammampila
A noteworthy feature of this is the former President of Pohottuwa G.L
Peiris has been thrown out and no one from the Gotabaya's Wiyath Maga has been given any positions in the new party.
At the conclusion of this article it was reported that Maithripala Sirisena who demolished the SLFP has gone to Pohottuwa to escape from his arrest for the Easter bombing. Nandasena Gotabaya became the president promising that he would punish the perpetrators responsible for the Easter attack.
However by appointing such an illicit alien such as Maithripala Sirisena who spatted to the face of the public, for the chairman of the Pohottuwa it is questionable whether the available public attraction can be secured more than a new public attraction.
There have been a lot of sarcastic posts on social media about Sirisena's joining with the Pohottuwa. Below are few of those posts:
---------------------------
by (2020-02-19 23:54:30)
We are unable to continue LeN without your kind donation.
Leave a Reply