Despite government cover up of spreading Corona, Sick dies falling on the road, Soldier dead in Dambulla, testing patients has been deliberately crippled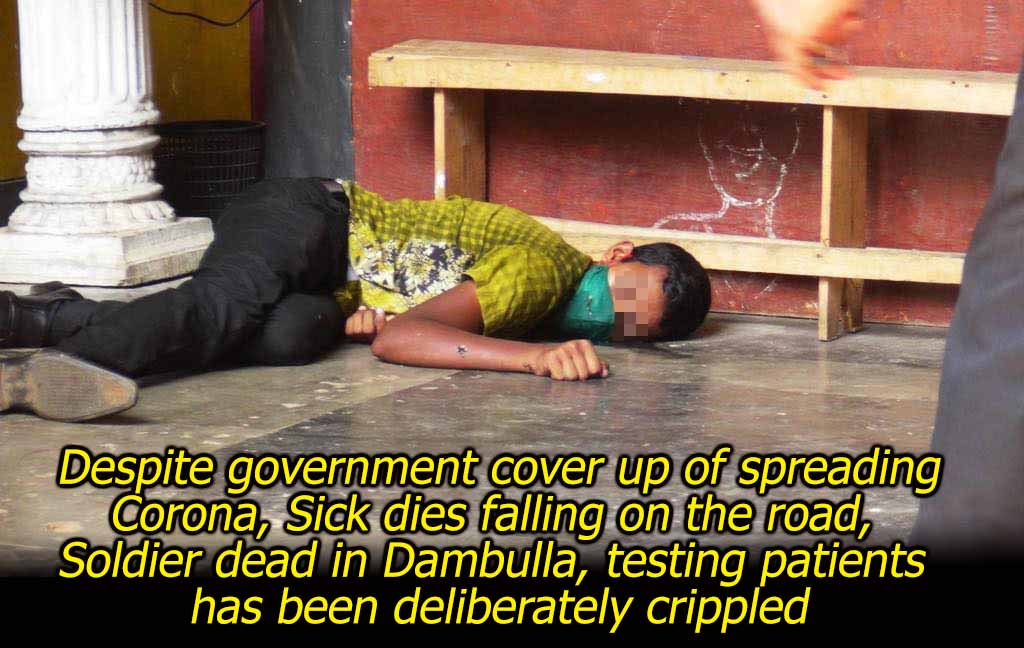 (Lanka-e-News -04.May.2020, 11.30PM) Despite pro government faction denies the exposure made by Lanka e News that Corona has spread throughout the country with facts were false, today the country has plunged to a situation that corona infected soldiers falls to death on the streets.
The incident reported that a soldier has collapsed and died in front of the public toilet at Dambulele Bus Stand. The soldier who had gone to the public toilet at the Dambulla bus stand had fallen while making the the payment. Later, he was taken to Dambulla Hospital, where he was pronounced dead. The deceased has been identified as Thushara Kumara Jayasinghe, a resident of Pallepola area in Galewela. Dambulla curfew was relaxed today after a four day curfew.
According to Lanka-e-News, a soldier from the Minneriya Army Camp too had died in the same manner.
Meanwhile, the government had to formally accept the fact that another died due to corona virus knowing the fact that Kurunegala regional correspondent knew the truth. The victim was a 72 year old woman receiving treatment at the Homagama Base Hospital. She was a close associate of a corona infected soldier at the Welisara Navy Base. Her funeral took place this evening, according to Corona deaths.
Meanwhile, according to Lanka-e-News, 4652 navy personnel have been tested for corona, and 836 of them have been found to be positive for the virus.
Meantime a total of 214 people have been taken to Poonani camp for quarantine from the Thalathu oya area. A person living in quarantine said Lanka e news, they receive breakfast at 12 noon and there is a shortage of milk powder for the children.
However despite government cover up, the Corona Information Center set up at the police headquarters reported 25 corona positive patients from island wide last night (03). That is three from Colombo, five from Gampaha, two from Rathnapura, one from Kuruwita, two from Wanathavilluwa, four from Puttalam, six from Vavuniya and one from Udappuwa respectively.
Testing patients has been deliberately crippled..
Meantime government has dropped a large count of 50 - 60 corona positive patients while checking the people associated with the corona infected people from the Bandarayake Mawatha Colombo 12. Now the government checks only people who are severely infected with high symptoms. That is to go for an early election by reducing the number of patients.
A spokesman for the Medical Research Institute (MRI) told Lanka e News, testing patients has been deliberately reduced. Twenty percent of people with corona virus do not show any symptoms. Another 60 percent exhibits only minor symptoms. Only the remaining 20 percent show serious symptoms. The spokesman said the government is now conducting checkups only on those who shows serious symptom.
Despite availability of equipment at the Colombo General Hospital, no tests are conducted. Although 1000 tests can be done at MRI alone only about 400-500 tests are done. Hundreds of people at the Temple Trees and the Presidential Secretariat are tested daily. Although they have no corona infection, such measures have been taken to balance the number of casualties and to protect the president and the premier.
When other countries in the world try its best to increase its tests Sri Laka does the opposite. Due to this policy, people of this country will be in great danger. It is due to this that people are plunged to fall dead on the roads.
The picture below shows the fallen dead soldier from Dambulla.
By Staff Reporter
---------------------------
by (2020-05-05 01:26:44)
We are unable to continue LeN without your kind donation.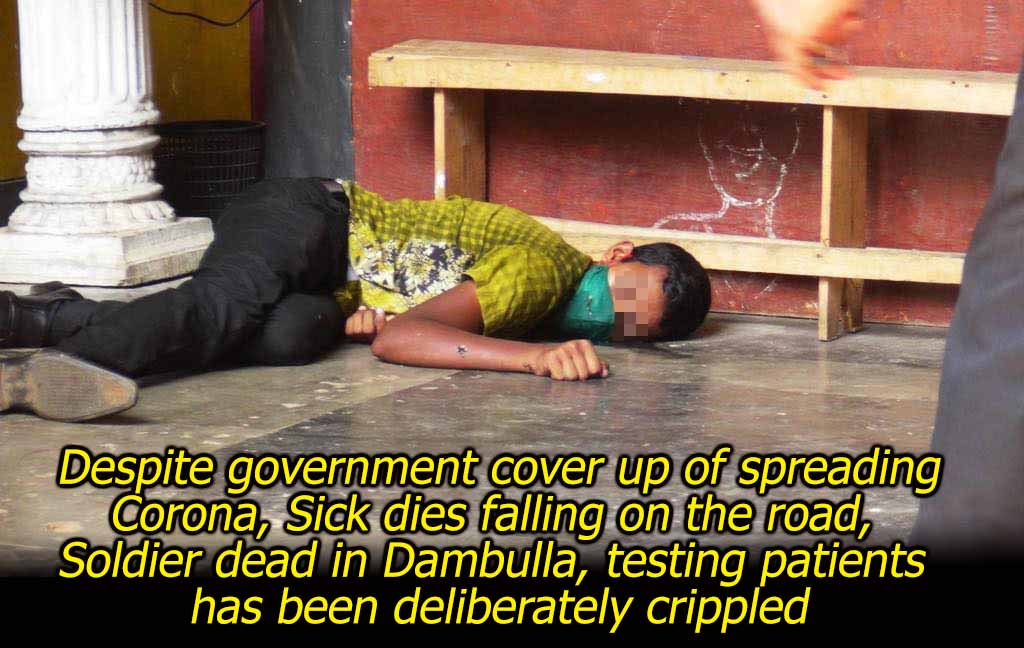 Leave a Reply