We will withdraw from membership of international organizations that oppress war heroes -President Gotabaya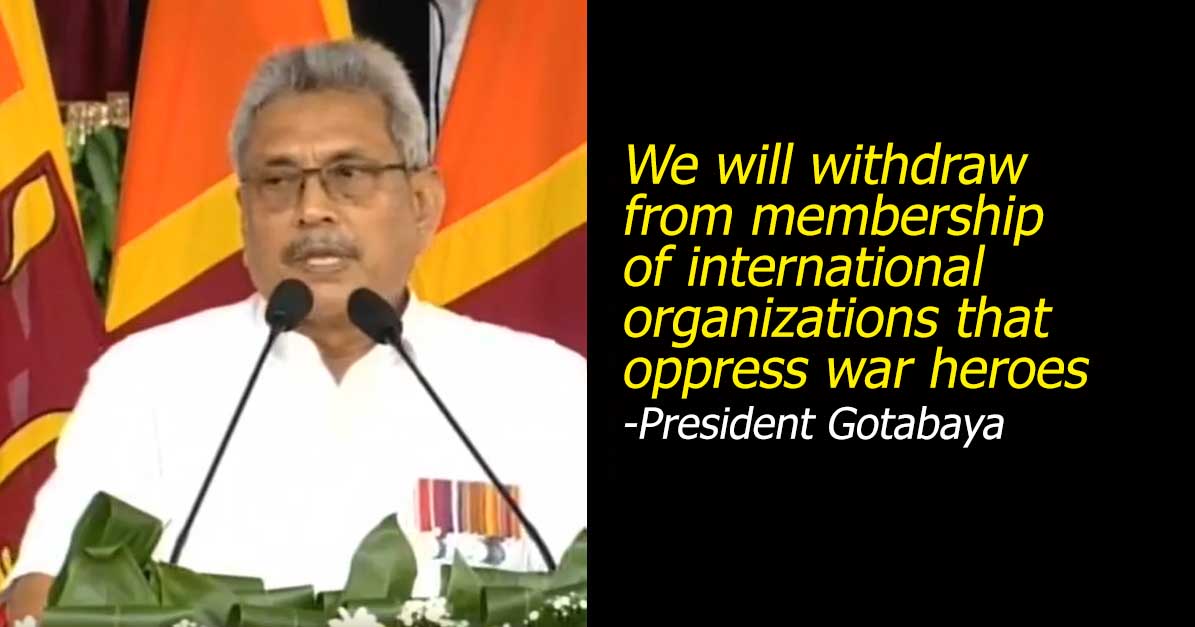 (Lanka-e-News- 22.May.2020, 8.25PM) President Gotabhaya Rajapaksa today announced that Sri Lanka will withdraw from the membership of international organizations that oppress war heroes. He made this statement at the 11th anniversary of commemorating the ending of the war at the Battaramulla War Heroes Memorial held on 19 th evening. The president said the following
"I will not allow any attempt made to destroy the dignity and respect of our war heroes. I would assure you that under my government, we will always protect the dignity of our heroic troops. It is a national responsibility to protect the rights of the war heroes all the time. When the leaders of some of the most powerful countries in the world have stated that they will not allow take any action against their war heroes, I would never allow to exert pressure to our dedicated heroic warriors in a small country like us. Therefore, I will not hesitate to withdraw Sri Lanka from its membership if any international organization or organization continuously acts unfairly to our country. "
President Gotabaya made this above comment especially in English perhaps to aware the international community that he acquitted a former army soldier who was undergoing punishment for the Mirisuwil mass murder.
Sri Lanka is the only country in the world to have such a celebration when the world was plagued with the Corona epidemic. It was reported yesterday that two Navy personnel who had been in rehearsal for the event had contracted the virus. However, the President did not wear any face mask or gloves for the event. Former Presidents Mahinda Rajapaksa and Maithripala Sirisena who participated at the event were wearing face masks.
The head of the country should be accountable for forgetting to invite or recall the names of the former president Chandrika Bandaranayake Kumarathunga who lost an eye to a suicide attack as a result of the war and the former army commander and field marshall Sarath Fonseka who gave leadership to the final phase of the war who escaped point blank from an enemy suicide attack during the war to this event.
Meanwhile, at a special discussion held at the Presidential Secretariat with the Secretaries of the Ministries and Heads of the Plantation and Industrial sector, President Gotabhaya said he would continue to appoint Army officers to the posts of senior administrative officers and if someone is against his policy then they can quit the government service
---------------------------
by (2020-05-23 16:09:32)
We are unable to continue LeN without your kind donation.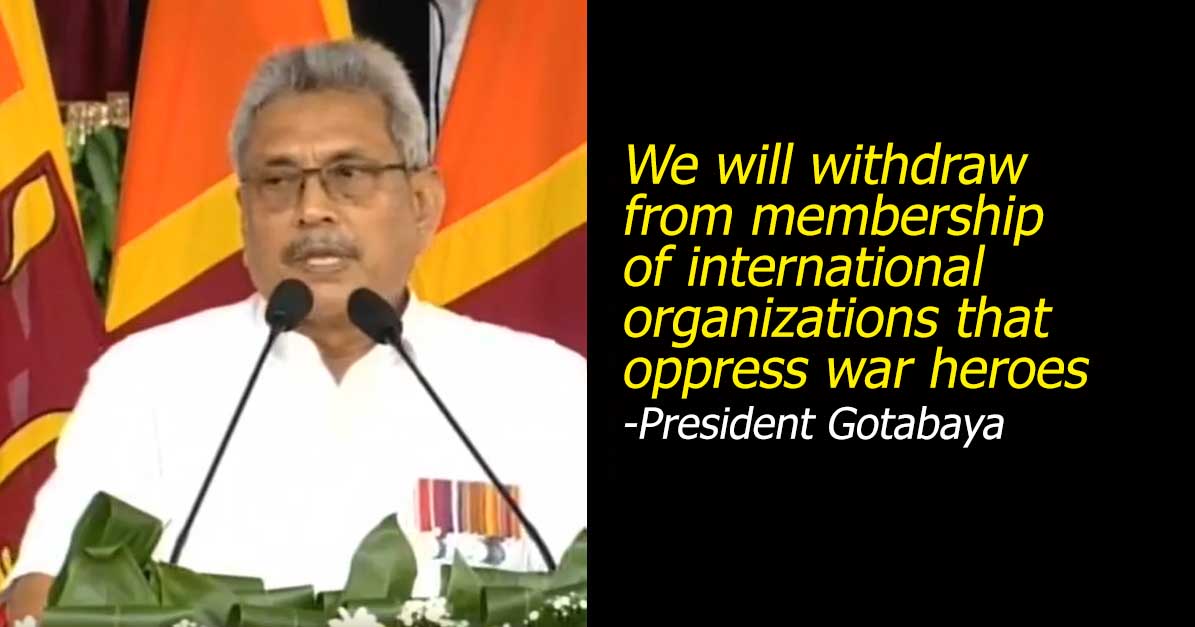 Leave a Reply