Cremation without Corona, high tax increase for essential foods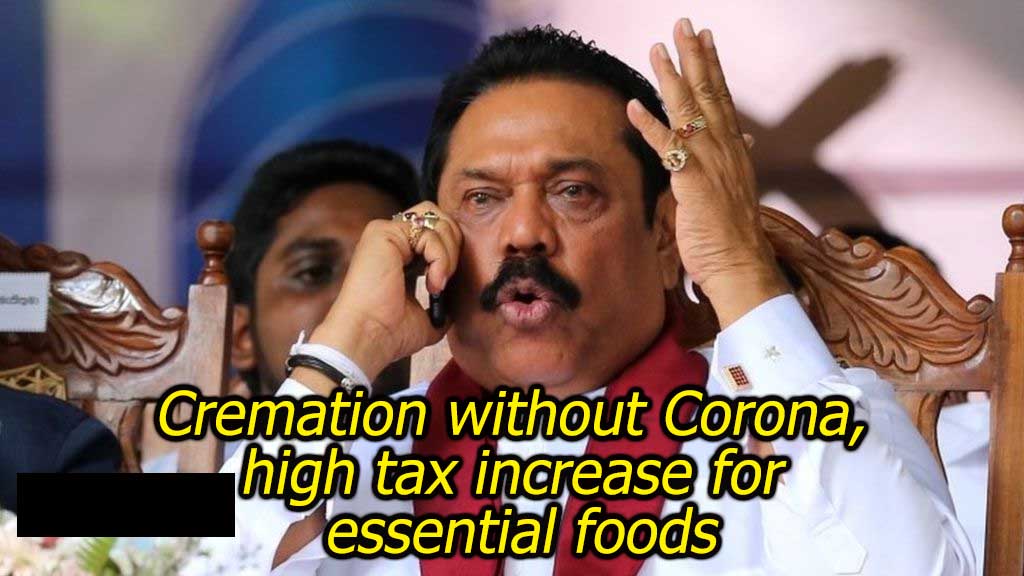 (Lanka-e-News- 24.May.2020, 4.30PM) The impotent government of the Rajapaksas has highly increased its taxes for the essential foods to the public who is already lost their livelihood and source of income due to the Corona epidemic.
These high taxes are imposed not only for sugar and peanuts but from dry chilly, red onions, garlic, salmon, dhal, potato, coconut oil, margarine to spices.
Trade taxes has been increased by Rs. 100 for tin fish such as salmon and mackerel, Rs. 50 has been imposed for sugar, red onions, garlic and potato, Rs. five to ten has been increased for dhal and chickpea, Rs. 100 to Rs. 125 for 1kg of dry chilly, Rs. 162 has been imposed for 1Kg of spices and Rs 650 has been imposed for 1Kg of margarine.
Recently the finance, economic policy and development minister premier Mahinda Rajapaksa who mocked on stages questioning the people "how much are the onions and you are feeling better now, (දැන ෂැපද?) has announced that this heaping taxes imposed would be valid for the next six months. Mahinda who vociferated that we have enough money before coming to power, ripping the poor people by imposing taxes for essential foods cannot be pardoned because amid all this the Rajapaksa government is trying to renovate roads in Hambantota and build a cricket stadium at Homagama.
Following is the list of foods taxes are imposed
---------------------------
by (2020-05-24 11:09:33)
We are unable to continue LeN without your kind donation.
Leave a Reply