Protect Mr Hejaaz Hizbullah's Rights And Conduct Investigations According To The Law
-People for Human Rights and Equality Inc. (PHRE)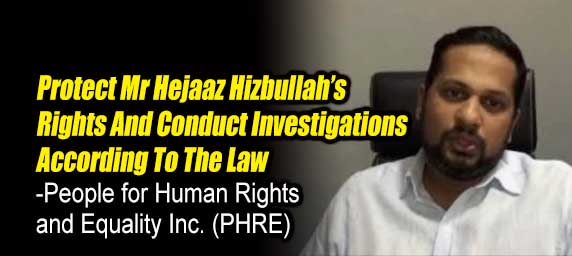 (Lanka-e-News -28.May.2020, 2.30AM) Lawyer Hejaaz Hizbullah was arrested on 14 April 2020. Media reports, police announcements and the habeas corpus application filed by Mr. Hizbullah's father Neina Mohamed Hizbullah in the Supreme Court strongly suggest that there are serious concerns about the manner in which Mr. Hizbullah's arrest and continued detention are taking place. Matters of concern include:
• The events preceding his arrest suggest the absence of a clear reason for depriving Mr. Hizbullah of his liberty.
• Failure to ensure that Mr. Hizbullah's wife was fully aware of the contents of the statement to which she was putting her signature.
• The failure to follow due process by not informing Mr. Hizbullah the reasons for his arrest and non-provision of a detention notice immediately following his arrest as required by law.
• Police public announcements justifying Mr. Hizbullah's arrest and detention by linking him to the Easter Sunday Terror attacks despite there being no charge made against him.
• The denial of access to a lawyer and the failure to provide an environment in which Mr. Hizbullah could exercise his common law right of client legal privilege.
• The initial denial of access and later limited access of Mr. Hizbullah to his family.
• The failure to produce Mr. Hizbullah within 72 hours before a magistrate as required by law.
The rule of law, the freedom of the individual, denial of liberty as a measure of last resort and for the shortest period of time, the right to equal treatment before the law and idea of innocent till proven guilty are enshrined in our Constitution and the bedrock of our constitutional democracy.
Mr. Hisbullah is well known for his fearless representation of clients in carrying out his professional duties as a lawyer. He is also a member of the minority Muslim community.
Sri Lanka has a serious record of arbitrary arrest, detention, torture in custody, disappearances and political victimisation of dissidents and dissenters. Accounts of Mr. Hizballah's arrest and detention suggest that the law of arrest has been misused to achieve other ends. Given the arbitrary nature of his arrest and detention, State justification of his arrest, the absence of due process and the use of his Muslim identity to mislead the public and the conduct of a "trial" by the state media, we are concerned for the safety of Mr. Hizbullah and his family. We also fear that investigations against Mr. Hizbullah would not be carried out in a free and fair manner.
We call upon the government of Sri Lanka, the judiciary and law enforcement agencies to ensure that the rights of Mr. Hizbullah' are protected and that measures be taken to ensure that all investigations be conducted according to law to avert any miscarriage of justice.
(PHRE - President: Dr Brian Jeganathan, Vice President: Ramani Thotagamuwa, Secretary: Nalini Kasynathan, Treasurer: Subramaniam Sivasubramaniam
Committee: Ajith Rajapaksa, Chitra Bopage, Kuma Karawita, Dr Lionel Bopage, Nalliah Suriyakumaran, Nishanathe Dahanayake, Renuka Senanayake, Dr S V Kasynathan, Wimal Jayakody)
---------------------------
by (2020-05-27 22:28:25)
We are unable to continue LeN without your kind donation.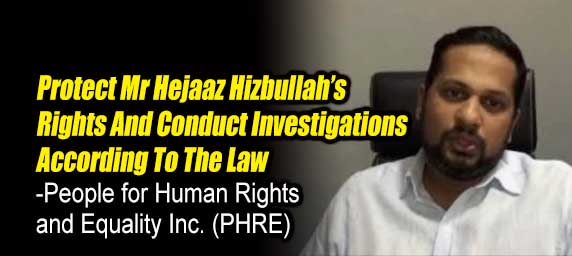 Leave a Reply