People in Sri Lanka are more prone to thugs..! A citizen's note on election results..!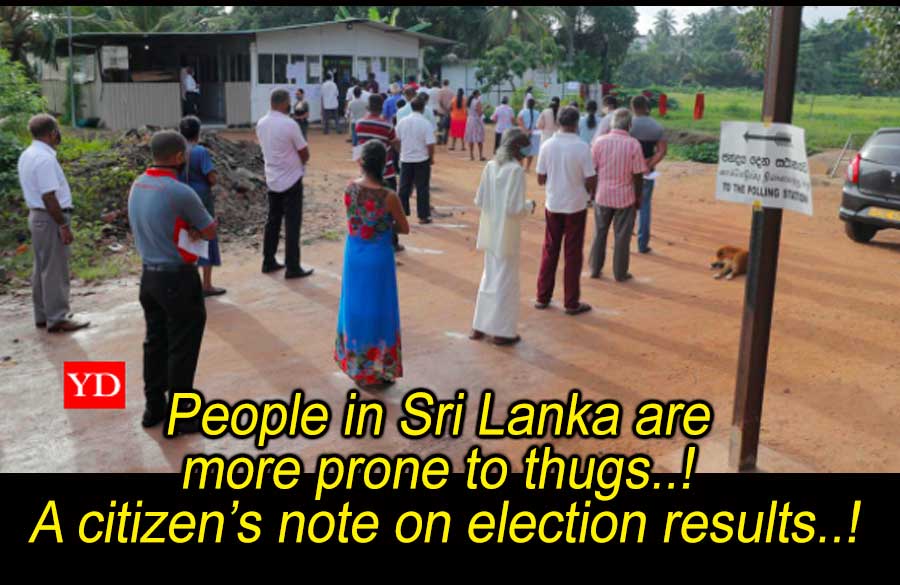 (Lanka-e-News -08.Aug.2020, 3.50PM) The people of Sri Lanka are amazing !
When we see the result of this election, we feel a fear of the future of Sri Lanka and the aspirations of the people. I wonder if the people of a country can be so blind. At a time when not only Sri Lanka but the whole world is in crisis, the Rajapaksas have gained so much power might be for their end.
The people have given power to the Rajapaksas unconditionally. That in itself is a challenge for them.
The people have rejected the demand for an Independent free and fair Election Commission for peaceful elections. (This was a slogan on the Pohottuwa stage). Alas, this is the strangest country in the world.
1. The Rathnapura candidate who was sentenced to death (Choka Malli) for murder has come second in the preferential list
2. Sunil Handunneththi the Chairman of the COPE Committee who exposed the corruptions of public money has been kicked out and retired film actress, Geetha Kumarasinghe has been elected
3. An actor named Uddhika Premaratne has got the highest number of preferential votes in the district (maybe because he acted in Dutugemunu movie and killed Elara)
4. Maithripala Sirisena, the world's worst politician responsible for the Easter attack, has won the highest number of preferential votes in the Polonnaruwa district.
5. Prasanna Ranaweera who attacked the parliament by chili powder has won.
6. Sivanesathurai Chandrakath alias pillayan who is an accused for the murder of Joseph Pararajasingham in the east has been elected to the parliament.
7. Ethanol importers, drug dealers, bookie peddlers, sand racketeers, soil cutters has been elected as peoples representatives
8. Gnanasara who was convicted for imprisonment (for many racist insurgencies) and later given a presidential pardon has been given a national list
Plenty of such examples can be written.
People like thieves and crooks. They don't like all above when someone not on their team does. That is the deceit of the people. According to public servants, this government patriotic.
Samagi Jana Balawegaya, Janatha Wimukthi Peramuna and the UNP should stay behind for a while to allow this government to function. Government employees should not stand up for private sector employees when they are being treated unfairly when cost of living rising. (If they raise their voices their vote base will go down further). Isn't that what this election result says?
Masses who elected the Rajapaksas should be given an opportunity to remove their cloaks one by one by themselves. It will be done by time. People in Sri Lanka are more prone to thugs.
Whither Sri Lanka..!
Samantha
---------------------------
by (2020-08-08 10:34:24)
We are unable to continue LeN without your kind donation.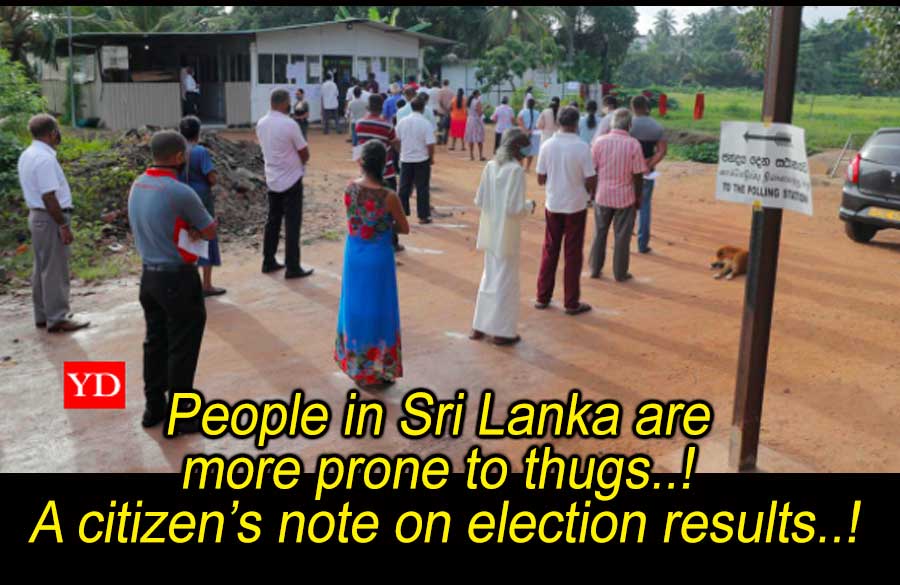 Leave a Reply