Nawaz's judgement to Choka malli deludes Attorney General..! No such judgments in any law books, perhaps in somebody's pocket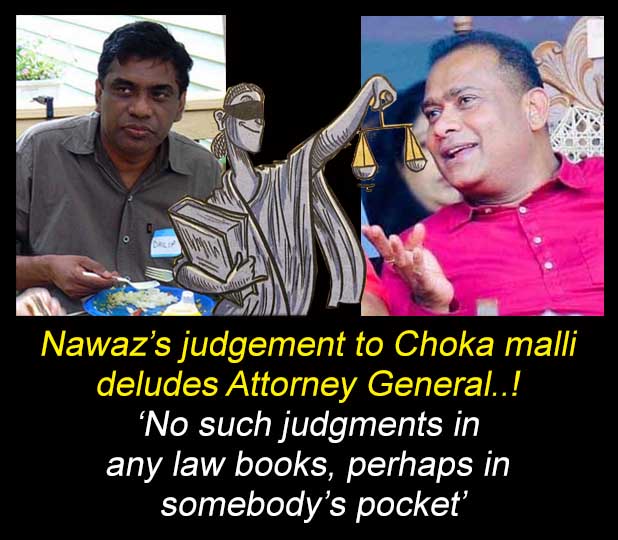 (Lanka-e-News -07.Sep.2020, 11.30PM) The appeal court of Sri Lanka issued an interim order today to the prisons commissioner general Thushara Upuldeniya, superintendent of the Welikada prisons and the secretary of the parliament to take Halkandaliya Lekamalage Premalal Jayasekara alias Choca Malli who was sentenced to death by the high court to attend to parliamentary sessions. The latter, killed a UNP activist Donangodage Susil Perera alias Shantha Dodangoda in an election campaign in 2015.
SB and Sarath Fonseka..
Earlier, prison officials sought advice from the Attorney General regarding Choka Malli's appointment and the Attorney General issued a written order that according to Article 89 (d) of the Constitution, a person sentenced to death or imprisonment for more than two years does not have the right to vote and Choka Malli cannot come to Parliament as a person who does not have the right to vote cannot be elected as a Member of Parliament. There have been past examples of this in Parliament. One is S.B. Dissanayake who was sentenced for two years in prison by the Supreme Court for contempt of court. Another is the court-martial convicted Sarath Fonseka who was sentenced for more than two years and 30 months in prison, depriving their seats. Choka Malli's sentence is more severe than both. This is the same person convicted of a murder and sentenced to death.
It is not relevant for the convict to appeal the verdict following the sentencing because Sarath Fonseka also appealed against the court martial decision at that time but lost his seat. Accordingly, the Attorney General's conclusion is very clear and legitimate.
All factors thrown to dogs..
A two-judge bench comprising Justices A.H.M.D. Nawaz chairman of the court of appeal and Sobhitha Rajakaruna Judge of the Court of Appeal issued this interim order allowing the hearing of a writ petition filed by Choka Malli.
Announcing the decision, the Presiding Judge of the Court of Appeal Nawaz stated in open court that no court decision has been issued so far declaring the election of Premalal Jayasekara as a Member of Parliament is illegal.
In the above examples of SB and Fonseka, there was no verdict by a court of law that their election being declared illegal but they were disqualified for the post because of a long-standing provision in the Constitution which is very clear.
Nawaz, Presiding Judge of the Court of Appeal, said that there was no legal impediment for the petitioner to enjoy all the rights of a Member of Parliament in the same manner as per the Constitution. He further said that there is no legal impediment for Choka Malli to swear as an MP.
Accordingly, notices were issued to the respondent Commissioner General of Prisons, the Superintendent of Welikada Prisons and the Secretary General of Parliament, allowing the petition to be heard. The petition will be called again on the 29th of this month.
Romesh appearance before Nawaz is not proper..
It was president's Counsel Romesh de Silva who appeared for Choka Malli for this case. Romesh's appearance in a case being heard by Judge Nawaz is also a matter of morality because Romesh de Silva is the lawyer of judge Nawaz.
Although Nawaz is the chairman of the Court of Appeal, a case filed against him by the Bribery and Corruption Commission is already pending. Navas' lawyer, Romesh de Silva, appeared for Nawaz for the case and in other cases on behalf of him. Therefore one can justify how this case would be processed.
Two funny answers..
When Lanka e News asked a President's Counsel about the Attorney General's conclusion and previous experience and the legal background that influenced the decision of the Court of Appeal he gave a funny answer.
"The reasons for such decisions are not in the law books anywhere in the world but perhaps in someone's pocket," he replied.
A Lanka e News reader also told a wonderful story about this decision. "If a person who claimed to have killed 3000 soldiers overnight can become a member of the parliament, nothing matters if a person who has killed one remains in the parliament.
The judgment of the Court of Appeal given yesterday can be downloaded below.
https://www.lankaenews.com/home/downloads/81/choka-malli-writ.pdf
Chandrapradeep
Translated by Robinhood
---------------------------
by (2020-09-09 04:50:17)
We are unable to continue LeN without your kind donation.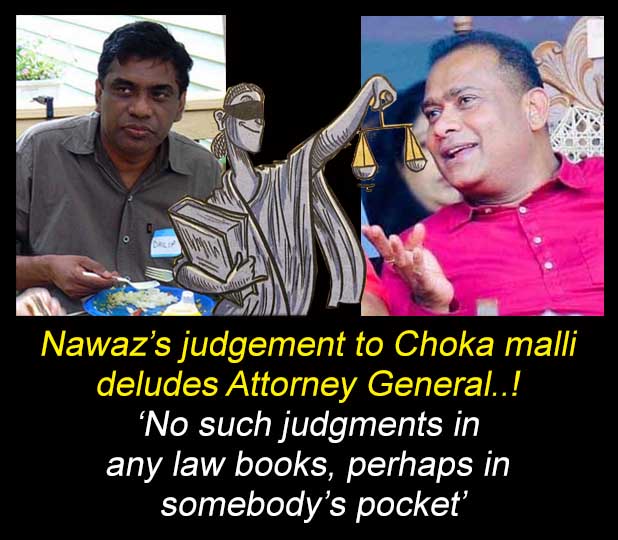 Leave a Reply