Difficulties in following Sri Lankan airlines quarantine procedure..!
-Sri Lankan airlines crew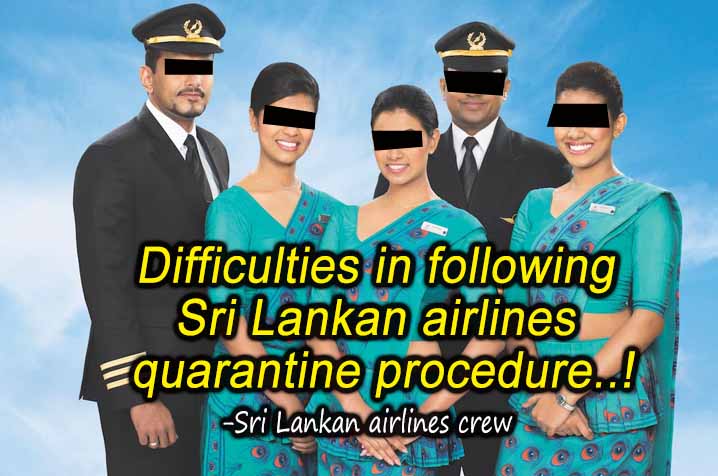 (Lanka-e-News -21.Oct.2020, 10.00PM) This email is to address the directives imposed on Sri Lankan airlines crew by the ministry of health in Sri Lanka, civil aviation authority of Sri Lanka, Sri Lankan airlines itself and difficulties faced by the crew as a result. Please find the attached documents in this article for the directives issued.
The recent directives dictate that the crew has to quarantine at a hotel for 7 days straight where you are expected to stay confined to a hotel room and that access control to the room would be controlled by military forces. Even though we understand the need for quarantining process, it could do without the need for intimidation by use of military personnel to enforce confinement. We kindly request an alternative to this as this as it cannot be dealt with continuously as a part of the job and specially because this can have detrimental effects psychologically. What does not make sense here is, health workers (doctors etc) that move with the general public and in some cases health workers from hospitals with COVID-19 patients are allowed to go back home, double standards set here have not been explained.
It is also stated in the directives that the crew would be called upon to operate other flights should the need arise during their active quarantine period. Which according to us violates the objective of the quarantining process, as this could lead infected crew members to operate international flights that may further increase the spreading of COVID-19 globally. Also when you operate such flight, after being taken out in the middle of an active quarantine period, the quarantine period gets extended to accommodate for the 7 required days. Which means that in some cases crew has to endure room confinement not just for 7 days but even more. It is difficult for us to understand the need for such strict directives because since the pandemic, we at Sri Lankan airlines have been using preventative equipment and following strict preventative procedures closely. Consequently, there has not been any crew that had gotten infected and caused an outbreak, therefore the need for such strict counter measures are unjustified in our view.
The original procedure put forth by the airline, enforced 7 days of home quarantine followed by a PCR test, which as mentioned prior has been tested and proven to be successful and we would request that this procedure will be kept as it is. Furthermore, not every crew member is in the same personal situation and as a result not everyone can be away from home for extended periods of time as mentioned in the directives. We have got families and kids to look after and also to mitigate financial difficulties brought up on us because of substantial COVID-19 salary reductions. As per discussions we had lately, we have already found that some of the pilots and crew are under pressure and stressed out, since we operate in a safety critical environment it may be something that needs to be addressed. We hope that this email could help shed some light on difficulties faced by us as we feel that our side of the story has not been considered/left out and that it could lead to some sort of a resolution.
Sri Lankan airlines crew
---------------------------
by (2020-10-21 16:35:26)
We are unable to continue LeN without your kind donation.
Leave a Reply