Gotabaya gets Madush and clears the way for Duminda to take back drug kingpin throne by throwing Shani under the bus
By A Special Correspondent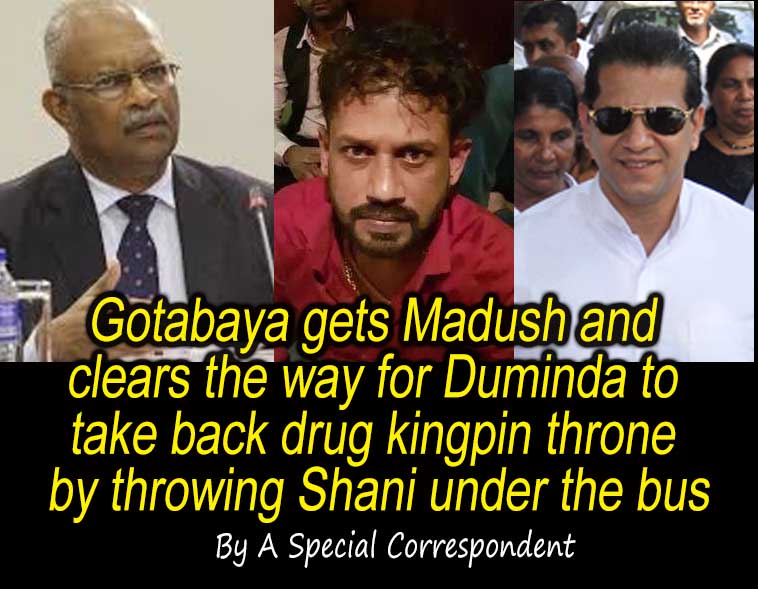 (Lanka-e-News -28.Oct.2020, 8.00AM) The government is asking us to believe that they did not murder Makandure Madush. We will believe that the same day we believe they did not arrest Rishad Bathiudeen to pass the 20th Amendment.
Madush was arrested in February 2019 by a joint task force led in Sri Lanka by the Criminal Investigation Department (CID), and in Dubai by the General Directorate of Criminal Investigation and Forensic Science. The CID coordinated through Interpol, and critical intelligence was provided by the Special Task Force (STF) and State Intelligence Service (SIS).
For all of the things that Maithripala Sirisena did to sabotage criminal investigations against murderers and gangsters, in this case, he gave full support and made the operation possible, showing what the police in Sri Lanka are capable of when they are not blocked by politicians but are instead helped to do their jobs.
STF security was provided to Madush..
It goes without saying that for the CID to coordinate the operation, that was the CID led by Shani Abeysekara, who the government has arrested out of revenge for exposing all of their murders and white van abductions. When Madush arrived in Sri Lanka, he was taken straight to the CID, where Shani put up special security protocols, guarding him with STF officers around the clock. Very few people in the CID even knew where Madush was being held inside the building. Trusted CID officers interrogated him and got information to recover drugs and guns, and to arrest other drug dealers and underworld figures. Whenever he was taken outside, STF security was provided to protect one of the most valuable assets to dismantle the underworld.
Even after Shani was thrown out of the CID in November 2019, his replacements, CID Directors W. Thilakaratne and Prasanna Alwis both continued Shani's operation, getting more information from Madush and doing more damage to the underworld drug operations. When the Colombo Crime Division (CCD) kept asking for custody of Madush, the CID Directors both refused, and even CID DIG Nuwan Wedasinghe said it would be dangerous to take Madush out of the CID, because he could be safely interrogated there.
Suddenly, Defence Secretary Kamal Gunaratne transferred Wedasinghe and Alwis out of the CID and installed two new stooges who would do what he said. Then he immediately ordered Madush to be transferred to CCD custody. When Madush got to the CCD, did they ask him about drugs? Did they ask him about guns? No. They started questioning him about Shani Abeysekara and offered to make him a state witness if he would lie and say that Shani Abeysekara had illegally planted the weapons that the CID had recovered using intelligence from Madush. It was only after this murdering drug dealer refused to lie to these so-called police officers that his fate was sealed.
What was the last question asked from Madush..?
May we ask, who knew where Madush would be last Tuesday morning to plan the ambush in which he was killed, except for the CCD officers and the Defence Ministry? Was it an accident that for the first time in one and a half years since Madush was brought to Sri Lanka, he was taken outside without the protection of STF security? Is it a coincidence that Madush was handled and killed at the hands of the same CCD officers, ASP Neville de Silva and IP Jagath Nishantha, who are accused of threatening witnesses and falsifying evidence to jail Shani and please Gotabaya? Is there no connection that only hours after Madush was killed last Tuesday, Gotabaya got a petition signed by his MPs asking him to pardon and release the biggest drug kingpin of them all, Duminda Silva? Is it a coincidence that it was Shani Abeysekara who got Duminda Silva convicted for murder?
Can the government deny any of these things?
While the whole country and the whole world can see that this was a plan to kill Madush and give his empire to Duminda Silva, what is less obvious is how they are planning to use this to drag down and attack Shani Abeysekara, one of the most dedicated professional police officers. The only thing anyone knows about Shani is that he answered the phone when Ranjan Ramanayake called him. The government, and Duminda's brother made it sound like a huge scandal, but can anyone listen to what Shani said, and see if he said anything that was not true?
Who is Shani? What did he do?
What no one knows about Shani is that he has investigated and got convictions for more than 35 murders. Who investigated the Royal Park murder? Shani. The Katunayake airport attack? Shani. The suicide bombing attacks on President Kumaratunge, Sarath Fonseka and even Gotabaya Rajapaksa? Shani. What about the Angulana double murder? That was also Shani. Who solved the murder of Customs superintendent Sujith Prasanna Perera? It was Shani. Who stopped the LTTE suicide attacks on the Kelanitissa power plant and several VIPs in April 2006? That too was Shani.
He solved the murder of Soththi Upali, rescued kidnapped Aitken Spence Chairman G.C. Wickramasinghe and caught his kidnappers, he caught and convicted the terrorists responsible for the Udathalawinna massacre. This list can go on forever, but it is enough to say that no police officer's track record comes close to what Shani has done.
But Shani's mistake began when he started taking on cases involving powerful people. Normally police officers close files and turn the other way when a case leads to someone powerful, but not Shani. When Mohomed Shiyam was killed and President Mahinda Rajapaksa wanted the CID to solve the crime no matter what, the job was given to Shani. As just an ASP, he caught DIG Vaas Gunawardena and his investigation sent him to the gallows for running a contract killer squad, and he did this despite then Defence Secretary Gotabaya Rajapaksa ordering him not to touch Vaas. When Mahinda's advisor Bharatha Lakshman Premachandra was murdered by Duminda Silva, that case was also given to Shani.
Instead of turning the other way and being frightened of politicians, Shani did his job and Duminda Silva was also sent to the gallows. In 2015 when he was given the case of the killing of Prageeth Eknaligoda, Shani caught the murderers, some of them confessed, and the first army intelligence squad was exposed to the country for abducting and murdering a journalist.
When the post of CID Director became vacant in August 2017, President Sirisena and Prime Minister Ranil Wickremasinghe both asked IGP Pujith Jayasundera to appoint SSP Mevan Silva to be CID Director, because they could control him and do political deals. It was the police commission that overruled the President, Prime Minister and IGP and gave the post of CID Director to Shani Abeysekara, who none of these politicians could control.
In 2018 as CID Director, when he was given the bond scam investigation, he arrested Arjun Aloysius and Kasun Palisena on Independence Day morning, and the country could watch all the politicians at the Independence Day parade having no idea what had happened. He did not tell them. He just did his job.
By A Special Correspondent
---------------------------
by (2020-10-28 02:45:14)
We are unable to continue LeN without your kind donation.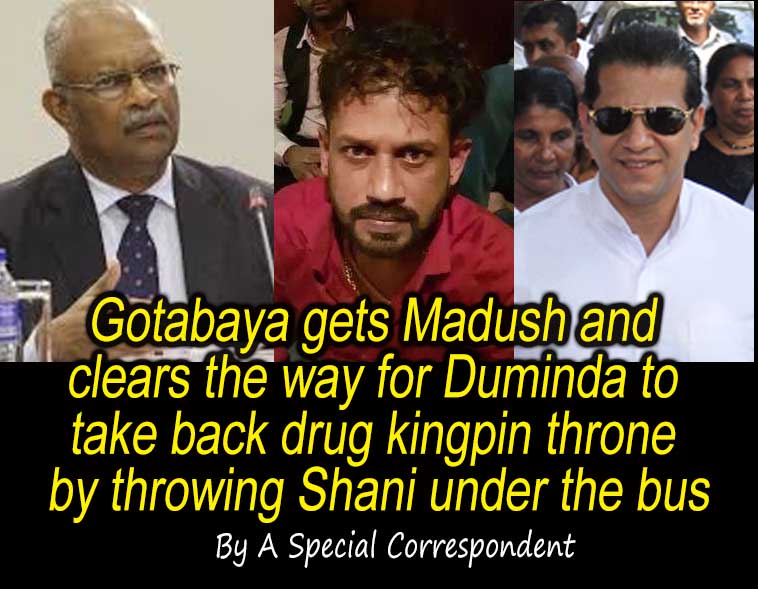 Leave a Reply