Here is Pompeo's Derana TV interview with many hints about who Sri Lanka should choose (Video)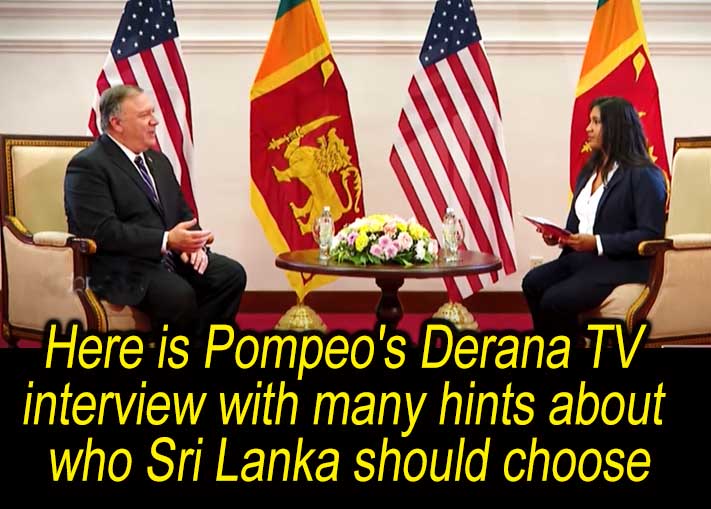 (Lanka-e-News - 28.Oct.2020, 10.30PM) US Secretary of State Michael R. Pompeo landed in Sri Lanka last night. He left today after meeting the President Gotabhaya and Foreign Minister Dinesh of Sri Lanka. During this tight tour, he gave an interview only to Derana TV. It should not be forgotten that the other day there was a friendly meeting between Derana owner Dilith Jayaweera and the US Ambassador to Sri Lanka. However, in that interview, the Secretary of State gave many hints as to whether Sri Lanka should take the dictatorial Chinese side, or the side of the democrats, especially the United States and India. The full interview is as follows.
QUESTION: Thank you for your time here with us in Colombo, Secretary Pompeo. Your visit here is termed crucial. It's seen as a rare one and peculiar given the timing of the visit. What's so important that you had to communicate at this juncture?
SECRETARY POMPEO: Well, thanks for giving me a chance to be with you. I appreciate it. It's been wonderful to be here in Colombo.
Look, the – I'm in this region a lot. I had planned to come here earlier. The world got away and I had to delay it a bit, so managed to get here now. I'm thrilled to be here. It's an important time in the history of the region. Great democracies like the one that we have here in Sri Lanka and the one that we have in the United States have a shared vision for how life ought to operate and how there ought to be sovereign nations and free peoples get a chance to live the lives they want.
I wanted to be here to share that message and know the United States stands ready to do all that we can to recognize Sri Lanka's sovereignty, but to make sure that the people of Sri Lanka understood that the United States is a friend and a partner and a democracy with a shared vision for how the world ought to operate.
QUESTION: How do you term future relations of Sri Lanka and the United States will be given this crucial visit in Sri Lanka and the comments made by Sri Lanka's foreign ministry for enhanced relations with the U.S.?
SECRETARY POMPEO: It was a great visit, both the meeting with the president and with the foreign minister and his team. There's many opportunities, things that we can do. We talked a lot about American private businesses investing here, not only those that are here today investing more, but new opportunities in agricultural and renewable energy and technology, lots of opportunities for the Sri Lankan people.
Look, Sri Lanka will have to do its part. It's got to be welcoming. It's got to have the rule of law and transparency so that American investors will want to come here. But I'm confident that we'll deliver on that, and when we do, it'll be good for the American companies who come here, but it'll be really good for the people of Sri Lanka. There will be jobs and opportunity and wealth creation and all the things that democracies and the private sector can do like – in a way that authoritarian regimes simply can't.
QUESTION: Also, Mr. Secretary, recent comments by Deputy Assistant Secretary Thompson urging Sri Lanka to make difficult but necessary decisions to secure its economic independence for long-term prosperity. As Sri Lanka's largest trading partner, what exactly are these difficult decisions or choices that the U.S. expects Sri Lanka to take?
SECRETARY POMPEO: Yeah, I know precisely the things that Sri Lanka needs to do, but more importantly, the Sri Lankan people know and the Sri Lankan leadership. Look, this isn't about America imposing its vision on Sri Lanka; quite the opposite. It is Sri Lanka sharing with America the things that we can do to make life better for the Sri Lankan people here. Those are the choices we hope that Sri Lanka's government makes. When it does, there will be opportunity, there will be good partnerships not only with the United States, but with the other democracies in the region.
I traveled from India. I'll travel from here today to the Maldives. I've been in Asia and in Southeast Asia a great deal in my time as Secretary of State. Whether it's South Korea or Australia or Japan, these democracies have the opportunity to work together. And so I'm confident Sri Lanka will want to be part of that, part of what prospectively looks like real opportunity and real sovereignty.
Those are the things that will make life better for the Sri Lankan people, not a history where you have other countries show up and put huge debt on the country and impose huge burdens on the country, and when they come here don't show up with the private sector and don't hire Sri Lankans. The democratic countries, including the United States, have a very different vision, and the meetings today give me real hope that we'll be able to work closely together on that shared vision.
QUESTION: Does this mean the U.S. will respect Sri Lanka's wishes to remain a neutral country and not be entangled in – as a geopolitical power play?
SECRETARY POMPEO: Well, it's about choices. Every country makes choices. The choices will be: Do you want a democracy and freedom? I'm confident that the Sri Lankan leadership does exactly want that. And when you choose those things, you end up with different kinds of partners. You end up with partners that actually respect Sri Lanka's decision making as a sovereign entity. And when there needs to be security cooperation — we have provided two Coast Guard cutters so that you can do good work on counternarcotics. And we show up here and help with making sure that terror risk is reduced inside of Sri Lanka.
These are the kind of things that democracies work on together. We have a shared vision and a shared goal, and I am very confident that the Sri Lankan people will end up in a place that ends up with a very close and very dynamic, powerful relationship that benefits both of our two countries.
QUESTION: In terms of the MCC agreement, Sri Lanka missed the deadlines twice. The United States is still talking about it. What'll happen if the government – if it is politically challenging for the Sri Lankan Government to enter into the MCC agreement?
SECRETARY POMPEO: Yeah, look, it's one of many things that's been proffered. If it doesn't make sense for Sri Lanka, the Sri Lankans will choose not to accept that. The relationships, the strands, the depth and complexity of our relationship far exceeds any one transaction or any one opportunity. There will be plenty. We'll work closely on them alongside the Sri Lankan Government.
QUESTION: On matters pertaining to accountability – you mentioned this at your joint press briefing too – how will the United States work with Sri Lanka in order for Sri Lanka to work on its accountability commitments and also about Sri Lankan army chief Lieutenant General Shavendra Silva, who is banned from the United States? Have these come under discussion?
SECRETARY POMPEO: Yeah, we talked about all of this today. Look, we have a set of legal requirements in the United States. We apply them evenhandedly. We try to get the facts exactly right. We do that in every case. As for accountability, I talked to the president about this, I talked with the foreign minister too; I'm confident that the Sri Lankan people want accountability and justice, and that these leaders are intent on delivering them. We'll help where we can ultimately. We can provide some technical assistance. We can certainly work with them in international fora to deliver on these ideas of reconciliation and accountability, but it will be ultimately Sri Lankan leadership and the Sri Lankan people which will have to work on this.
It's important. We hope that your country gets this right. It's the right thing to make sure that that is – that part of Sri Lanka's history is handled in a way that is appropriate and recognizes what actually transpired, but with an eye towards what's ahead, all the good things that can happen in the future.
QUESTION: One last question, Secretary Pompeo. China is playing an increased role in Sri Lanka, India too, and the U.S. offers SOFA and MCC. What else is on the table?
SECRETARY POMPEO: Well, what America offers almost always is companies and private investment, partnerships, and friendship. That's how we roll in the United States. We won't show up with state-sponsored enterprises. We won't show up with debt packages that a country can't possibly repay. We won't attempt to use that debt to extort actions by the government.
No, we want what the Sri Lankan people want: the chance to thrive, the chance to have real opportunity, the chance to travel around the world and to make a better life for each of them and for their families. Those are two very different models. One is the model for democracy and freedom. The other is a tyrannical authoritarian model. We're convinced that the people of Sri Lanka will make the right choices for themselves, and that – as that has been for an awfully long time here. Foreign Minister reminded me of it being the oldest democracy in Asia. I'm confident that that tradition will be important and powerful and will mean an increasingly good relationship between the United States and Sri Lanka.
QUESTION: Thank you very much for your time.
SECRETARY POMPEO: Thank you, ma'am. Thanks for having me on
Discussed by Indeewari Amuwatte
Video footage as follows
---------------------------
by (2020-10-28 18:32:48)
We are unable to continue LeN without your kind donation.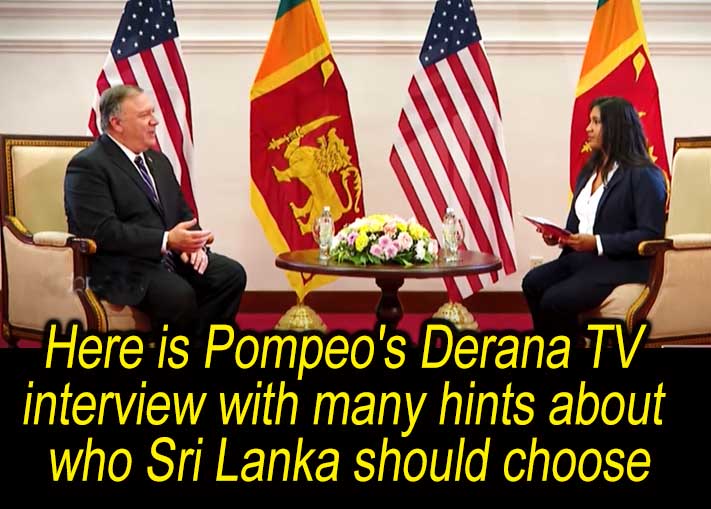 Leave a Reply