Chinese Communist Party is a predator; US Secretary of State slaps China in Sri Lanka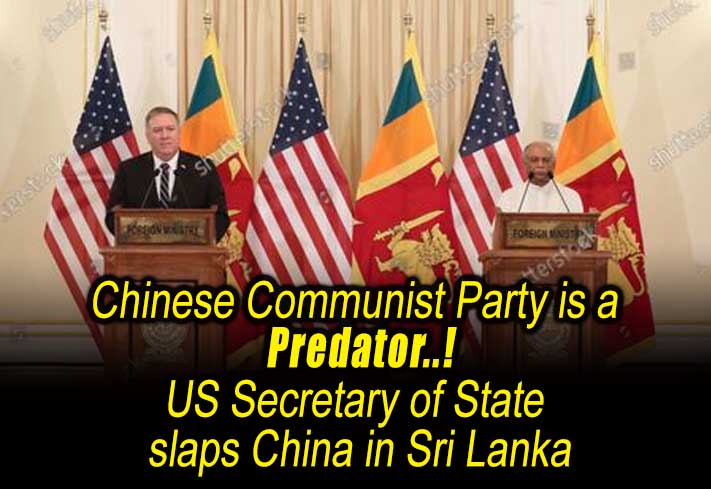 (Lanka-e-News -28.Oct.2020, 11.30PM) US Secretary of State Mr. Pompeo slaps China during a joint press conference in Colombo today. He response to the Chinese ambassador to Sri Lanka issuing statement against the United States even before his arrival in Sri Lanka.
Pompeo called China a country that trades badly, violates the sovereignty of other countries, and enforces lawlessness at sea and on land, and calls the Chinese Communist Party is a predator.
Following is Pompeo's statement at the press conference and his response to questions raised by journalists.
SECRETARY POMPEO: Hello, everyone. It's wonderful to be in here, Colombo. It's most special because indeed, as you said, we're one day short of 72 years of our diplomatic relations between our two countries, a remarkable anniversary for each of us.
The foreign minister and I had a great conversation. I had a chance to congratulate him on his reappointment – well done – and had a very positive conversation with President Rajapaksa a bit earlier this morning as well.
My overall message in both engagements was very clear: The United States seeks to strengthen our partnership with democratic, peaceful, prosperous, and fully sovereign Sri Lanka. Our new embassy, for instance, is nearing completion. It's a sign of our commitment to the country and to the people of Sri Lanka, and we of course spend a good deal of time talking about our cooperation in defeating the pandemic that came from Wuhan, China.
The United States has donated now just over $6 million in COVID assistance to Sri Lanka, and early in the pandemic, Sri Lankan factories and garment manufacturers quickly filled hundreds – hundreds of orders for high-quality PPE, and we are grateful for this output which saved American lives. Thank you so much.
President Trump is working hard with our private sector to develop vaccines and therapeutics to beat this virus and benefit our peoples and indeed the peoples of the entire world. We'll need the power of private industry to regain our economic footing now and in the future, and we look forward to working with the people of Sri Lanka on that matter.
We talked about this a great deal. We talked about our economic relationship, great American companies that are here today. Brands like Coke and Oracle and IBM are here certifying – or excuse me, creating high-quality jobs. These American companies are the most reliable partners on the planet. They're accountable to the law, they're transparent, they're assets to the communities in which they operate.
And as I conveyed today, good governance, transparency in policy consistently will attract even more American investment. Those principles are deeply consistent with Sri Lanka's history, its heritage as the oldest democracy in Asia.
We also had a wide-ranging discussion on our security cooperation which helps keep some of the world's most vital sea lanes open, as the minister recognized, in addition to our joint trainings. I'm proud that Sri Lankan officers received training at the United States institutions like West Point, my alma mater, and I'm also proud the United States has donated two Coast Guard cutters that are now Sri Lanka's navy patrolling your waters.
Indeed, a strong, sovereign Sri Lanka is a powerful and strategic partner for the United States on the world stage. It can be a beacon for a free and open Indo-Pacific.
Look, that's quite a contrast to what China seeks. We see from bad deals, violations of sovereignty and lawlessness on land and sea, that the Chinese Communist Party is a predator, and the United States comes in a different way. We come as a friend and as a partner.
Finally, this afternoon, I'll travel – it's important for me to take a moment to go and visit the Shrine of St. Anthony, one of the five sites that was attacked by ISIS on Easter Sunday of 2019. I'll shortly have the chance to pay my respects to the hundreds of victims of evil terrorists, including five Americans. I'm proud that the State Department has offered substantial counterterrorism assistance to help Sri Lankans bring killers of Americans and their own people to justice. These Easter Sunday attacks represent the kind of sectarianism that Sri Lankans are ready to leave behind forever. Sri Lankans of all backgrounds – Buddhists, Hindus, Christians and Muslims alike – want a peaceful nation where their human rights are respected.
In his victory speech last year, President Rajapaksa stated that he is the president of all citizens, not of only those who voted for him. And as our two nations move forward, the United States is counting on those words to hold true. We fully expect that Sri Lanka will fulfill its pledges to take meaningful, concrete steps to promote accountability, justice, and reconciliation.
Let us all stand together, Mr. Minister, shoulder to shoulder. We've seen some of the good that we can achieve for our citizens when we do. And let's do even more together on the strength of our partnership marked by democratic values.
Thank you, for hosting me here today.
QUESTION: Thank you very much for giving this opportunity. My name is Chavika Gunasekara and I'm representing (inaudible) News in Sri Lanka.
My question is to you, Secretary of State, Mr. Pompeo: Why have you chosen to visit Sri Lanka at a time when the U.S. is going in for elections? Is the purpose of your visit to move Sri Lanka towards an alliance against China? I mean, is U.S. attempting to offset Beijing's influence by signing new agreements like MCC, SOFA, through the Quad group in Sri Lanka?
And also, you all have imposed sanctions against our present army commander, one of the war heroes in our country, Lieutenant General Shavendra Silva, from entering United – from entering United States of America based on independently unverified information. What is the current status on that? And did the Government of Sri Lanka request you to reconsider the imposition of travel ban on Lieutenant General Shavendra Silva in terms of the Geneva resolution? Thank you.
SECRETARY POMPEO: All right. Thank you. I think there were three questions there. The last one, look, it's a legal process in the United States. We'll always continue to review it. We want to make sure we get it both technically, factually, and legally right. We'll continue to do that.
I think your first question was about timing. Foreign Minister reminded me I owed you. I was scheduled to come here previously and events around the world caused me not to be able to make that stop here. This was a time when I was able to make it. I am thrilled to be here. It's a wonderful opportunity, and on the eve of our 72nd anniversary of our relationship, I think it was an important time for me to be here, and I'm glad that I was able to make it.
Your final question was about what we're trying to accomplish here. We want the people of Sri Lanka to have sovereignty and independence. We want them to be successful. We want sustainable development for them. We think the United States, as a friend and partner, offers just exactly that, and we want that. Look, we have a shared vision. Democratic nations always do, right? So I'll travel – I traveled to India, I'm here, I'll be in the Maldives this afternoon, I'll head on to Indonesia. We know that these democracies have a shared vision for free and open shipping lanes, the capacity to trade, for people to travel wherever they want to go.
These are visions that the people of Sri Lanka share with the people of the United States. And so my visit today was to talk about those things, to figure out good ways that we can continue to build and develop our relationship so that American private sector companies will see the opportunity that's here and come invest and train Sri Lankans and build up those communities too. These are the kind of things that America offers. There is a different vision. The Chinese have a very different vision.
We want to make sure that the people of Sri Lanka have the capacity to execute their sovereign rights to remain independent, to have the freedom to hold elections just like the ones that you all have held. Those are the things that democracies work on together. Those are the vision that we share. And it's why I was excited to be able to make it here today.
Thank you. Thanks for all those questions.
MODERATOR: Okay. And from the U.S. media, we go to Nike Ching with VOA.
QUESTION: Good day, Mr. Foreign Minister. Colombo is indeed a beautiful place, glad to be here. If I may ask, this is the first time in many years a U.S. secretary of state visits Sri Lanka. Do you welcome more U.S. presence in the region? Is the (inaudible) U.S.-Sri Lanka relationship an irritant to Sri Lanka's relationship with China? Thank you very much.
FOREIGN MINISTER GUNAWARDENA: Sri Lanka-U.S. relations, as I mentioned earlier, it is 72nd anniversary, very happy that Secretary of State has picked the anniversary to be with us. It's long years of cooperation that we have come forward, and we look forward to go to the future too.
As we have Secretary of State with us today, there will be many U.S. dignitaries even in the future visiting Sri Lanka. Sri Lanka is a neutral, non-aligned country committed to peace, as I mentioned earlier. On that principles, we hope to continue with our relations with the United States and other countries.
SECRETARY POMPEO: Great. Thank you, everyone.
---------------------------
by (2020-10-28 19:54:00)
We are unable to continue LeN without your kind donation.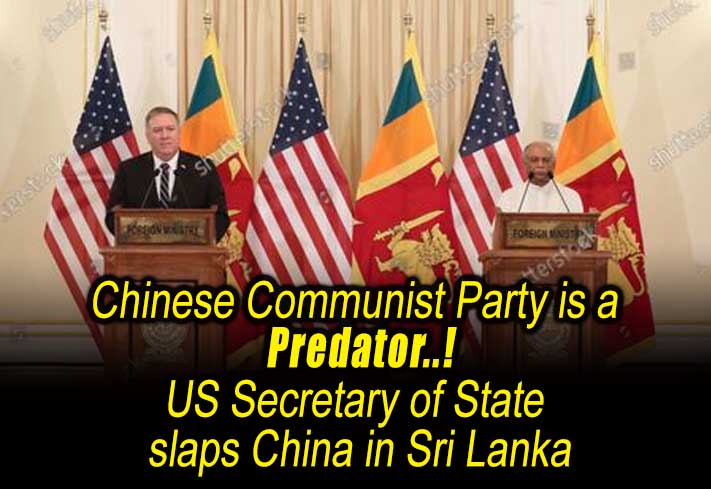 Leave a Reply