Save Central Bank of SL and clean Colombo University bogus Economics Dept and cancel Emiritus Prof position given to robber WD Lakshman..!
Investigative Journalist Forum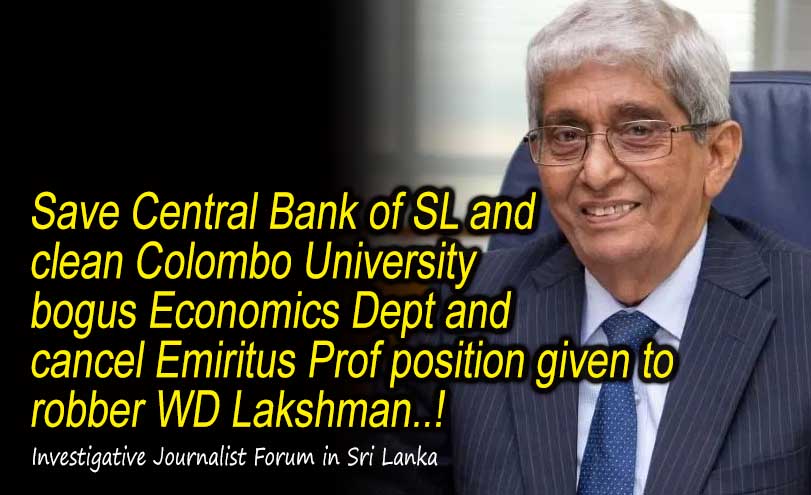 (Lanka-e-News - 30.Oct.2020, 1.30AM) Check Colombo University Arts Faculty Economics Dept. recruitments and promotion to Professor positions and sack all illegal recruitments and recover salary got by these Lakshman's henchmen.
This investigative article says why WD Lakshman (WDL) considers as No.1 Robber, Criminal and deal maker, therefore, has to save SANASA campus from his hands before he destroys it (it already family and henchmen tree) and penalize for the wrongdoing during his Colombo University regime. Some of the criminal works of WD Lakshman (WDL):
1) Lakshman's wife (Kalyani) caught (This happened in the 1997-99 period) by the Education Dept while she was giving a false birth certificate to extend her service. She was a teacher in Education dept and the final appointment was a Principal Devi Balika before her retirement.
2) His first son entered into Kelaniya University Government medical faculty without Sri Lankan A/L by using a foreign passport. This is a deprivation of chance to Sri Lankan poor girl or boy who passed A/L through the right path. Later he entered the government medical service also.
3) His second son entered to his own dept (Colombo University Econ) and received a bogus first class degree and recruited to the same dept and by violating all government circulars and sent aboard for Ph.D. This son's best friends' also recruited to the same dept as lecturers.
4) Second son's uncle (SMP Senanayaka) also got into the same dept and he violated bond with ARTI (Now HRTI) and recruited to this family dept. By using W.D. Lakshman's underhand foreign-funded project (UC/ISS) sent Senanayake to the UK to get a Ph.D. even after 60 years of age.
5) Another catcher (Sunil) recruited from NIBM he also violated bond with NIBM and recruited to this family and henchmen dept.
6) The Netherlands and Japanese foreign aids robbed and misused for personal gains by Lakshman, his relatives and henchmen openly. He misused these foreign projects to help his sex partners and people in his henchmen cycle. Another famous foreign robber (Sri Lankan origin Netherlands citizen – Howard Nichalos) also work in this UC/ISS project and misuse this foreign aids for his own and associates' benefits and for his sex workers benefits.
7) An unknown number of UG and PG degrees sold and gave to own network people and relatives. Evidence is there to prove that he sold degrees to foreigners with help of womanized Registrar (This Registrar Mr. Jinasena, gave over 100 non-academic positions and promotions to many girls after having sex with them) in that time. Now this Registrar (Jinasena) is a lawyer. His law license must be canceled. Even Lakshman erased names from degree master book and included new names by using special inks imported from a foreign country. He erased death people (degree awardees) names for this business and inserted the new names and issuing this degree certificates he made billions.
8) Earned as much as money from tender manipulation by Lakshman while he was working as VC two times (1994-99) for Colombo University.
9) All the lecturers' recruitments are done in outdoor connection to his family dept (Econ Dept on Arts faculty). Lakshman does not have a good school education and he studied in a very small school in the Southern part. Therefore, he likes as much as dis-robed people and monks and most of his staff recruits are these dis-robed guys and finally fake monk (Rev. W. Wimalarathna) also recruited through back-door connections. This monk is very greedy for money.
10) Lakshman's daughter also given free sociology degree from Colombo University Arts faculty and recruited as a Lecturer to same University by disregarding all well-qualified applications. For this cover-ups gave by many in Sociology Dept and they got many rewards for this during this period.
11) Finally, he himself became Emeritus in this family dept. and still, all the decisions in this family dept are taking by him. Because his henchmen and sex workers (Lecturers) are now running this dept.
12) This no.1 mask man (Lakshman) has to bring the FCID and CID and has to penalized and should be in jail for rest of his life and sack all his recruitments and close his family dept in Arts faculty in Colombo University.
13) All the staff recruitments in SANASA campus was also done in outdoor connection manners. See Sumanasiri other fake Profs without Ph.D. or any single publications in ISI/SCOPUS journals how he became a Professor. His Professor application evaluated by famous robber Lakshman.
14) Now, this Lakshman and his robber clan (fake profs Ranjith Bandara, Sirimal Abeyrathne, Sumanasiri, and others) got a big contract from former corruptive president Mahinda and their duty is to convince people about the incoming great economic crisis and preaching Sri Lanka will be over and toppling Ranil's government. They already started the first meeting of this contract by using fake Ph.D. holder Gunuruwan in this family Dept.
15) Educate people about this criminal Lakshman and his all underhand deals and not to listen to him or his corruptive clan. Actually now he should be in Prison not the VC position in SANASA campus.
16) All the Lecturers for this Colombo University family dept (Econ) recruited through outdoor connections. Some are servants, sex workers, henchmen, relatives, friends' and own sons or daughters. Some people he put into other academic depts because they translated foreign authors books into Sinhala and this man published them as his own books. See his books all of them are English translations. All these translations did by his slave lecturers for various gains.
17) Lakshman does not have any publications in ISI or SCOPUS indexed journals then how he became a professor. He helped all his henchmen to be professors by sitting professor application evaluation committees of them. Actually, UGC has to penalized for this mistake.
18) This man completely destroyed Sri Lankan Economic education with his henchmen. Therefore in Colombo University Arts faculty, this family dept must be closed with immediate effect.
19) Under the Mahinda regime, this person is in many economic committees and advisory boards and gave all backups for corruptive Mahinda regime and made billions. His henchmen became Chairmen in many government Institutions and earned as much as and destroyed all these good Institutions. Examples: Ranjith Bandara in SLFI and Gunuruwan (Famous Joker and boaster who does not have a real Ph.D. degree or any Economics first degree) in Railway, etc.
20) With immediate effect, WD Lakshman's Emeritus professorship must be canceled and he should be jailed. This Emeritus is proposed by all his outdoor connected henchmen Lecturers in Econ dept.
21) Unqualified S. Vidanagama kept as Head in Econ Dept in many years to get done all dirt works of WD Lakshman.
22) Many examples exist with Colombo University to prove how WD Lakshman recruited Lecturers in the Colombo University Arts faculty: Sex workers, henchmen, sons, and daughters of friends and relatives.
23) WD Lakshman's main henchman in SANASA campus is double game player Mr. Sumanasiri Liyanage. Sumanasiri does not have any qualification to be a professor. He does not have a Ph.D. or any single publication in ISI/Scopus level journal and the only qualification is henchman to Lakshman. Laksman gave him Deanship in this campus and now girls beware of this notorious womanized man. He does not have any family life.
24) All these crimes are a tip of ice burg he did while he was in Colombo University and SANASA. Uncountable many are there. Now SANASA campus is day time robbery, family business and sex farm under this man rule.
25) Today no one can trust SANASA degrees because it comes from these type of criminal, low quality and unethical people's hands.
26) Finally, we found that Colombo University forcibly resigned first VC is this criminal VC. Because H.E President Chandrika Kumaratunga's time, she said this man to resign because of his involvement with many corruptive deals. Such a person cannot be work again in the same University and become Emeritus Professor what so ever. How can this type of low-level mask man run SANASA campus with his henchmen?
27) This criminal (WD Lakshman) gave the bad recommendation to become Economics professors for many of low level his own sex workers, henchmen and pimps. He did this because many Universities appointed this joker to evaluate professor application of many people. Even UGC still appointing this joker for many committees.
28) How Sirimal Abeyrathne became Economics Professor with Sociology Ph.D.? How Gunuruwan became Economics Senior Lecturer with science general degree? How Rev. W Wimalarathne became Lecturer with the second class lower pass? How Lakshman's second son's friends became Lecturers in that Econ Dept? How Lakshman's second son got a first class pass in his own Economics dept? Lakshman had changed all the marks of the son and gave the first class in the wrong way? How his (Lakshman's) daughter became Lecturer in same University Sociology Dept under full coverage from Sociology Dept? How his first son entered to Kelaniya University medical faculty without Sri Lankan A/L by using a foreign passport? How his second son sent aboard violating all UGC circulars through Colombo University public money? Many general science degree holders recruited to this Econ Dept by this world-class criminal WD Lakshman. Need full audit query about this man.
Appoint Parliament Committee on Colombo University Economics Dept. appointments, fake professor promotions for henchmen and his all ill doings during and now in Colombo University. At least without Economics Second upper-class pass no one cannot be a Lecturer. But in this dept, many have lower class degrees, general science degrees which are not related to Economics. Cancel Emeritus Professorship given to this world-class robber WD Lakshman.
Investigative Journalist Forum in Sri Lanka
cc: Sectary of President
---------------------------
by (2020-10-29 20:06:14)
We are unable to continue LeN without your kind donation.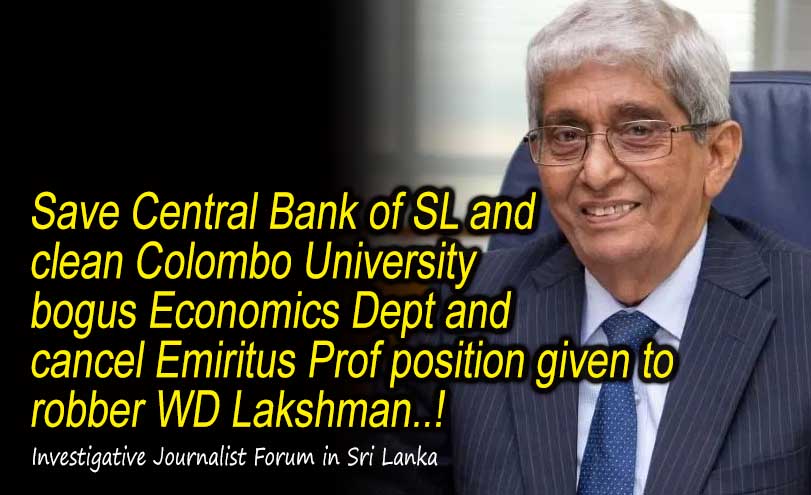 Leave a Reply