Why are politicians silent about Shani Abeysekara?
By A Special Correspondent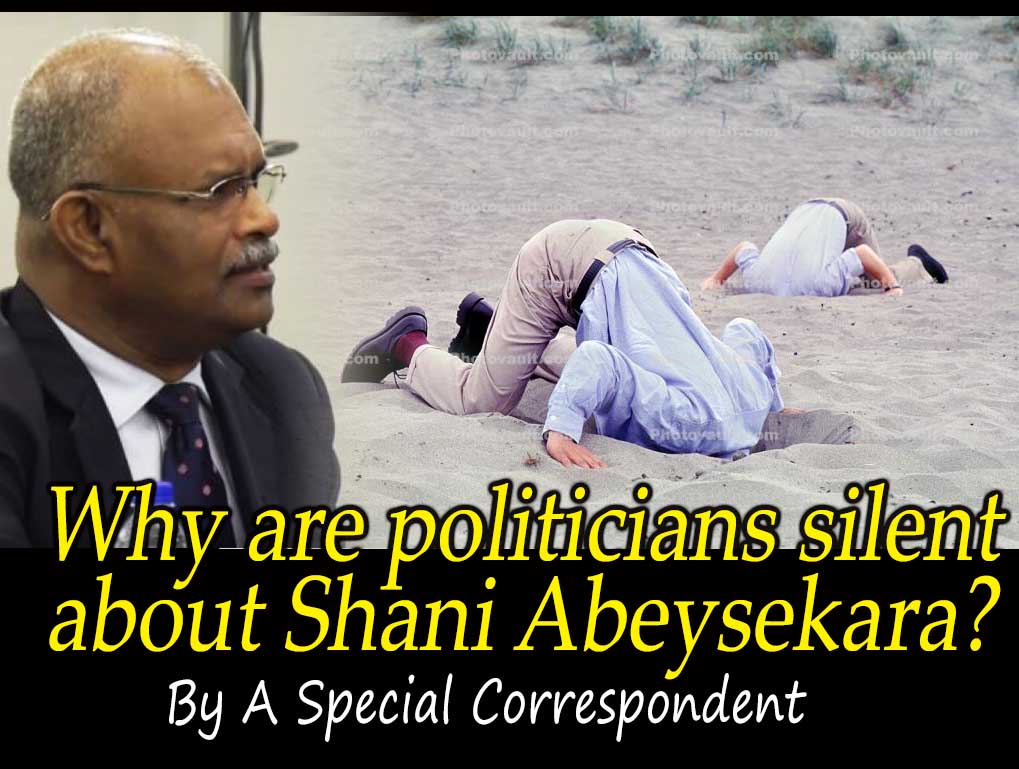 (Lanka-e-News -06.Nov.2020, 3.55AM) In the history of Sri Lanka, has a President or Prime Minister been taken by surprise with the CID or the police arresting powerful people? When was the first time it happened? It was on the morning in February 2018 that Shani Abeysekara's CID stunned the country by taking down Ranil Wickremasinghe's bond scam accomplices Arjun Aloysius and Kasun Palisena in Colombo, while also coordinating the arrest of Goyabaya Rajapaksa's MiG deal accomplice Udayanga Weeratunga in Dubai.
Gotabaya swore vengeance against Shani..
In 2018 as CID Director, when he was given the bond scam investigation, he arrested Arjun Aloysius and Kasun Palisena on Independence Day morning, and the country could watch all the politicians at the Independence Day parade having no idea what had happened. He did not tell them. He just did his job.
It was on the same day that Shani's intelligence and international cooperation unit coordinated the arrest of the fugitive money launderer Udayanga Weeratunga by Interpol in Dubai, which finally led to his extradition to Sri Lanka, the first time in history that a wanted person was extradited to Sri Lanka. It was this same relationship and cooperation built by Shani that was used a year later to capture Makandure Madush in Dubai at his birthday party.
Also, this same CID unit of Shani found new intelligence about Weeratunga's brother-in-law laundering money for the MiG case and shared it with the FCID. When Ravi Waidyalankara went running to Gotabaya to warn him Shani was on his trail, Gotabaya swore vengeance against Shani.
How Ranil influenced Shani..
When Sujeewa Senasinghe's name came up in investigations of Arjun Aloysius' money laundering, Prime Minister Ranil Wickremasinghe summoned Shani to his house and ordered him not to reveal Senasinghe's name in the investigation. Shani looked him in the eye and refused, saying he had to follow the law, and report Senasinghe's involvement to court. Shortly after that, the government withdrew Shani's personal security and the guards around his house. It was only after the independent Police Commission intervened that it was restored.
It was under Shani that the other white van squads were exposed in Military Intelligence, who abducted Keith Noyahr, assaulted Upali Tennakoon and killed Lasantha Wickrematunge. Now the government screams that these are made up allegations and that they are innocent, but they cannot explain how the fingerprint of the deputy head of the killer squad was found on Upali Tennakoon's car after the attack. Everyone knows who ordered Military intelligence to abduct, attack and kill these journalists, so everyone therefore knows why Gotabaya Rajapaksa hates Shani.
Why Sirisena hates Shani..
Maithripala Sirisena also hated Shani because he refused to help him with his political deals. Ranil hated Shani because he went after the bond scam culprits. Sajith also hates Shani, because his friend Shavendra Silva the war criminal has told him to hate Shani. This is why not a single politician today will stand up to defend this hero, because whatever Kudu TV says about him talking to Ranjan, the truth is he never bent to the will of any politician.
The corrupt officers in the police all hate Shani because he fearlessly went after them. He has arrested and charged several police officers for involvement in murders. They include four DIGs. He caught Vaas for killing Shiyam. He caught DIG Prasanna Nanayakkara for destroying evidence of Lasantha Wickrematunge's murder. He caught SDIG Anura Senanayake for covering up evidence in Wasim Thajudeen's murder. He caught SDIG Lalith Jayasinghe for helping the rapist and murderer of Vidya Loganathan to escape. And he caught DIG Nalaka Silva for planning to murder another police officer. For the first time in Sri Lanka, powerful people whether in politics, the military or police had to be afraid that whoever they were connected, if they had helped to rob or kill, Shani Abeysekara's CID would come for them.
When one of Shani's enemies was the President..
This is how Shani made enemies. And when one of those enemies was the President, all of Shani's enemies, all of the robbers, drug dealers, criminals, murderers, corrupt cops and politicians who Shani had investigated and exposed, all are together to go against Shani and make sure there are never again police officers like him.
Even now, the case against him is people who gave evidence in 2014 against Vaas Gunawardena, while Vaas' good friend Gotabaya Rajapaksa was defence secretary, have suddenly turned around six years later and said that Shani forced them to lie and that he planted evidence. They don't say why they never said anything to anyone until now. Why did they not come forward when Gotabaya was defence secretary and trying to help Vaas? They don't say. Or when he became President and Shani was thrown out of the CID? They have no reason. This is all suddenly done to put Shani in jail, and get the contract killer Vaas Gunawardena out.
Today, anyone who wants to score political points and favours from criminals can do it by attacking Shani. Any politician or crooked lawyer can get free airtime on Kudu TV if they are willing to go and attack Shani. Sajith Premadasa can keep his friend Shavendra Silva happy by blocking the SJB from standing up for Shani. The scoundrel SDIG Deshabandu Tennakoon talks in interviews attacking Shani to impress Gotabaya and show that he will make a good IGP who will do whatever Gotabaya says.
New ways to attack Shani..
And who is doing the interviews? No one other than Chamuditha Samarawickrama who gets his salary from a notorious business big-wig. Crooked judge Upali Abeyratne is earning his next post as Chairman of the Bribery Commission by showing off to Gotabaya that he can implicate Shani in his kangaroo commission on "political victimization". Lawyers who want to slither into the Supreme Court like Suhada Gamlath and Shaveindra Fernando are scoring points with Gotabaya by coming up with new ways to attack Shani and blame him for crimes.
The easiest way to impress our political leaders today is to say that Arjun Aloysius, Udayanga Weeratunga, Duminda Silva, the white van squad, DIG Vaas Gunawardena were all innocent people who did nothing wrong, and that instead, the only policeman brave enough to confront them, Shani Abeysekara, is the real criminal. If we as a people are ready to believe this, then we all deserve the white vans of splendour that Gotabaya will give us now that he has unlimited power. But it is not just Gotabaya.
Whether it is Gotabaya Rajapaksa, Maithripala Sirisena, Ranil Wickremasinghe or Sajith Premadasa, they don't want to have or stand up for honest professional police officers like Shani Abeysekara. They don't want other police officers to be inspired by him or to become like him. They are all very happy to make an example of him, so that in the future, police officers know that their job is to do what the politicians tell them to, to put their enemies in jail and let their friends off the hook, just like what used to happen before Shani came on the scene.
By A Special Correspondent
---------------------------
by (2020-11-08 21:06:41)
We are unable to continue LeN without your kind donation.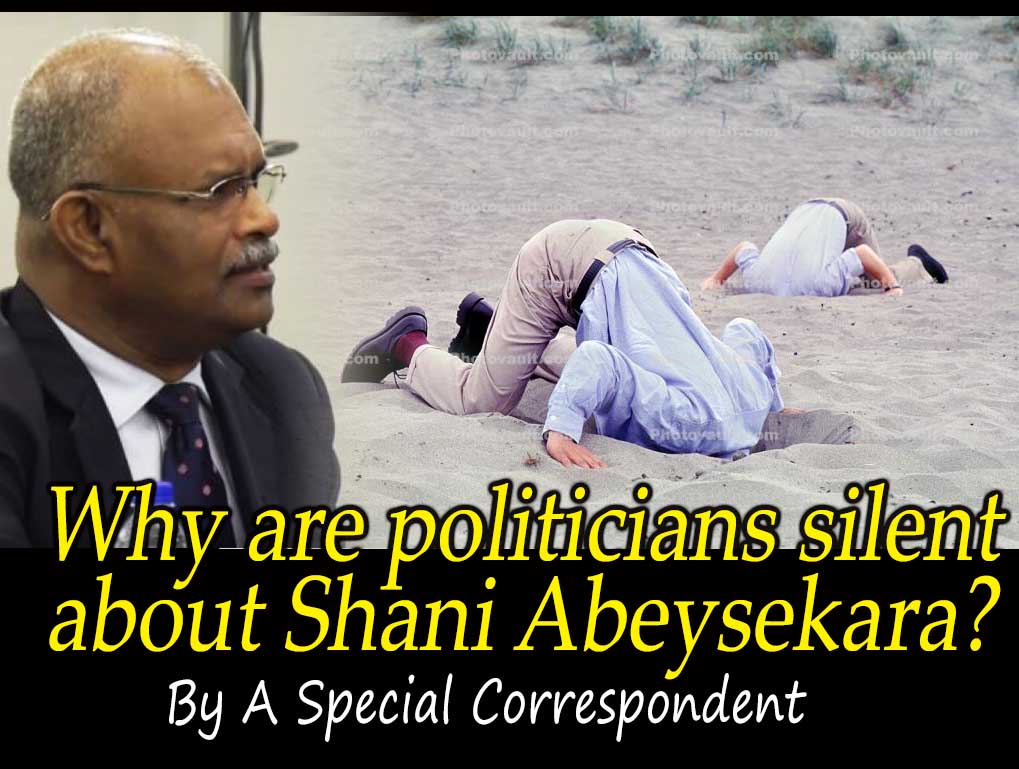 Leave a Reply