Who brought these criminals into power with 2/3 majority?
By A Special Correspondent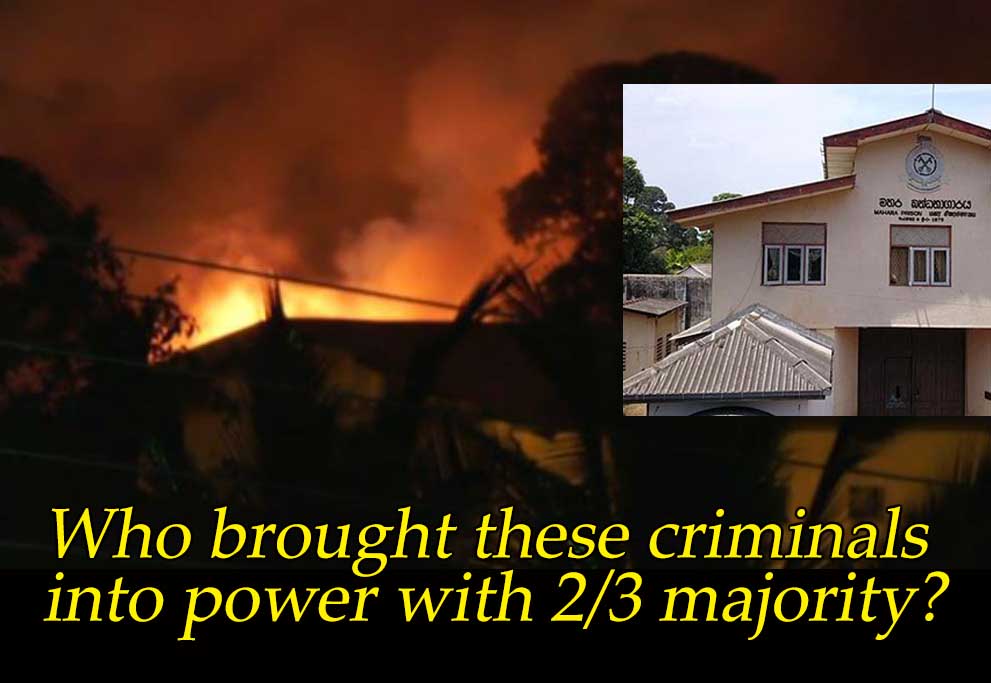 (Lanka-e-News, 01.Dec.2020, 10.45AM) According to the reports, 29th Nov 8 prison inmates at Mahara prison were shot dead and 71 were seriously injured when the prison guards and elite police opened fire indiscriminately at the unarmed inmates protesting the surge of corona virus inside the prison. It was reported 198 inmates were found infected yesterday(30) alone.
Mahara prison massacre (29th Nov) reminds the Welikada prison massacre during Mahinda Rajapaksa regime in 2012 in which 27 prisoners were massacred (It is reported some of them were deliberately selected and killed) inside the prison and other 59 were seriously injured when the elite security forces opened fire indiscriminately at the prisoners.
During presidential election campaign at the end of 2014, opposition common candidate Maithripala Sirisena pledged to the nation to bring the criminals of Mahinda Rajapaksa regime to justice including those issued orders to kill prisoners at Welikada prison and Gampaha Weliweriya protesters inside a catholic church. 3 young people were shot dead and more than 50 people were injured in the firing. This and extract from Cardinal Malcolm Ranjith statement.
Cardinal Albert Malcolm Ranjith of Colombo, Sri Lanka, expressed "shock and distress," accusing the Sri Lankan military of storming a Catholic church and firing on those inside. They had sought refuge in the church after a protest over the pollution of a local water source was violently dispersed. The cardinal condemned the army's action in a strongly worded statement read on Aug. 7 during the funeral for one of three people who died in the incident on Aug. 1 at St. Anthony Parish in Weliweriya, a village just outside the capital. Authorities said more than 50 people were injured during the assault. "It was sacrilege for anyone to enter such sacred precincts with arms in their hands and to behave in a violent manner there," Cardinal Ranjith said at the funeral of Ravishan Perera, 18, a student at St. Peter's College in Colombo who died after being shot in the head. Cardinal Ranjith demanded that the "those found guilty [should] be punished without consideration of rank or status."
15 August 2013. -America Magazine.
Judges are just puppets...
Had he (Maithripala) kept his promise Mahinda Rajapaksa and Gotabaya Rajapaksa would have been in the prison for the crimes against the humanity. Instead of punishing the top criminals they arrested and showcased low ranking prison, police officers and government public servants such as Lalith Weerathunga to mislead the public. It was no difference to 'King Kakille's judgment'. But the irony is, the man who deserved punishments for those crimes was appointed as his prime minister against the constitution (19th amendment). During his 5-year tenure as the president he (Maithripala) even failed to set a protocol for the prisoners' safety. The result was, Maithripala-Ranil led coalition government brought Gota and Mahinda back into power with 2/3 majority to pass 20th amendment. Now they have concerns of the laws because whatever crimes he may commit during his tenure as the president he has impunity under 20th amendment. No court could challenge his actions. Judges are just puppets.
This was not the first time Gotabaya government killed prisoners. At the first outbreak of corona virus in March this year, two inmates were killed in Anuradhapura jail and 4 others were seriously injured by the shooting. 'It was the preventive measures taken by the prison officers to prevent spread of Corona Virus' At that time no one was dead of corona virus.
Last week parliament was echoed with the criminal history of the Rajapaksas' regimes. Samagi Jana Balavegaya (SJB) MPs Manusha Nanayakkara, Ranjan Ramanayake, raised questioned about the journalists killed including Lasantha Wickramathunga, Prageeth Eknaligoda during Mahinda Rajapaksa rule and Also about the corruption scandals during Mahinda Rajapaksa's regime. Harin Fernando in a news conference last week, raised questioned about the '5 star treatment' to Pillayan (Sivanesathurai Chandrakanthan) who led to kill thousands of innocent people, police men and soldiers and the worse treatment to well-respected, highly professional Ex CID Director Shani Abeysekera who investigated the crimes and criminals of Mahinda Rajapaksa regime who has been infected with corona virus.
Sajith trying to whitewash Mahinda..
Maithripala led political coalition was supported by 48 political, independent and intellectual organizations during the election campaign for his victory who wanted to bring back loss democracy over 4 decades. But they were badly betrayed. Citizens of the country lost hardly won democracy after enormous sacrifice. As a consequence, Ranil and Maithripala created fertile ground let the Rajapaksas back in power with 2/3 majority. People must be aware of the people including Samagi Jana Balavegaya (SJB) who try to come to power with same slogans when they did not do the duty while they were in power nearly 5 years. Back benchers of the government asked from Ranjan Ramanayake 'You had 5 years why didn't you do it? Yes, it was the truth. Ranjan's answer was their black money was in foreign accounts so we could not prove it. This was the same answer he gave at the Parliament during Maithri-Ranil government 2015-2019. Sajith Premadasa has been trying to whitewash Mahinda Rajapaksa about 20th amendment when Mahinda Rajapaksa was the real figure behind abolishing the power of the parliament.
After Gotabaya's victory Ranil gave up his position as the prime-minister allowing Mahinda Rajapaksa to become the Prime-minister and to lead the country to win the general election very easily. With the opportunity Rajapaksas had great control over media to convince the idiots in the country. Clever Mahinda with the support of Ranil and Maithripala manged to bring the biggest political party, UNP, created by Hon D.S. Senanayaka to an end. On one-way Ranil helped with the Central Bank bond scam and Maithripala helped them keeping his blind eye on Easter Sunday terror attackers.
Mahara prison massacre alarming..
Now the country is in turmoil under dictatorship rule. The idiots and the MPs who voted to pass 20th amendment will face the consequences. Extra judicial killings like Makandure Madush and threat to journalists have already begun. During Mahinda Rajapaksa's second term as the President many suspects were killed while they were in police custody. At one time a young father of two-year-old son was killed by police because he did not have an ID at the time of his arrest.
Mahara prison massacre alarming to the people the history is coming back with the dictators. Police media spokman DIG Ajith Rohana was blaming prisoners for the bloodbath and he was suggesting detaining terror suspects without court orders. It is the voice of the government. Be aware anyone can be portrayed as a terror suspect. This was what DIG Vass Gunawardena wad trying to do to SLIIT student at Malambe Campus Nipuna Ramanayake after abducting in 2009.
By Special Correspondent
---------------------------
by (2020-12-01 05:23:19)
We are unable to continue LeN without your kind donation.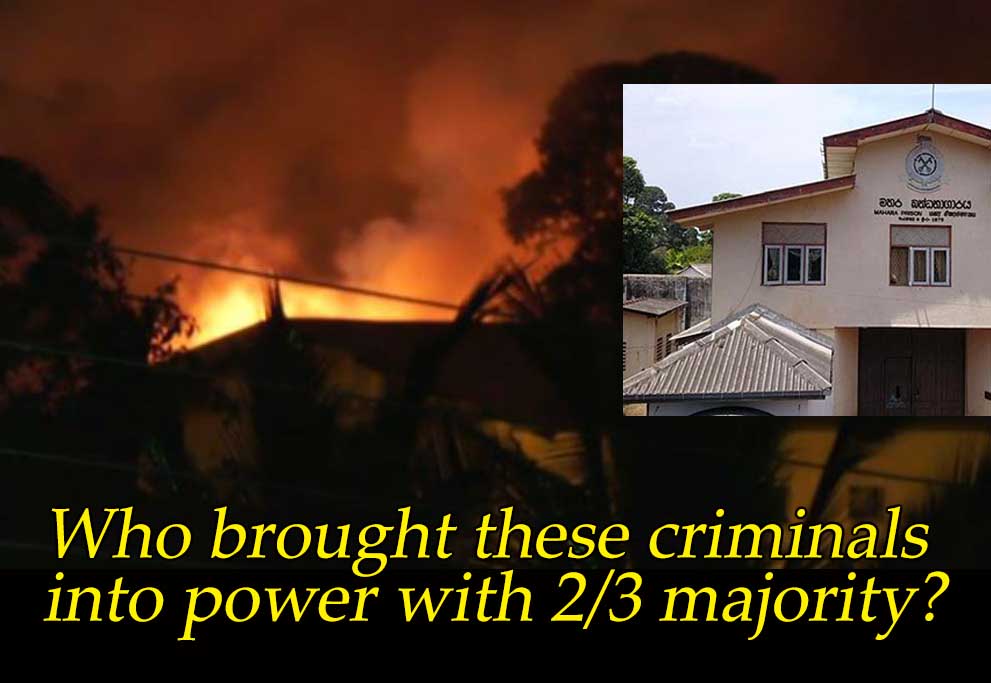 Leave a Reply