Shani must be entered to the hospital but Shani was entered to to a detention center..! Gota plans to destruct Shani; Dappula don't be bestial..!
By Chandrapradeep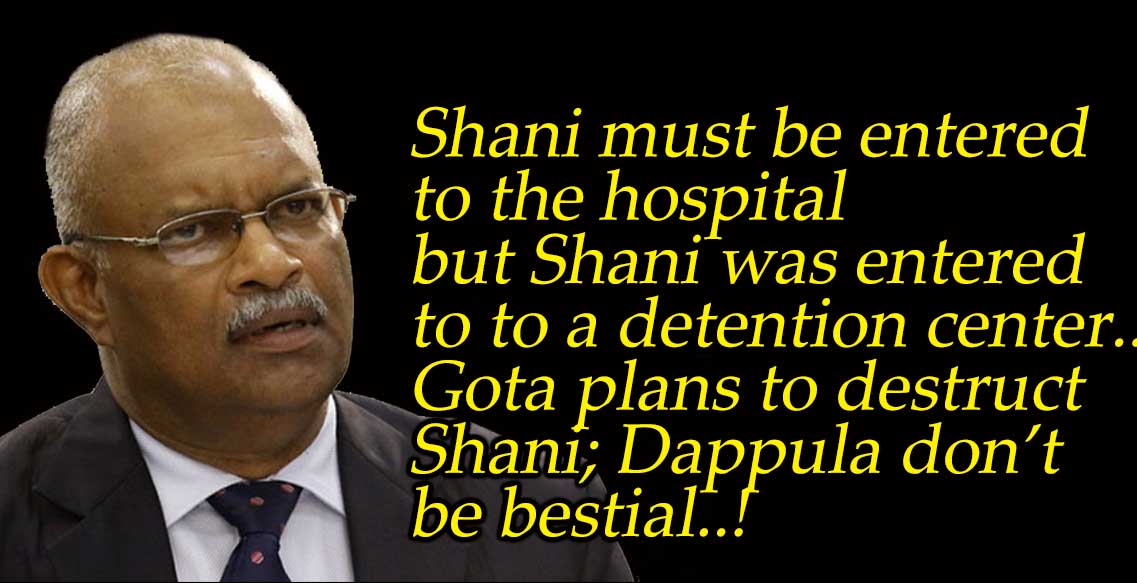 (Lanka-e-News -26.Nov.2020, 2.00PM) Gotabhaya Rajapaksa has ordered to transfer the former CID director SSP Shani Abeysekera, to a quarantine camp run by the army, preventing to get entered to a hospital, when Shani was waiting to receive a second report when his first report confirmed he was a covid positive. This happened when the IDH hospital was waiting to accept him. Shani was then taken from the Welikada Prison Hospital where he was admitted last night to a quarantine camp set up at the teacher training center in Gallelle and his family has not been informed about it till now.
How can Gota give illegal orders?
The President cannot order the transfer of an inmate detained on a court order. It must be done by a court order. Prison authorities can only take an inmate to a hospital without a court order. Gallella is not a hospital but a detention center. How can Shani be sent to Gllella without a court order? When did Gotabaya passed the Medical Examination to decide that a Kovid patient should not be sent to a hospital but to a detention center? That too should be decided by the doctors. The President's aforesaid illegal and inhuman order was clearly aimed at destroying the life of Shani Abeysekara.
Shani Abeysekera suffers from high blood pressure and diabetes. He takes daily medication. The drugs given to Shai at home have been stopped and ordered that it should be obtained from the prison doctor. Shani, who had taken medicine from a specialist doctor, now has to get medicine from an unqualified general practitioner in prison. This is also a complete violation of human rights.
At a recent media briefing, former Speaker Karu Jayasuriya said that there was a powerful group demanding Shani's blood. Meantime, Shani Abeysekera is one of Sri Lanka's leading anti drug traffickers and a key government witness in 112 criminal cases, including serious corruption and murders. It is definitely the accomplices of these criminals who are working to destroy his life.
Dappula don't be bestial..
Meanwhile, Shani Abeysekara's bail application is due to be taken up in the Gampaha High Court. As Lanka e News revealed yesterday, the bail application has been delayed seven times by the Attorney General preventing sending a legal officer to the courts. Therefore, the people of justice are urging the Attorney General Dappula de Livera to send his officer to court today without being bestial. Crimes alleged at Shani Abeysekara are accused of absurdity. He is alleged for influencing the witnesses of the case of former DIG Vass Gunawardena and his son who is currently on death row for Shyam's murder. During the search of Vass Gunawardena's house, firearms including the T-56 firearm used for Shiam's murder were found and the officers who carried out the raid had reported the matter to the court under Section 127 of the Penal Code. The officers testified at the trial and the evidence was not challenged in both appeals. Surprisingly, Shani is now accused of influencing witnesses after Gotabhaya's arrival, despite no statement of influencing witnesses in the High Court, the Court of Appeal or the Supreme Court.
It is a planetary record that the Sri Lankan Rajapaksa CCD (Colombo crimes division) has leveled absurd allegations against Shani at a time when the entire world agrees that the police cannot question a retrial after a Court of Appeal decision. According to law books Shani's bail application should be accepted and granted. However a conspiracy is underway by the Attorney General of sending a legal officer to the courts o the day of hearing to continue to keep Shani in remand prison.
Attorney Gennneral Dappula de Livera must be thinking that Gotabhaya Rajapaksa will be in power for the rest of his life. But in the new world that emerged after the Industrial Revolution, we challenge Dappula to find out if he can find a single dictator or dictatorial family in power during his lifetime. The era of dictators is coming to an end sooner than expected, but mankind's journey to freedom and democracy is still going on undefeated. Therefore, if the law is properly enforced without being a henchman to a descending dictator, the people would save at least one hair which falls of Dappula's face
one day or so.
Chandrapradeep
Translated by Robinhood Sri Lanka
---------------------------
by (2020-12-01 07:54:38)
We are unable to continue LeN without your kind donation.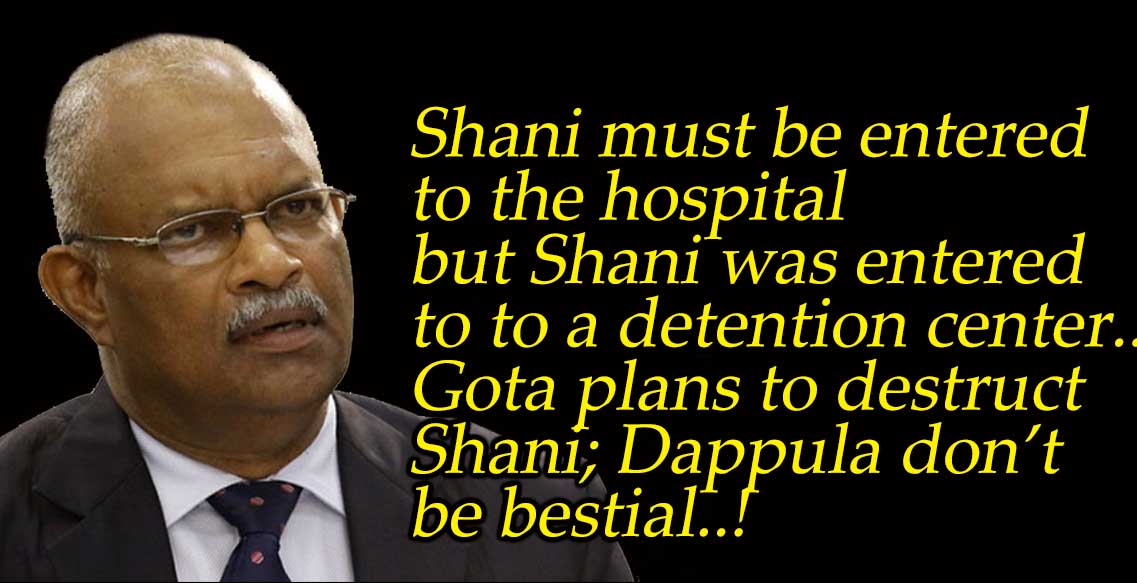 Leave a Reply