It is revealed that Mahara prison shooting was shot at inmates infected with Corona ..! Weerawansa confirms President's statement is false.! (Photo)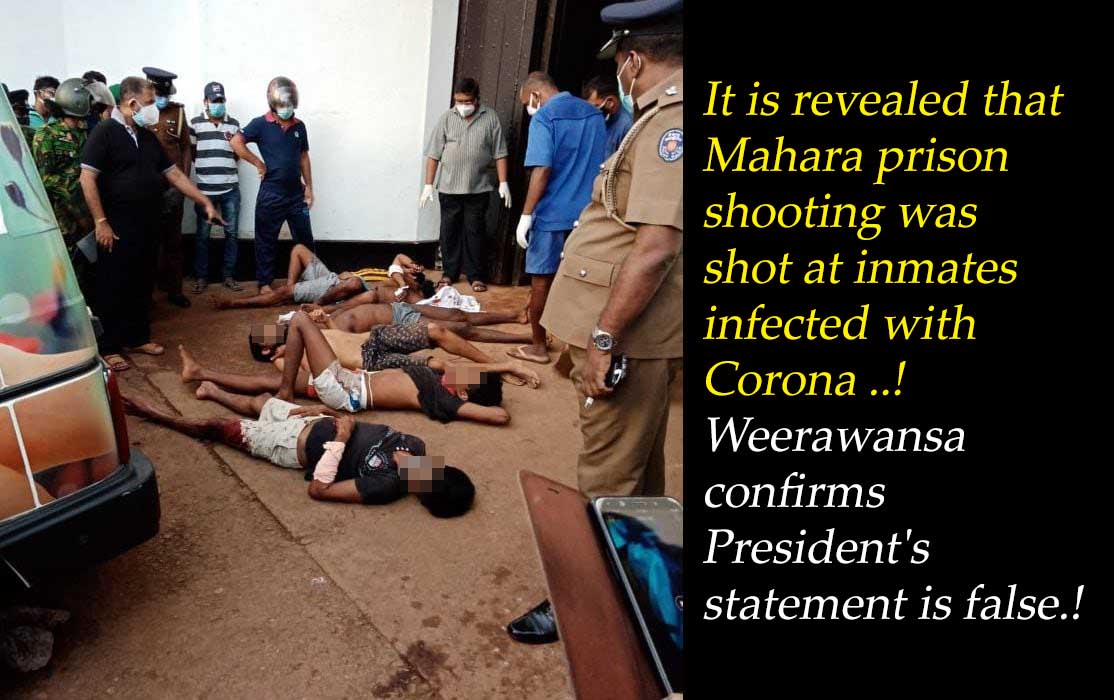 (Lanka-e-News -01.Dec.2020, 6.00PM) It has now been confirmed that Kovid-19 infected prisoners were shot inside the Mahara Prison on the orders of the government. This has been confirmed by the PCR tests done for the 105 inmates who were hospitalized after the shooting and it has been revealed that more than 30 people are infected with Kovid-19. The number of inmates killed has also increased upto nine and those bodies have not been subjected to PCR tests, the government's claim that those who tried to flee were shot is completely untrue and Sri Lanka is bound to be secularized as the only country that shot corona patients.
The death toll is expected to rise further as five of the injured are still in the intensive care unit in a coma. Attempts were made to attribute the shooting to various individuals, but the inmates were shot by the police and STF troops called in from outside was ordered by the Secretary of Defense. The shooting was not a spontaneous incident but sporadic shooting has continued till the following morning 29th.
Meanwhile, at a press conference held yesterday, the General Secretary of the Committee to Protect the Rights of Prisoners Sudesh Nandimal revealed that the reasons for the shooting at the Mahara Prison was completely different story to what the government say.
180 detainees were not segregated even after they were discovered infected with Covid. They are being held with other detainees. The inmates were kept with other detainees. Prison officials have beaten a group of inmates who wanted to speak with prison officials, demanding that the infected be segregated and that PCR tests to be conducted to all. The detainees were then shot dead as a group of protesting prisoners climbed onto the roof. Nandimal said that was how the conflict has started.
Despite this fact, Wimal Weerawansa said in Parliament that the Mahara incident was a foreign conspiracy. Wimal Weerawansa said that the inmates were infuriated as they wanted to see blood after taking a pill called Rivers among the inmates. Although Weerawansa said that President Gotabhaya Rajapaksa who addressed the nnation recently said that he has stopped drug trafficking from prisons. By this Weerawansa has confirmed his presidents statement is false.
The pictures here show how the prisoners were killed.
---------------------------
by (2020-12-03 08:22:43)
We are unable to continue LeN without your kind donation.
Leave a Reply