Kamal Gunaratne to be removed from office under serious misconduct..! Protest against President's behaviour inside Wiyathmaga..!
By Keerthi Rathnayake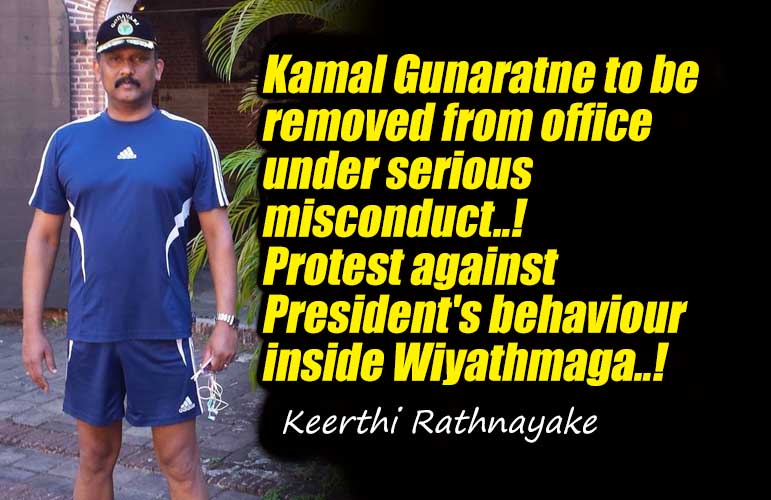 (Lanka-e-News -12.Dec.2020, 12.05PM) Internal conflicts within the party was the major factor in the defeat of the Rajapaksa government before. Meanwhile, the assassination of Bharatha Lakshman and the Aluthgama riots were decisive. Gota was the creator of both the destruction. Mahinda's powerful government was toppled when Gota was the defense secretary. If Gota had done so much as a secretary, one could expect more from him as an executive president.
Gota sir is a wanderer with no vision of politics. The gap was filled by the Wiyatmaga organization. The work done by Wiyathmaga to bring Gota to the throne is not insignificant. In the early days, Gota sir had no idea about the vision, mission, aspirations and benefits of Wiyathmaga. There were occasions Gota sir tried to skip Wiyathmaga meetings. Wiyathmaga activists had to drag Gota sir as a child who refused to go to school to WIyathmaga meetings.
Mahinda angry over Kamal Gunaratne's misconduct..
Many Sri Lankan scholars lobbied under the Wiyathmaga anticipating a 'system change'. They hoped to bring the country, which had been ravaged by opportunistic politicians, on the right track under Gota sir administration. Scholars went on a sleep strike to draft policy and concept note for a new country but the vision of the scholars has bee shattered now. Kamal Gunaratne was the first to be appointed. The Rajapaksa inner circle has decided to remove Kamal Gunaratne from office due to misconduct and failure. He has been charged with a number of offenses. Mahinda Rajapaksa has taken a tough decision in this regard.
It is difficult for the intellectuals to work with Gota..
By now, the scholars gathered around the Wayathmaga organization has become deeply disappointed with Gota sir's govermet. There are two major challenges for scholars who lobbied for Wiyathmaga. The first is that it is difficult for scholars to work with Gota. The second is the inability to drive out the corrupt. A number of self-appointed officials have resigned, saying they could not work with Gota sir.
Following are the resignations of some of the leading scholars.
1. Sanjeewa Weerawardhane – ICTA director
2. Prabash Subasighe – Chairma export development board
3. Susantha Rathnayake – Chairman Investment board (He joined Wiyathmaga by leaving his seven million salary)
4. Amith Gamage – Chairman and CEO Natioal Gem and Jewellery authority
Despite Gota's appointments, the resignations of the following officers were also controversial.
1. Nihal Fonseka – Monetary board
2. Professor Dasumi Weerakoon – Central Bank
3. Deepika Udugama – Chairman Human Rights Commission
4. Kishu Gomez – Sri Lanka tourist Promotion office
5. Jayanntha Danapala – Constitutional Council
On the edge of retiremet Kamal and Bodaragama plays solitaire..
Despite honest officials have resigned saying they cannot work with Gota, the corrupt are trying to secure their seat by playing solitaire. Excise Commissioner Ariyadasa Bodaragama, who is a most corrupt person, despite coming to the edge of retiremet recently staged a drama claiming to have seized the largest stockpile of heroin in history in hope of getting a service extension. Kamal Gunaratne, given notice to resign from the post of Defense Secretary, is staging the play 'Tiger Rise'. In such a situation, Gota sir is more likely to protect them. However, while Kamal Gunaratne reviving the play 'Tiger Rise', a Buddhist monk was killed a day before 9th. The body of a Dutch monk was found in the Rathgama Lagoon. He had his limbs tied and a stone tied around his neck.
The ploy of Rajapaksas to sustain power..
Shavendra Silva was to be appointed to fill the vacancy created by the removal of Kamal Gunaratne. But Shavendra may lose his position as Secretary of Defense due to his wife claiming that Shavedra is having a Raja Yoga. Meawhile retired army general Jagath Alvis from the Gajaba regimet has bee appointed the new public security minister created by Gota. Accordingly, the Gajaba regimet has been given the posts of Army Commander, Chief of Defense Staff, Public Security and Secretary of Defense. Those are not the special event here. Although they all belog to the Gajaba regimet, they are not subservient to gossip to Gota against one another. It is a ploy of the Rajapaksas to seize power by creating disunity among top officials. With the appointment of Jagath Alwis, Sarath Weerasekara, a minister in the republic Government, is also in disarray. People's representatives are above government officials in a republic state. It is unfortunate that the people remain silent in the face of Gota sir's militarization. The consequences of this betrayal of sovereignty will soon be felt.
Will Wiyathmaga would be another word of derision..
When Sri Lanka politicians thwarted Gota sir's arrival to the politics he was promoted by the Wiyathmaga. By now Wiyathmaga officials are fedup with Gota. Politicians are bored with Gota sir from the start. That is, politicians as well as intellectuals are now fed up with Gota sir. There is a great deal of contradiction between the stated objectives of the Wiyathmaga and the action on the ground. Almost all the characters currently being opposed by the people are those who were appointed by Gota sir. Ali Sabri, Suresh Saleh and Iraj are some of them. They were given posts not for the betterment of the country but for the assistance rendered to Gota. Although people have doubts about Kamal Gunarathana's lion coat, he has still not become naked before the people. Last but not least, Gota sir is not an inaction Tarzan. Gota who hung Mahinda once on the window of Medamulana while sitting as a secretary is possible to hang the entire Rajapaksa Company again in the same window.
Keerthi Rathnayake
Former Air Force intelligence officer
Translated by Robinhood
---------------------------
by (2020-12-13 13:06:40)
We are unable to continue LeN without your kind donation.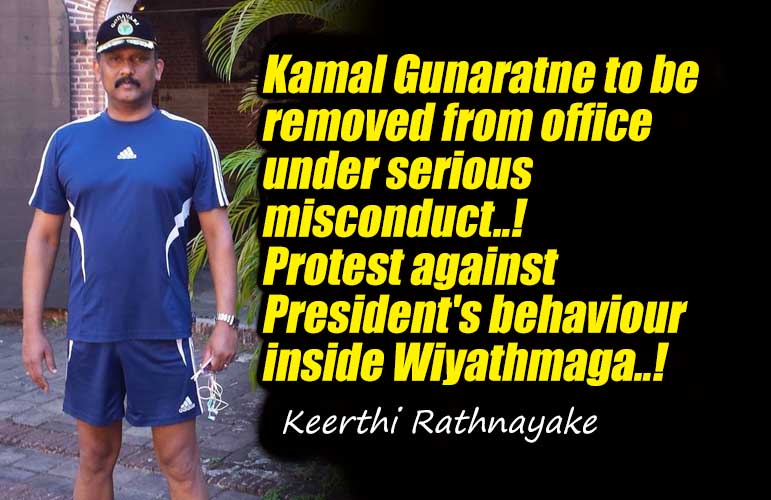 Leave a Reply