Third monk brutally murdered while saffron robes demand the release of murderer Kudu Duminda..!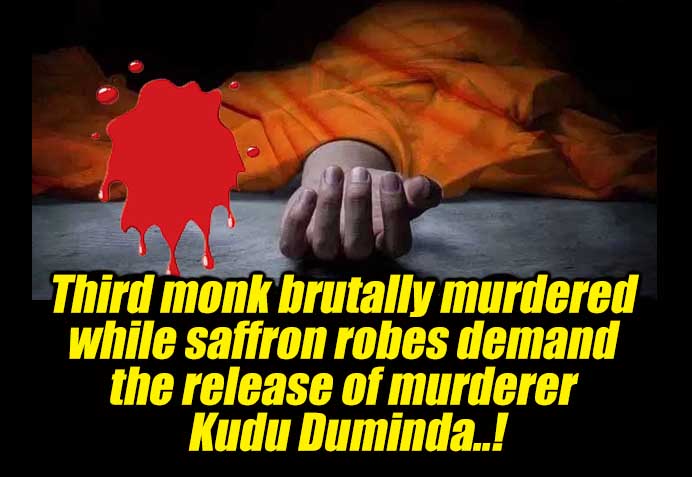 (Lanka-e-News - 06.Jan.2021, 11.30PM) A dweller monk has been abducted, brutally murdered and burned following Gotabaya Rajapaksa becoming the president. This is the third mysterious assassination of a monk in less than a year since Gotabaya became the president with the help of coutry's Buddhist monks.
The victim was identified as Uduwila Dhammasiri, 65, a resident of Thummodara Kodikanda forest Convent in Hanwella.
On the night of the 2nd of January, more than ten people broke into the monastery and brought the people to their knees and assaulted Dhammasiri Thero with sticks and abducted him in a van.
The body of the deceased was found burning on a grave at the Nawana Public Cemetery on the Mirigama Road in Kotadeniyawa on the 4th.
The body of Ven. Uduwila Dhammasiri Thero has been identified by a monk who had worked with the Thero for 16 years at the same forest monastery. Police say the face of the deceased with bleeding wounds from the nose, mouth and ears, was badly burnt. Surprisingly, Gotabaya's large army which had come to protect the Buddha Sasana, could not find the ten abductees who abducted and killed the monks.
While military brigadiers and major's have been deployed in all 25 districts, despite spying on those who leave facebook comments, the monk, who was beaten to death by ten men, could not be found until he was killed.
1. No one was arrested for the killing of Rathgama Katudampe Polgasduwa Nederland's Jinawansa thero who was drowned and killed last December by tying a large concrete slab on his toes on December 6th 2020.
2. Before that chief incumbent of Induruwa Vijayadhamma Pirivena, Ven. Yatiyana Budhdhananda aged 73 was brutally killed and nobody apprehended.
3. Meantime last July 26th chief incumbent of Wahagahapuwewa Ven. Pahala Halmillewe Rathaasiri belong to the Kahatagasdigiliya police division was brutally attacked and nobody was identified until now.
Muruththattuwe Ananda Thero who preaches to free drug kingpin Duminda Silwa who killed four people and sentenced to gallows, does not speak a word about the killings and attacks of the above monks.
---------------------------
by (2021-01-06 23:13:02)
We are unable to continue LeN without your kind donation.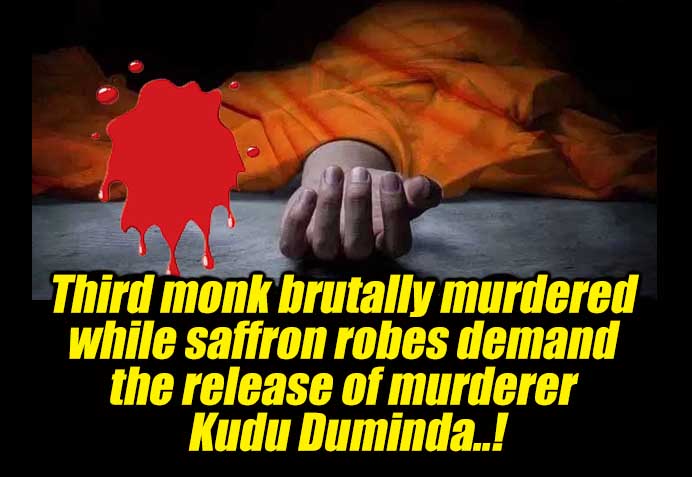 Leave a Reply