How Nandasena peed at his president's chair
Wimal Dheerasekere writes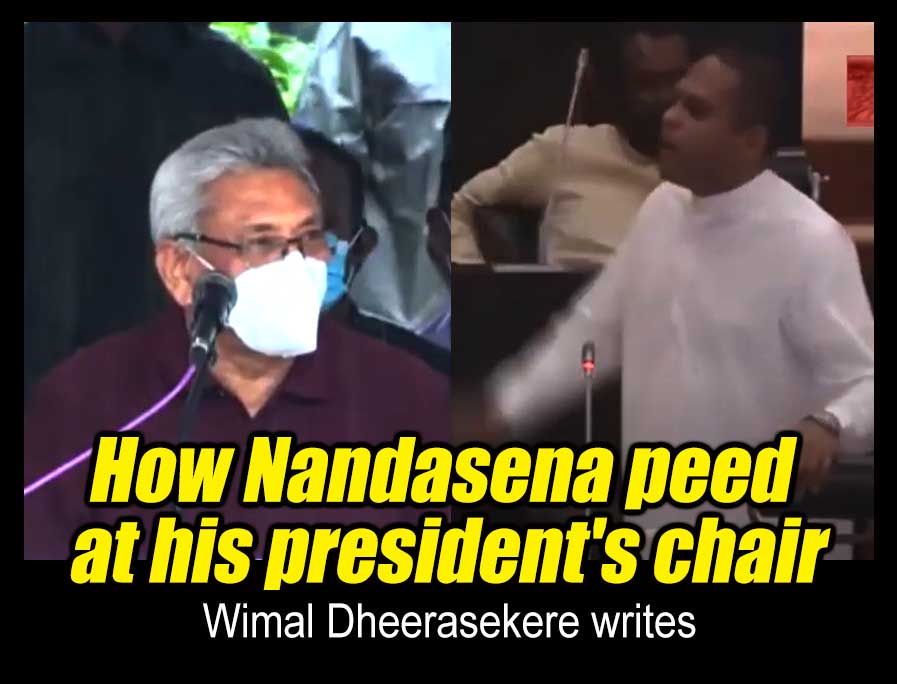 (Lanka-e-News- 10.Jan.2021, 11.30PM) President Nandasena who was frowned by the action of opposition MP Harin Fernando at the parliament, posed a public threat that he is an executor that he would kill Harin as a dog as he killed Prabakaran. It is a wild event that the civilized world does not expect from any president who was democratically elected in this world but yesterday 9th all the people of the world saw.
In fact, what Nandasena did was peeing on the supreme presidency. The attached video shows President Nandasena's brutal statement and relevant parts of Harin's speech that made him so angry. Therefore we don't take the time to rewrite them here.
Nandasena's' Hypnosis..
The president was initially angry that Harin was calling him 'Nandasena'. Harin addresses that way not directly, but only twice. However if the name used by his parents is Nandasena Gotabhaya Rajapaksa, he should not be the first person to be angry with Harin Fernando for calling himself Nandasena but his late father Don Alvin Rajapaksa and mother Dandina Samarasinghe Dissanayake whose tombs were build with the expense of public money worth of Rs. 80 million. If a person becomes angry to be addressed by someone by a part of a name given to him by their parents, it is a symptom of 'schizophrenia'. Such a person should not be in the presidency but in a mental
hospital.
The whole of Sri Lanka called Junius Richard as 'JR'. Percy Mahendra Rajapakse was called 'Mara' by his opponents. The initials of a person first ame are in English and the initials of his last name are in Sinhala. But nowhere did the two become angry as the manner in which Nadasena addressed and threaten to kill the opposition MPs like dogs.
On the other hand, there are an infinite number of past and present events in which politicians have been publicly addressed by their opponents as various satirical names. But no one is as mad as Nandasena. If Nandasena's immediate relatives and friends do not realize that he needs the help of a psychiatrist, Nandasena will inevitably be in big trouble.
Has Nadasena really got two faces?
The next strongest mental illness in President Nandasena's statement was he himself stated, there are two characters living within him. In medical science it is called as dissociative identity disorder. As he himself accepts he has two characters, it is also a powerful mental illness. But we political commentators see that he does not have two characters but only one inhuman character. He has displayed his inhuman characters so well during his tenure as Secretary of Defense. The best time was even demonstrated internationally was during an
interview with a BBC correspondent, referring to Army chief Sarath Fonseka, who won the war, and screaming in front of the camera as 'I will hang him' with a moster face. Someone with a preconceived notion will not behave in such a manner.
Determine to win the presidential election he hid his true face, mocking with frequent hiccups and contempt for essential and not essential moments as instructed at the Chinese Military Political Training Institute. Harin removed Nandasena's mask in Parliament on the 6th. Nandasena showed his true face yesterday 9th but we do not believe he has two characters.
I killed Prabakaran like a dog because he tried to detonate me..
Nandasena, on the other hand, says that he killed Pirabaharan like a dog because he planted a bomb at him at the Piththala Junction. It was also a psychosis statement he had imagined. Answering to a question from an Indian journalist at the first media briefing held by Mahinda and Nandasena on October 15, 2019 before the Presidential election, Nandasena said that it was neither him nor his brother who led the war, but then Army Commander Sarath Fonseka. Nandasena who said so yesterday says that he killed Prabhakaran like a dog. It was in revenge for planting a bomb at him.
Everyone in the country knows the fourth and final Eelam war started when Prabakaran officially withdrew from the Oslo peace talks and the simultaneous closure of the Mavilaru sluice? Mavilaru was closed on July 21st 2006. The Army Commander Sarath Fonseka who survived the suicide attack at Army Headquarters, returned to duty on July 26th five days later. On the same day, the Fourth Eelam War began and air strikes were launched to liberate Mavilaru. But Nandasena was bombed at the Piththala Junction on December 1st 2006, five months later. (There are endless arguments that the bombing was not carried out by the LTTE but by Nandasena himself to inflate himself)
In spite of the truth, if Nandasena, who holds the presidency, says, 'I killed Prabhakaran like a dog because I was bombed,' it is a serious mental illness. If that is the case what about the former President Chandrika Bandaranaike, who lost an eye in an LTTE bombing would say because the then Army Commander himself stated that 90% of the weapons and ammunition used by the Sri Lankan Army in the last war were imported by her. Since she does not have a mental illness like Nandasena, she declared and declare statements now fit to be a president.
Braggart thug Nandasena and the real thug Mahinda..
In fact, psychopaths like Nandasena are living endless in villages. But Mahinda Rajapaksa is not a braggart like Nandasena. He has shownad proved that in action. This writer remembers an evidence of that. It must be 1973 or 1974. During a brawl at the end of a Thurstan vs Isipathana school cricket match at The Oval, a tall alumnus punched a well built famous Inspector Ghafoor, a well - known police officer at the time. The giant Ghafoor fell to the ground like a plantain trunk. Instead of arresting the tall alumnus, several other police officers defended him. When this writer, who was not old enough to understand this insult, inquired about it the next day, he came to know that it was none other than the new Member of Parliament, Mahinda Rajapaksa, who had attacked the police giant with one fist. That was also the first day that this writer saw Mahinda Rajapaksa.
After that, during Mahinda's presidency, there were many who received countless slaps on their cheeks. Among them are Wijedasa Rajapaksa, former IGP Mahinda Balasuriya, Bus Gemunu and the late Loku Athula. It is a feature of Mahinda that he calls the disobedient person to his room alone, beats him up, puts his hand on his shoulder again and comes out as if nothing had happened. Mahinda knew the art of tempering and using the violence of his youth as he got older. Despite his actions as a Prime Minister and President, he did not go out and issue murderous statements in public like Nandasena did yesterday.
Nandasena's brutal scapegoat works..
Nandasena was not like that. Arriving from the United States, he used his brother's president power as secretary of defense, created illegal murderous groups to ambush and to kill his opponents. Those murders were not at all related to war but those were his own personal crazy mental mutations. The best example is the disappearance of some 1,500 non-LTTE clergymen who surrendered to the army after the end of the war. Sri Lanka can never escape the accusation of war crimes that spilled over into a war that ended in victory.
In addition, Nandasena is the mastermind behind the murders of journalists such as Lasantha Wickrematunge and Prageeth Eknaligoda, the assassination of many journalists from Jaffa, the attack on editors such as Upali Tennakoon and Keith Noyar, and the burning of media outlets such as Lanka e News.
Can't you take Lasantha's coffin and drag his body to the street..
It is a fateful event that Nandasena made a lunatic mental statement yesterday and it is the 12th anniversary of journalist Lasantha's murder. Lasantha's murder is the best evidence of his frantic mental disorder. Perhaps who does not know that Lasantha Wickrematunge was assassinated due to the frantic hatred created by Nandasena and Udayanga for revealing information about the Mig aircraft affair? Although the information revealed by Lasantha may not be able to be proved in a court of law, Lasantha was killed out of anger by Nandasena. There is wonderful evidence for that. That is a story told by Nandasena on the day of Lasantha's funeral when a procession of Lasantha's coffin was coming to the Borells cemetery. He addressed a prominent local politician in Kaduwela. " Hello, ............. Can't you go with a group and take Lasantha's coffin and drag his body to the street ...?" Nandasena has inquired. The name of the local politician cannot be revealed as he is still alive. But the story is true. From this it is possible to understand Nandasena's distorted metal state of mind.
Crocodile whose eyes close when open mouth..
However, Nandasena said yesterday that he could do what he did during his tenure as defense secretary even after he became the president. However, President Mahinda Rajapaksa not only had to go home before two years due to his perverted mentality during his tenure as Secretary of Defense, but also created a huge black area for the people as well as in the country. Nandasena should understand that if the President's brother had to go home because of what the Defense Secretary did, the President himself would have to go six feet underground, if he does the same.
It is Nandasena, not Harin, is already in trouble because of his insane statement made yesterday. Now Nandasena has become responsible for any accident that would befall to Harin. Nandasena, who came out of the Easter bombing, should know more about the manipulation of world political forces than we do. So now Nandasena must immediately tighten Harin's security. It was more to save himself from the devastation caused by his own mouth than the love he has for Harin.
Finally, as stated earlier, the psychotic bogus thugs of the Nandasena style, like crocodiles whose eyes close when they open their mouths, are in endless villages. But they will go to the Hereafter with a young lad's stab whom no one knows.
Wimal Dheerasekere
Translated by Robinhood
(Here are some of the images that Nandasena was ridiculed on social media following his thuggery statement)
The following video shows how Nandasena peed on the presidency and Harin's statement which was hurt enough to pee on it
---------------------------
by (2021-01-10 21:08:11)
We are unable to continue LeN without your kind donation.
Leave a Reply