While Geneva resolution threatening to Gota's government, India also shows red light..!
Chandrapradeep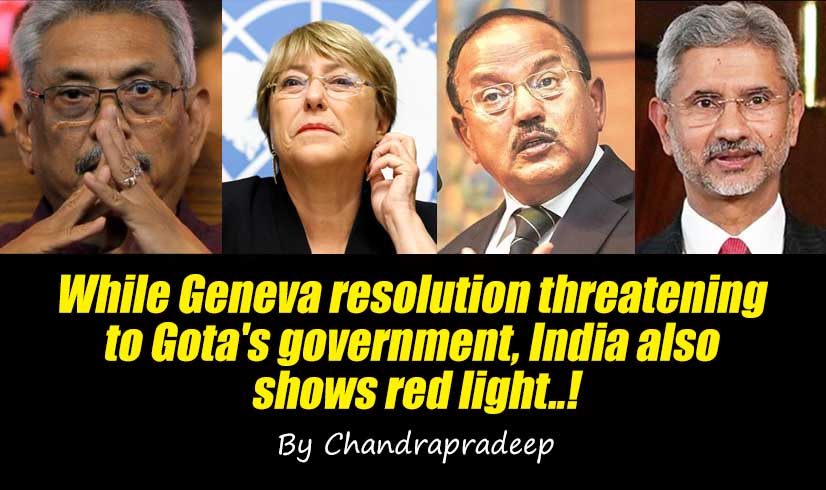 (Lanka-e-News- 31.Jan.2021, 10.30 PM) UN High Commissioner for Human Rights Michelle Bachelet in her latest report on Sri Lanka at the UN Human Rights Council in Geneva next month would urge the world leaders to call for an imposition of targeted sanctions, such as a ban on assets and travel for Sri Lankans who are facing credible allegations of human rights abuses.
The High Commissioner further recommended that the International Criminal Court (ICC) to set up an international mechanism to investigate and prosecute those accused of human rights abuses and war crimes.
Never before has such a serious proposal been made to Sri Lanka by the international community.
The report has already been published
Meanwhile, Gota's government has not yet agreed to a new resolution to be tabled at the UN Human Rights Council in February-March.
Following the arrival of Gota Sri Lanka withdrew from the Resolution 30/1, which was also tabled in the Co-Resolution of Sri Lanka during the period of good governance. Gota government has already stated that the will not co-sponsor anyone else.
Meanwhile, Gotabhaya's recent short-sighted statements he made that he has two characters and that he can kill someone like a dog, confirm that war crimes were committed during his tenure as defence secretary, have also played a role for this resolution.
However, unlike in the past, India will support a resolution that would put pressure on the Sri Lankan government, Lanka e News reports. India has previously abstained from voting for Sri Lanka. Diplomatic sources say that this is due to the Indo-Sri Lankan relations.
Ajith Doval's shows red light to Gotabhaya..
In the early days of Gotabhaya's presidency, Indian Defense Adviser Ajith Doval called Gotabhaya and asked him to refrain from giving promotions to people linked for war crimes in Sri Lanka. (Defense Adviser is the second most powerful person after the Prime Minister of India) He has specifically mentioned Defense Secretary Kamal Gunaratne and Army Commander Shavendra Silva. Ajith Doval has explained that it is difficult for India to represent Sri Lanka when the international community raises questions about such allegations. Gotabhaya had agreed to Doval in a telephone conversation but no action had been taken to date.
Another incident is what Indian External Affairs Minister Dr. S. Jaishankar said during his recent visit to Sri Lanka.
Dr. Jayashankar's red light to Gotabhaya..
At present the Gota government has suspended the provincial council elections indefinitely and is making a huge fuss against the provincial councils. That was also a slogan they used to appease racists even before the election. But the Provincial Councils in Sri Lanka were established as part of the Indo-Lanka Accord. Nincompoops like Sarath Weerasekara who are ignorant of diplomacy publicly say that the Indo-Lanka Accord is now void.
Commenting on the situation, Dr. Jaishankar has told President Gotabhaya that Sri Lanka can not only abolish the provincial councils that India created for the Tamil people in Sri Lanka, but even withdraw from the Indo-Lanka Accord. However, Dr. Jayashankar has informed Gotabaya that if Sri Lanka does so, India will withdraw from the Sirima-Shastri agreement which was an agreement between the two countries and then India will recapture the Kachchativu Island which belongs to Sri Lanka as per the Sirima-Shastri agreement.
In addition, India has been saddened by the forcible demolition of a memorial to commemorate the dead at Mullaitivu, which had long been erected at the University of Jaffna, as Dr. Jaishankar had heard the news while he was in Sri Lanka. Its heat also spread to southern India. It is Gotabhaya's custom to play such witty games. In other words, it is Gotabhaya's habit to take advantage of the general assessment that the Sri Lankan government will not do such a thing while the Indian Foreign Minister is in Sri Lanka and to portray that it could be the work of another party.
There are endless examples of this in the past. During the last Rajapaksa era, Four Red Cross activists were abducted and killed in Fort while a delegation from the UN Human Rights Commission was in Sri Lanka. A group of school children in Trincomalee were shot dead during another similar international human rights conference in Colombo. The Uthayan newspaper office in Jaffna was bombed during a conference of international media organizations in Colombo. While President Mahinda Rajapaksa was having a discussion with a group of local media representatives at Temple Trees, Poddala Jayantha was abducted and beaten him until he lost consciousness, cut his hair and pushed inside his mouth and broke both his legs. His killing was prevented by some journalists who were outside heard the incident and immediately informed Mahinda who was in a discussion who then intervened.
However India was seriously infuriated over Gotabaya's witty play to Dr. Jayashankar but Diplomatic sources further say that India has already informed Gota government that India will support a resolution to be brought in Geneva against Sri Lanka.
Chandrapradeep
Translated by Robinhood
---------------------------
by (2021-02-01 12:49:50)
We are unable to continue LeN without your kind donation.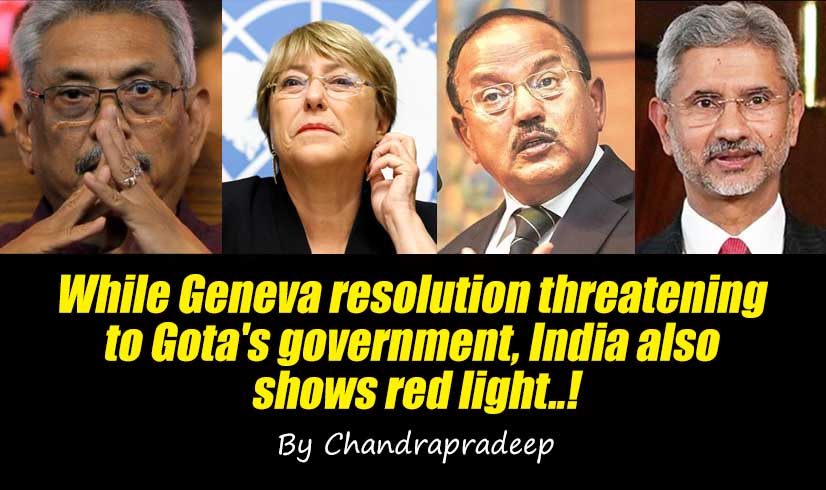 Leave a Reply